Product management tools have become essential in the last few years, providing product teams with the software needed to work effectively and efficiently as key members of an organization. From roadmapping to user feedback management, these tools have become a one-stop shop for all the requirements of product managers. Leading players such as Jira Align have set the bar high, but many teams are still searching for alternatives that suit their specific needs.
As product management continues to grow in demand, new opportunities arise, and product managers are looking for alternatives that better fit their unique needs. Jira Align has gained significant recognition, but with so many tools, approaches, and requirements, it can be challenging to find the right alternative for your team.
In this blog post, we will explore various product management software alternatives to Jira Align. So fasten your seatbelts and join us on this journey into the ins and outs of different product management tools, as we explore their features, benefits, and limitations. Let's discover the right alternative that will help you take your product management to the next level.
TL;DR
All products mentioned in this article have clear strengths and can serve as part of a product management ecosystem. A modern product management tool must cover outcome-focused roadmaps, strong support in product discovery, easy user adoption, and seamless scalability for growing teams. According to our evaluation, airfocus is best suited to cover this full set of capabilities a modern product manager needs.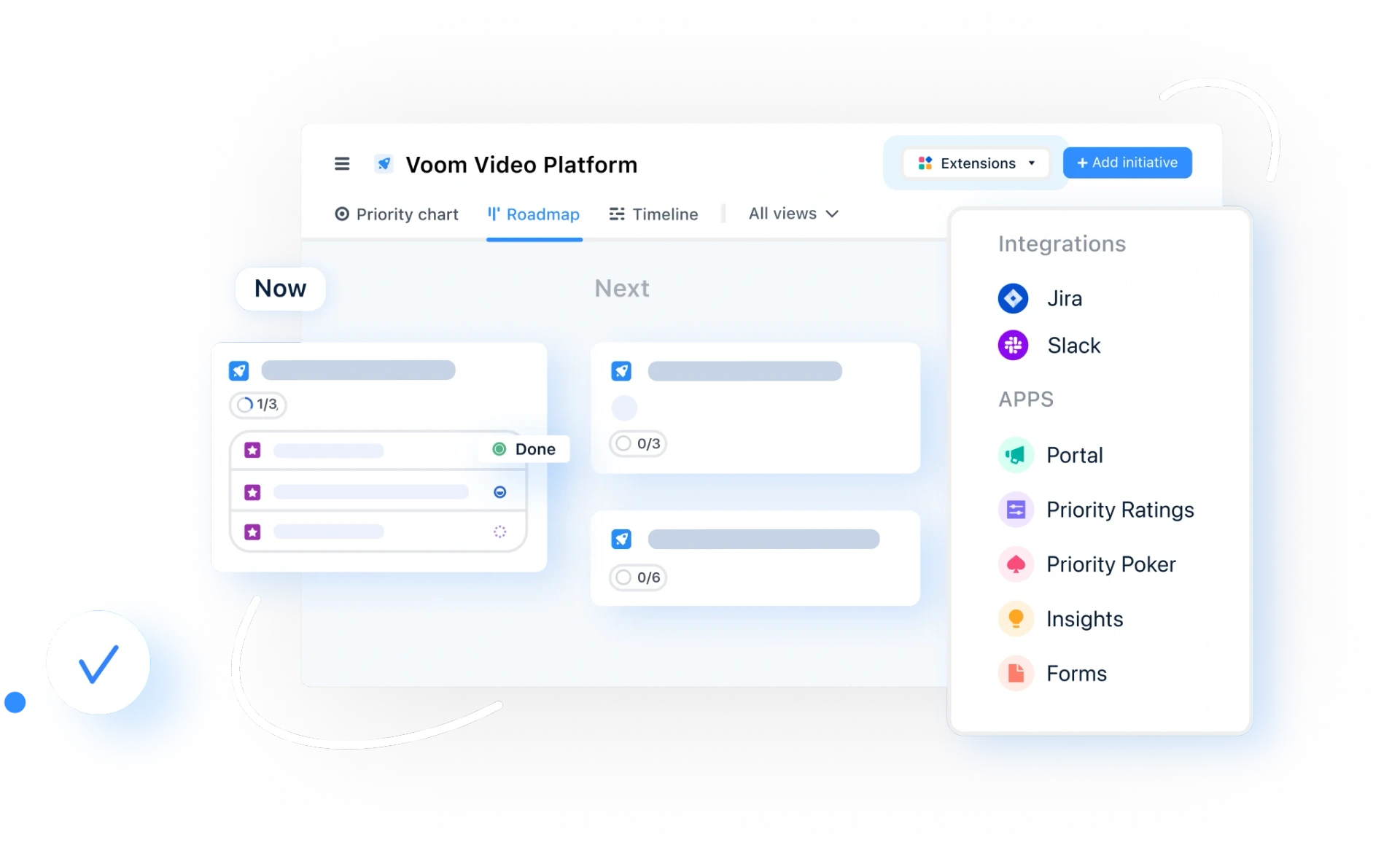 What is Jira Align, and why look for an alternative?
Jira Align is a software tool developed by Atlassian that helps organizations with enterprise-scale agile planning and execution. It allows organizations to align their business strategy with their product development processes and provides a holistic view of the entire product development lifecycle. Jira Align is specifically designed for large organizations that have multiple teams working on multiple projects and need to coordinate their efforts.
Jira Align integrates with other Atlassian products, such as Jira Software, Confluence, and of course Jira Roadmaps and Discovery, to provide a seamless experience for teams using these tools. While Jira Roadmaps provides a bird's-eye view of a project's status, allowing teams to see how all the pieces fit together and track progress over time, Jira Discovery is designed to help product managers and teams conduct effective product discovery activities, such as user research, market analysis, and experimentation, to inform their product development decisions. Together, they form a suite that is set up to manage the product development process end-to-end.
One tool can't do it all
While Jira Align is a popular and effective product management tool, there are several downsides to consider. Here are some of the downsides and reasons why someone might look for an alternative:
Complexity: Jira Align is a complex tool with a steep learning curve. It may require a significant investment of time and resources to train team members and configure the tool to meet the team's needs.

Cost: Jira Align is a relatively expensive tool, and its pricing may not be feasible for small businesses or startups with limited budgets.

Overwhelming: For small teams or teams with less complex projects, these tools can be overwhelming and provide more features than necessary.

Limited collaboration features: While these tools offer some collaboration features, they may not be as robust or intuitive as other alternatives.

Not user-friendly: Some users have reported that these tools can be difficult to navigate and use, which can slow down productivity and hinder adoption by team members.
Overall, these downsides may be the reason why someone might look for an alternative product management tool that better suits their team's needs, budget, and workflow.
Defining Jira Align competitors
When it came to defining Jira Align competitors, we looked at a few categories:
How does it help with roadmapping and sharing roadmaps?

How does it help with discovery?

How does it help with prioritization?

How does it help with scaling teams?

How does it help with involving other team members?

What is their pricing like?
Instead of limiting ourselves to simply comparing features, we decided to examine the actual challenges that product managers encounter in their day-to-day work. These include tasks such as roadmapping and managing teams as they grow. It's important for product managers to have access to a platform that can support their current and future working methods.
With these factors in consideration, we reviewed numerous trustworthy sources that provide user ratings and reviews for product management software. After carefully assessing all options, we selected the five most reputable sources to conduct our investigation. These sources are:
Within these sources, we found the closest Jira Align alternatives and compared them with one another through the scope of variables mentioned above. As a result of the investigation, we narrowed down the number of options and received 8 top alternatives:
Aha!

airfocus

Canny

ClickUp

Monday.com

Roadmunk

Pendo

Productboard
Without further ado, let's explore Jira Align's competitors and prove that it is not the only product management tool worth using.
Aha! vs. Jira Align
In their own words: "Anything is possible with the world's #1 product development software."
Aha! was among the earliest product management software options that became available. It provides similar functions to Jira Align, but with distinct roadmapping capabilities and an open ideas forum. This permits users to share and vote on different ideas, providing potential insights into what matters most to their customer base. It is best suited for sizable companies that tend to have project-based operations.
Founded in: 2013
Based in: United States
Employees on LinkedIn: 300
Funding: bootstrapped
Website: www.aha.io
How does it help with roadmapping and sharing roadmaps?
Even though Aha! provides a wide range of sharing features, and their roadmapping function is exclusively focused on timelines. This limits the flexibility of product managers who prefer to use outcome-based roadmaps. Although it's still possible to visualize goals and objectives, they will be mapped against a delivery timeline. As a result, users will be operating more as a project team rather than a product team.
How does it help with discovery?
Aha! can assist in one aspect of the discovery process by gathering feedback. They enable users to crowdsource feedback by using a voting system. Although this can provide valuable insights into the most popular ideas, it doesn't provide support for an internal feedback management system. As a result, product managers may have to rely on popularity contests rather than a more systematic approach.
How does it help with prioritization?
While their feedback prioritization is thorough, it does not offer insight into overall problems in a comprehensive manner.
How does it help with scaling teams?
Aha! offers significant flexibility by allowing teams to customize the software to meet their needs, particularly in supporting custom fields. Additionally, their reporting system is comprehensive and may be useful when reporting to higher-ups.
How does it help with involving other team members?
Aha! has evolved into various products, such as Roadmaps, Create, Ideas, Develop, and Academy. These products are well-integrated with one another, but their usability and user interface have a reputation for being confusing and challenging to navigate. This is because it is a large toolbox, but one with far too many features.
What is their pricing like?
Aha! offers four different plans for their "Roadmaps" product and two plans for their "Ideas" product. The "Roadmaps" plans range in price from $59 to $149 per user per month, with annual payments optional. The "Ideas" plans are priced at either $39 or $59 per user per month, also with annual payment options. To fully cover all of your product management needs, you will need to subscribe to a minimum of two products (likely roadmaps and ideas.)
Pros and Cons
Pros:
Improved backlog management

Customizable and flexible fields

Thorough tracking and reporting

Engagement and feedback collection with customers
Cons:
Limited to Gantt chart-style roadmapping

Contains many features that may be unnecessary for some users

Feature management relies on voting rather than a problem-solving approach

Steep learning curve
Rating
G2: 4.3 out of 5

Capterra: 4.7 out of 5
airfocus vs. Jira Align
In their own words: "Product management made easy with a flexible platform that helps you manage strategy, understand user needs, prioritize, and align your teams around clear roadmaps."
The airfocus platform enables every team in a product organization to create personalized product management workflows that suit their requirements. It is especially effective for companies with multiple teams and products, and places considerable emphasis on product strategy, discovery, and outcome-oriented approaches, assisting product managers in navigating the complex aspects of product management.
Founded in: 2017
Based in: Germany
Employees on LinkedIn: 60
Funding: 7,4M $
Website: www.airfocus.com
How does it help with roadmapping and sharing roadmaps?
airfocus offers teams the flexibility to create multiple workspaces, each with its own roadmap. These roadmaps can be easily combined into a portfolio view that can be shared with executives, board members, stakeholders, and team members.
All roadmaps, whether at the team or portfolio level, can be shared both internally and externally through various methods, including customized views and a user-friendly customer portal for audience engagement.
One of the platform's strengths is the provision of easily editable templates that allow for the creation of outcome-focused roadmaps promptly. For those who prefer the traditional timeline view, airfocus still supports it, although they encourage the adoption of best practices where possible.
How does it help with discovery?
In airfocus, teams can establish workflows for discovery, enabling them to concentrate on the problem space before transitioning to delivery. Using Teresa Torres' Opportunity Solution Tree, you can map out your discovery track workflows, experiments, and solutions with labels and specific items that fit into the airfocus ecosystem.
Additionally, airfocus prioritizes customer feedback by providing a user portal for engagement and allowing teams to set up customized workflows to organize and segment insights as they arrive internally. airfocus also has its own embedded AI Assist that can help you analyze feedback sentiment, create drafts, summaries or generate ideas, all with a slash command saving you valuable time.
How does it help with prioritization?
To prioritize items, airfocus provides a highly customizable setup that suits different teams' preferences. This includes the option to use predefined algorithms like RICE, WSJF, or a simple impact vs effort framework. Once scored, the ideas can be visualized and compared to facilitate better decision-making discussions.
In addition, airfocus offers a distinct feature called "Priority Poker" that helps align teams. This feature enables team members to individually score ideas, which can then be compared and contrasted in a group setting.
How does it help with scaling teams?
The creators of airfocus intentionally prioritized flexibility in its design. Its modular structure for product development enables it to adjust seamlessly to your team's changing requirements and growth. It acknowledges that organizations and teams have varying needs that evolve with their maturity and expansion, and doesn't attempt to force a one-size-fits-all approach.
How does it help with involving other team members?
The user-friendly interface of airfocus makes it effortless to promote the tool to other team members. For those who may hesitate to adopt a new tool, airfocus offers simple setup forms, portals, and integrations.
Moreover, airfocus provides integrations with several other tools, including Intercom, Jira, and Asana, allowing teams to establish a system that supports cross-team collaboration.
What is their pricing like?
airfocus provides four different pricing options for their product. These pricing plans are based on the number of editors, but also including free viewers. The most basic plan starts at $19 per user per month, with annual billing optional. The next plan up is $69 per month. The two larger plans have custom pricing and are also billed annually.
Pros and Cons
Pros:
Strong connections with development tools such as Jira, Github, and Asana

Capability to generate and distribute roadmaps

Integration of several roadmaps into a portfolio perspective

Tailorable fields and views

Individualized prioritization system along with priority poker

Emphasis on client feedback through their feedback portal and insights apps

User-friendly and quick setup process
Cons:
May require some time to understand the modularity concept

Limited capacity planning features
Rating
G2: 4.4 out of 5

Capterra: 4.5 out of 5
Canny vs. Jira Align
In their own words: "Capture, organize, and analyze product feedback in one place to inform your product decisions."
Initially, Canny's main focus was to gather feedback from customers and obtain comprehensive insights. Gradually, they have expanded their reach to other aspects of product management, including roadmaps and documentation.
Founded in: 2017
Based in: United States
Employees on LinkedIn: 30
Funding: bootstrapped
Website: www.canny.io
How does it help with roadmapping and sharing roadmaps?
Canny asserts that they have a roadmapping feature for "scoring and prioritizing feature requests." However, those in the product industry can easily spot the problem with this approach. The focus should be on addressing the underlying problems that users are experiencing, instead of solely prioritizing individual requests. (This may not apply to agencies.) On a positive note, Canny does offer the ability to share roadmaps with customers externally, which can be useful for those who follow this philosophy.
How does it help with discovery?
Canny specializes in collecting insights, a crucial aspect of the discovery process. However, it can be challenging to establish a feedback management system that integrates with ideas, and even more challenging to comprehend how they tie into objectives.
How does it help with prioritization?
Canny provides a scoring framework for their roadmap feature, but it does not involve a backlog system. Feedback items are directly associated with the roadmap, without going through any sort of opportunity backlog. This creates a common issue in the product industry, which is prioritizing individual requests without a proper understanding of the underlying problem.
How does it help with scaling teams?
Canny is useful for managing a large amount of feedback, but its emphasis is on voting and forums. As your team grows and diversifies, it may become challenging to meet everyone's needs with this approach.
How does it help with involving other team members?
The user interface is designed to be very intuitive and easy to use, making it a smooth process to introduce the tool to both team members and users.
What is their pricing like?
Canny offers three plans for their product. A free tier, a $72 per user per month plan billed annually, and a custom third tier. It is worth noting that there is a 75% discount for start-ups during the first year.
Pros and cons
Pros:
User-friendly interface 

Multiple integrations available 

Quick and simple implementation process 

Variety of options for managing user feedback
Cons:
Limited flexibility for setting up roadmaps 

No option for viewing roadmaps as a portfolio 

Limited knowledge of product management beyond collecting insights.
Rating
G2: 4.4 out of 5*

Capterra: 4.3 out of 5**
*13 user reviews
**34 user reviews
Clickup vs. Jira Align
In their own words: "All of your work in one place: Tasks, Docs, Chat, Goals, & more"
Clickup is a newcomer in the product industry and has managed to attract customers with their straightforward and precise marketing. They position themselves as a company that offers productivity software solutions and cater to a variety of use cases, including marketing, operations, and product management.
Founded in: 2017
Based in: United States
Employees on LinkedIn: 900
Funding: 537M $
Website: www.clickup.com
How does it help with roadmapping and sharing roadmaps?
Clickup excels in sharing functionality, allowing for easy sharing with both internal and external customers. However, their roadmaps are limited to timeline-based/gantt charts, which may not meet the needs of modern product managers. The platform lacks the option to create a Now/Next/Later roadmap or utilize other portfolio visualization methods.
How does it help with discovery?
Clickup provides a wide range of options for creating boards and views. However, it does not offer features for collecting feedback or running a discovery track. While it is possible to work around this limitation with some creativity, the tool's primary focus is on project management rather than supporting outcome-focused teams. As a result, it may not be scalable for teams seeking to prioritize customer needs and validate ideas through feedback collection and discovery processes.
How does it help with prioritization?
Clickup offers two methods of prioritization: flagging items based on their level of importance, and assigning story points. However, it's worth noting that all prioritization is task-oriented, making it more suitable for project management rather than product management.
How does it help with scaling teams?
Clickup is a budget-friendly option that is well-suited for scaling teams. The platform offers ample opportunities for customization and personalization, including a wide range of options for creating custom fields, which makes it easy to adapt to teams of all sizes and needs.
How does it help with involving other team members?
Its UI is highly intuitive and user-friendly, ensuring that the adoption process with other teams is smooth and effortless.
What is their pricing like?
Clickup has five tiers available, including a free plan as well as paid plans starting at $5, $12, and $19 per user per month when paid annually. Additionally, they offer a custom pricing tier upon request.
Pros and Cons
Pros
Cons
Inadequate support for product management use cases

No option for now, next, later roadmaps

No support for gathering feedback
Rating
Monday.com vs. Jira Align
In their own words: "Boost your team's alignment, efficiency, and productivity by customizing any workflow to fit your needs."
Monday.com has established itself as a leader in work and project management with its collaborative workflow capabilities. It enables teams to set up their own processes and increase their work speed.
Founded in: 2012
Based in: Israel
Employees on LinkedIn: 1.600 
Funding: 384M $ + 574M $ (IPO) 
Website: www.monday.com
How does it help with roadmapping and sharing roadmaps?
Monday.com, similar to Jira, is not a dedicated product management tool but rather a general tool that can serve different purposes depending on the context. Its roadmaps and timeline/gantt charts are limited to a project-based approach, lacking the ability to create an outcome-driven roadmap. Although it offers various use cases like marketing, sales, and operations, it does not specialize in product management.
Despite this, the platform's affordability and flexibility have attracted product managers in small teams with limited budgets.
How does it help with discovery?
Although it is possible to create a board for discovery in Monday.com, it does demand a considerable level of expertise in integrating different databases in order to link workflows. This can be a time-consuming task, especially when only one member of the team possesses the necessary skills to carry it out.
How does it help with prioritization?
The custom and flagged priority ratings offered by Monday.com are only visible through the main worksheet, and making adjustments can be challenging, especially when attempting to establish a custom scoring system. Consequently, the tool is more geared towards delivering results than supporting the working methods of product managers.
How does it help with scaling teams?
Monday.com is designed to accelerate specific workflows for a limited group of people as a generalist tool. It may be useful for your current team while it is still small, but it may not be scalable enough to handle more complex processes and involve more stakeholders as you expand. Keep in mind that it is not intended to assist product teams, but rather project teams in delivering and executing.
How does it help with involving other team members?
Monday.com boasts a user-friendly interface, however, its workflows can be complex to comprehend. While it's possible to engage other team members, as the team expands, it becomes increasingly challenging to maintain collaboration.
What is their pricing like?
Monday.com provides users with five different pricing plans. The first option is free of charge, followed by four paid plans costing $8, $10, $16, and a custom rate per user per month, with annual billing.
Pros and cons
Pros:
Customizable and visually appealing

Easy to manage

Great for project management, sales, and operations teams
Cons:
Does not have a specific focus on product management

Integrations and automation are not available on the Basic pricing plan
Rating
G2: 4.7 out of 5

Capterra: 4.6 out of 5
Roadmunk vs. Jira Align
In their own words: "The end-to-end roadmapping tool. Capture customer feedback. Prioritize what to build next. And use boardroom-ready roadmaps to communicate your strategy."
Roadmunk started out as a roadmapping tool and later expanded its offering to include backlog and feedback management. Its main strength lies in providing customization options for roadmapping.
Founded in: 2012
Based in: Canada
Employees on LinkedIn: 60 
Funding: 1,7M $ (bought by Tempo at an undisclosed price)
Website: www.roadmunk.com
How does it help with roadmapping and sharing roadmaps?
Roadmunk provides an abundant collection of roadmap templates that encompasses a wide range of formats, including outcome-based roadmaps, timelines, and more - amounting to over 50 templates. These roadmaps are easily shareable in various formats, such as CSV, PNG, HTML, and through a URL publishing.
How does it help with discovery?
Roadmunk heavily prioritizes features and ideas but lacks focus on discovery work. They do not explicitly advertise any discovery-focused features but do mention their ability to assist with idea commitment.
The platform does offer a portal and feedback inbox, however, setting up custom workflows to manage insights is limited. There are only two status options available: "New" and "Processed," leaving no in-between status. Although it may be suitable for small teams, it may not scale effectively when more teams and members become involved.
How does it help with prioritization?
Roadmunk refers to its prioritization workflows as "customer-driven," providing two available frameworks: impact vs effort and RICE. In addition to these frameworks, it includes other data points that focus on output, such as time estimations and revenue. If you choose to use either framework, you may find that it meets your needs adequately. However, if you require a customized solution that can be adopted across multiple teams, you may find it too limiting.
How does it help with scaling teams?
Roadmunk is a suitable option for small teams initiating their product management processes, yet its inflexible processes may hinder scaling up. Implementing new prioritization frameworks beyond RICE is also challenging, as the platform prefers sticking with its established practices.
How does it help with involving other team members?
The UI is relatively straightforward, but it lacks a certain level of delightfulness. On the positive side, it's easy to mention and collaborate with other team members.
What is their pricing like?
Roadmunk provides four pricing tiers that begin at $19 per user per month, billed annually. The second and third pricing tiers cost $49 and $99, respectively, while the fourth tier is available only upon request.
Pros and cons
Pros:
Offers a wide variety of roadmap templates

Features a clean user interface

Provides a feedback portal for users
Cons:
Cost may be prohibitive for small teams

Lacks flexibility in terms of feedback management

Limited scalability options
Rating
G2: 4.1 out of 5

Capterra: 4.4 out of 5
Pendo vs. Jira Align
In their words: "Helping you deliver better product experiences for happier and more productive users."
Pendo is a product experience platform that places a strong emphasis on providing detailed insights and analytics into specific customer behaviors. It enables you to gather customer requests and consolidate them in a single location, while also allowing you to determine how you will prioritize them at a later time.
Founded in: 2013
Based in: United States
Employees on LinkedIn: 1.000 
Funding: 470M $
Website: www.pendo.io
How does it help with roadmapping and sharing roadmaps?
Pendo is limited to displaying roadmaps solely as timelines, putting product managers in the difficult position of having to commit to deadlines without proper discovery. Additionally, they do not support the use of an idea backlog, instead attaching all feedback to roadmap initiatives directly. This approach omits the ability to fully understand problems and can lead to a build trap for product teams.
How does it help with discovery?
Pendo offers robust product analytics features, which are crucial for data-driven decision-making by teams. The platform also provides ample feedback management capabilities. However, Pendo lacks a dedicated backlog functionality, which limits its ability to support both top-down and bottom-up product management approaches. Instead, its backlog consists of a mix of requests and initiatives, without distinguishing between genuine opportunities for discovery.
How does it help with prioritization?
Individual value points can be assigned to feature requests, which in turn sets priorities within the item. However, this approach still limits the product team to managing individual requests and solutions rather than identifying opportunities and problems to solve.
How does it help with scaling teams?
Pendo primarily caters to enterprises and SMBs, and as such, it offers extensive scaling features for its analytics and engagement components. However, since it falls short in terms of roadmapping capabilities, it may not be suitable for scaling up in that area.
How does it help with involving other team members?
Pendo's UI may be challenging for non-technical team members to navigate and use, as it is primarily designed for those who are technically inclined. However, the platform's ability to present vast amounts of data is impressive, making it easy to convince others to use it.
What is their pricing like?
Pendo provides four pricing tiers, but the exact pricing information is not publicly available and needs to be requested. According to user feedback, the second tier could cost a medium-sized business up to $12,000 annually.
Pros and Cons
Pros:
Extensive analytics

Enhanced engagement and feedback layer 

Reports and views to visualize data
Cons:
Only offers a timeline view

No now, next, later our outcome-based roadmap

No portfolio view

No backlog or feedback workflows
Rating
G2: 4.5 out of 5

Capterra: 4.5 out of 5
Productboard vs. Jira Align
In their own words: "Productboard helps product teams understand what customers need, prioritize what to build next, and align everyone around the roadmap."
Productboard is a global company that focuses on roadmapping and customer centricity. Its offices are located in San Francisco, Prague, and Vancouver.
Founded in: 2014
Based in: San Francisco, California
Employees on LinkedIn: 500 
Funding: $125M Series D 
Website: www.productboard.com
How does it help with roadmapping and sharing roadmaps?
Productboard utilizes timeline roadmaps, with templates such as "release roadmap" and "timeline roadmap" readily available. They do offer the ability to create a now, next, later roadmap, but it is also focused around releases rather than outcomes. Initiatives are bypassed entirely, and features are placed directly on the roadmap, which could put your team in a build trap.
All of their roadmaps are shareable, both through links and through a customized portal. 
How does it help with discovery?
Productboard provides a user portal for collecting feedback on items in discovery or general feedback. However, it does not differentiate between ideas or opportunities, and everything in the backlog is considered a "feature." This lack of distinction could potentially hinder discovery and experimentation processes.
How does it help with prioritization?
Productboard allows you to choose and use any prioritization framework you prefer, but the calculations for the algorithms are not customizable. The absence of initiatives on the roadmap level leads to the disregard of other important factors, such as objectives, vision, and theme, which can only be considered at the feature level.
How does it help with scaling teams?
Productboard allows for the concept of multiple workspaces, however, they operate independently and are not interconnected. An alternative approach would be to manage multiple products within a single workspace, but this requires the entire team to use the same set of views, fields, and workflows. Nevertheless, if you wish to offer your teams a single source of truth while retaining flexibility, Productboard may not be the best choice for scaling in that direction.
Should you decide to adopt the multiple workspace approach, it should be noted that due to the lack of integration, cross-team collaboration cannot be achieved, nor can multiple roadmaps be consolidated into a single portfolio for the entire team.
How does it help with involving other team members?
Productboard's design is visually appealing, but its usability could be improved. Users may need to click around extensively to locate features, and the user interface can be confusing at times.
What is their pricing like?
Productboard has four different price plans, billed per user per month. Starting at $20, continuing with $80, with the upper two plans available on request. 
Pros and cons
Pros:
Emphasis on customer feedback and insights

Public portal for customer engagement

Ability to share roadmaps
Cons
Mixed messaging regarding roadmaps and product approach - is it project or product-based?

Steep pricing

No focus on discovery, experimentation, or outcomes
Rating
G2: 4.3 out of 5

Capterra: 4.7 out of 5
Conclusion
* public prices only, billed anually. All companies offer custom enterprise prices on demand. 
While Jira Align has the power of Atlassian behind it, often tools that promise to do it all lack focus and end up being incredibly overwhelming. We appreciate its scalability and power, but would caution against it - as it may require more time to figure out how to use it than doing actual work.
If you want to learn more about applied modern product management, feel free to check out our academy guide on just that.