A product backlog is a prioritized list of all the tasks required to execute a strategic roadmap. Where the sprint backlog only contains items to be accomplished for that particular sprint, the product backlog contains user stories, updates, bug fixes, and more, to be worked on for the product as a whole.
Empowered product teams enter items into the product backlog that align with the product goals and vision, and it is the product owner's responsibility to ensure that this list is prioritized and then work with their team to implement the work.
Rather than keeping everything listed on an excel sheet, for example, there are tools that product teams can leverage to manage their product backlog and for product backlog refinement. These tools come with various features, and capabilities, and are offered at different price points.
We will outline some of them here so that by the end of this article you will know:
A few of the common tools that product teams rely on to manage their product backlog 

How they can be used by product teams

Pros and cons of each tool

Their costs

And more
Let's get started.
airfocus is a platform for the new way of doing product management.
While other tools may force you to work a certain way or work well with a small team but present challenges when scaling, airfocus is modular. You can build it to fit your teams' best practices and scales as your product(s) and team grows.
Product teams can manage their product strategy, work directly with their delivery teams to craft and ship solutions, and communicate with key stakeholders as they build and support their products.
It enables product teams to build better products by managing their product backlog and prioritizing the work that aligns with their strategy.
Along with this, items can be easily added to the product backlog based on crowdsourced generated feedback from customers and users via insights.
From product roadmap prioritization to delivery, if you rely on project management tools such as JIRA, Trello, ASANA, or Microsoft Planner, it supports multiple integrations.
airfocus offers four pricing plans. The pricing is based on roles, editors are paid, while contributors are free viewers. The cheapest plan is $19 per user per month, billed annually. The next one is $69, then the 2 remaining tiers are custom to fit your team's needs, billed annually.
Pros
Built directly for product teams that prefer an outcome-based approach to building products

Extremely easy to gather customer feedback and insights to build the product backlog

Easily make the connection between backlog requests, product and business strategy, and outcomes

Modular, so you can adapt it to your teams' specific needs and processes
Cons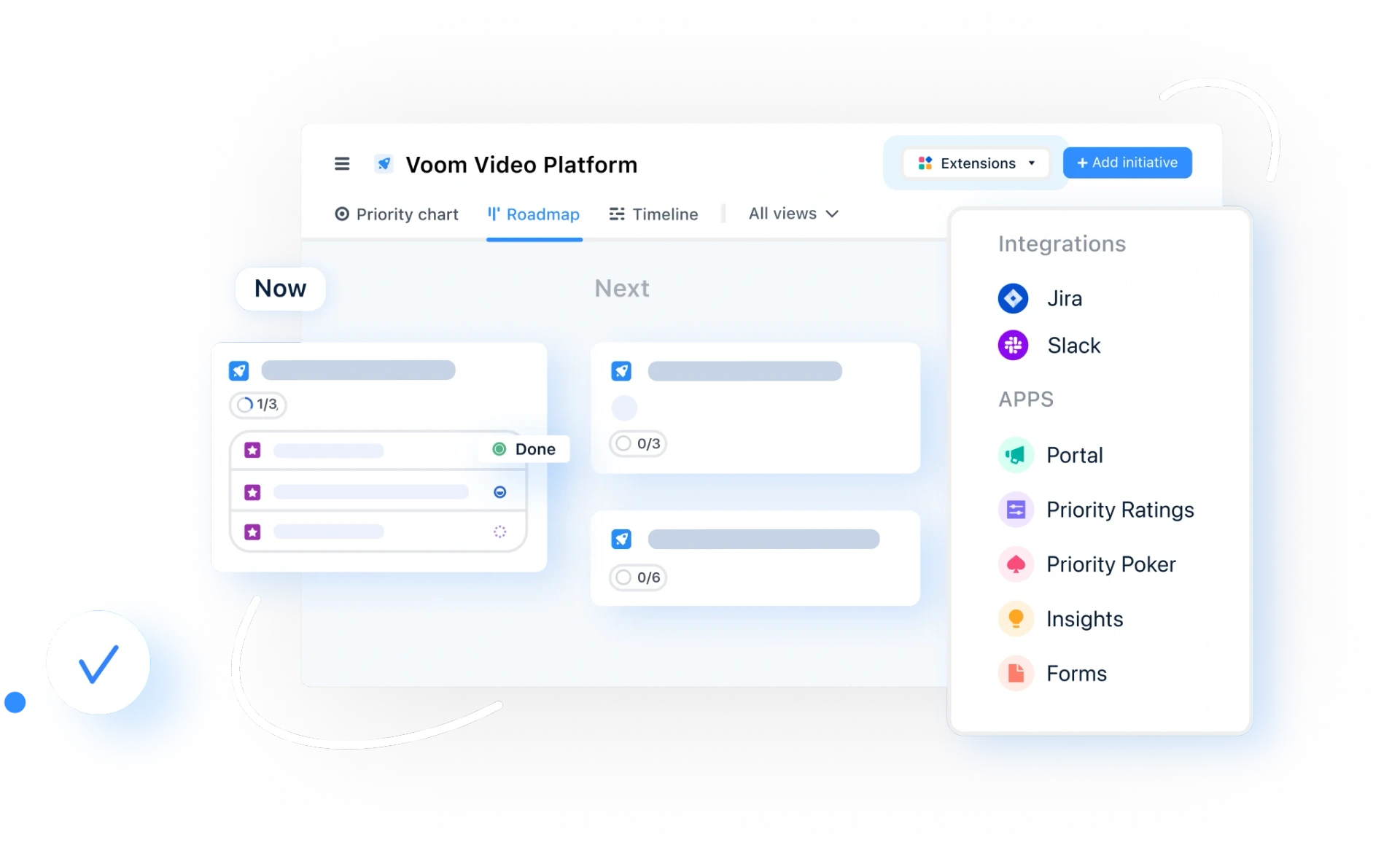 Though not built specifically to support agile processes, monday.com was built to support anyone who has work that they need to be completed. Its open platform enables users to create the tools they need to get their work done with an interface that supports building blocks and integrations for teams to customize their work.
Monday.com can be used to manage a product backlog, manage sprints, and manage and communicate work with a development team. At the time of this article, Monday dev is actually in beta with features such as roadmap planning, features backlog, scrum software management, bug tracking, and more.
Free forever for up to 2 seats, the price then starts at $11/user/month for additional seats, features, and capabilities.
Pros
Offers many guided resources for the community

Templates to support new users

Multiple project boards to make it effective to manage multiple projects
Cons
Integrations and automation are not in the basic plan

Lacks the ability to duplicate an entire workspace

Lacking data filtering on dashboards

Users have reported issues with the mobile app experience
Pivotal tracker is a project management tool that was built to support working with software developers. It comes with many features that facilitate agile processes including the ability to create user stories, assign tasks, view work status, and measure team velocity.
Free with a 5 project limit for up to 5 collaborators, the price then increases to $10/month with a decreasing cost as more collaborators are needed.
Pros
Makes it easy to follow agile processes

Easily add points to user stories to calculate effort

Provides analytics for an overview of the health of all of your projects
Cons
Heavily focused on project management rather than product management

Has a steep learning curve

Difficult to manage and view the work required for multiple projects
JIRA considers itself the #1 software development tool used by agile teams. Not only is it beneficial for managing the software development life cycle, but it also supports multiple agile methodologies such as scrum, kanban, and more. You can even customize it to work your way.
Product teams can use JIRA to manage their product and development backlog. Documenting items in the product backlog and then working in scrum (or another agile framework), assign, track, and report on work while collaborating with your team to deliver it. Free for up to 10 users, the price then increases to $17.75 per user/month.
Pros
Easy to maintain a product and development backlog

Organize multiple teams and projects

Track team velocity to understand how quickly work is performed
Cons
Not made for product managers but rather for software development

A very powerful tool but has a steep learning curve and a time-consuming setup process

Lacks a standardized version so it is up to the organization to set it up in a way that works for them

One of the most expensive tools on the market
ClickUp is a project management tool that enables teams to plan, organize, and collaborate on projects. This is done via the following functionalities within the product: tasks, documents, goals, chat, and whiteboard.
While not built specifically to facilitate work between product managers and their development teams, it can easily be customized to enable product teams of any size to document, plan, and deliver work. 
Free forever for personal use, with limited features of course, the price then starts at $5/user/month for small teams and upwards
Pros
User friendly interface

Easy to assign and monitor work

Multiple customization options including folders, lists, tasks, status, and more
Cons
Difficult to adopt for new users

Difficult to determine flows in the product

Users have reported lags when updates are entered into the system
Choosing the right tool to manage your product backlog
There are many tools that can be used to manage a product backlog, some dedicated directly to agile teams and others that are more geared to project management but can be customized.
With this, it can be difficult to find the right tool for your product team.
This is why your selection process will be a unique one that focuses on you and your teams' specific needs.
We hope that we have given you a good starting point with this focused list of tools to manage your product backlog.
Check out the airfocus blog to continue learning about product management, including news, round-ups, and industry insights.
And to learn more about how airfocus can assist your product management team, book a demo with us today!