It's no secret that product managers have an uphill battle. Between managing shifting deadlines, large, diverse teams, and keeping all of your stakeholders happy, it's a wonder anything gets done! 
Fortunately, in today's world, there are many tools to support product managers' work. In this post, we will look at some of the most popular and reliable tools for product management.
What can product management tools help with?
Put simply: everything.
The right software can help streamline the entire process, taking you through the complete product lifecycle with a management tool for every core task. Specifically, managers can take advantage of product management software designed to help with: 
Roadmapping

Distributing/monitoring tasks

Communicating and collaborating

Creating slick presentations 

Prioritizing tasks 
Here, tools reduce laborious manual processes, increase visibility, offer in-depth analytics, and give product managers more freedom to focus on the critical aspects of their work.
There's far less risk in being bogged down by the minutiae of days gone by, miscommunications leading to costly errors, products deviating from their original vision/purpose, and failing to solve users' pain points.
But let's be clear: there's a huge range of product management tools out there. And that makes finding the right solutions for yourself or your team a real challenge. 
Until now. 
Let's take a deep dive into the best product management tools in 2023, covering the top options for organizations of all sizes, catering to all demographics.
We've broken this down into managers' main tasks and recommended the most efficient product management software for each. 
By the time you reach the end of this post, you'll know:
Which tool is right for each main task

How they benefit product managers

How much the leading tools cost 

What other product lifecycle management tools they can be integrated with

Which versions are available (free, subscription, etc.)
Ready? Let's dive in...
7 best product management tools for 2023
Trello
Trello is so popular that we'd be surprised if you aren't familiar with it. 
For those that aren't familiar with it, Trello is a kanban style app. You can add tasks, due dates, assignees, and other bits of metadata to Trello's cards. You can then organize these cards by when deadlines, their development stage, and so on. 
Pros
Trello is straightforward to use and learn. You can download it and figure out how it works in just a few minutes. 

Thanks to Trello's popularity, it's not hard to find integrations for the other apps you use. This lets you set up automation and data-sharing macros to keep everyone in the loop. 

Trello's free plan is also pretty generous, so there's a good chance that you can use it without needing to upgrade to a more expensive plan. 
Cons
Trello isn't right for everyone. Its simplicity means it's not necessarily the right choice for larger projects. And though advanced features are there, they're locked behind a paywall. 

There's also a storage limit on the free plan for Trello. So again, you will need to subscribe to Trello's monthly service to access extra storage and more powerful features. 
Jira is a popular tool for various product management needs, but it didn't start that way. In the beginning, Jira was used by IT professionals to track software bugs and issues. 
While it's still used for that, Jira has become more versatile, tracking tasks, problems, customer service requests, and other work items. Like Trello, it also features a kanban-style board where you can add cards and move them around as they progress. 
Pros
When it comes to roadmapping, Jira is very powerful. It's great for outlining a long-term or short-term plan and ensuring everyone is on the same page. 

It's also great for agile development. If you're familiar with agile, you should be able to see how Jira can work for this workflow right away. 

It's very customizable. You can truly get it to work the way you work and add nearly as many users and tasks as you like. 
Cons
Jira isn't so great for working on the go. If you're a mobile or remote worker, Jira may be a bit lacking. 

Integrations in Jira can also be a pain to set up. And your file upload sizes are limited, which can become frustrating. 

Jira has undergone a recent design overhaul. This might not be a challenge for new users, but longtime users may find the new layout confusing. 
Aha!
In the world of product management tools, Aha! is not only popular but packed with powerful features. Companies like AAA, LinkedIn, and Experian use it, to name a few. 
With a roster like that, it should be no surprise that Aha! is a go-to solution for enterprise businesses. It has core features that can work for anyone, but the extra features you'll discover along the way make Aha! so popular. 
Pros
One of the core reasons behind Aha!'s success is its excellent customer service. Larger companies will benefit from fast response times and valuable support resources to lean on. 

Aha! offers a lot of variety when it comes to roadmapping as well. The flexible layouts and features mean you can create a workflow that fits your business rather than conforming your workflow to fit Aha!'s. 
Cons
With Aha!'s popularity among enterprise businesses, it should come as no surprise that it can get expensive fast. It's definitely an app that you'll want to make sure you have the budget for before diving in. 

Aha! can be challenging to navigate, too, and it's not the best at supporting agile development workflows. So if you're looking for something that you can pick up and run with, Aha! might not be the right option. 
ClickUp is another relatively popular product management tool. It has several different views for your workflows, so you can move from a to-do list to a board to a box view, to name a few. 
There are also calendar and Gantt views, which are helpful for scheduling and viewing the timeline of your project. ClickUp is a fairly simple product management tool, making it useful for many projects. 
Pros
Thanks to its different views, ClickUp is great for agile development. You can easily switch between workflows and organize your metadata in a way that makes sense to you. 

ClickUp is great for remote work as well. It's available on nearly every device, and since it's cloud-based, everyone can stay in sync at all times. 

Thanks to ClickUp's variety of views, it can serve the purpose of multiple tools in one. So it can end up saving your team money. 
Cons
While ClickUp's multitude of views and customization options can be a plus for some users, others may see it as a drawback. All these views can make the app confusing and difficult to navigate. 

ClickUp's UI isn't great. So if you aren't adept at navigating unintuitive apps, you may struggle use ClickUp. 
Craft.io
Craft.io is a feature-rich product management tool used by companies like CNN, SAP, and Webex, so you don't need to worry about whether or not it'll be able to scale up to your needs. 
Like ClickUp, Craft.io has several views that users can switch between, letting you see your tasks or metadata organized and prioritized in various ways. 
These views let everyone on your team easily see what's happening at a glance and get deeper insights into what your team is working on as a whole. 
Pros
A strong point of Craft.io is its design. Despite being nearly as feature-packed as ClickUp, it's far easier to use. You'll find that no matter which view you're using or how deep into the features you dive, you'll never feel lost or overwhelmed. 

This ease of use means that you can also share Craft.io with your team without worrying that anyone is going to be left behind. Everyone can participate andcheck inn with the app without needing lots of training. 

Craft.io's many features mean that it can consolidate the work of multiple apps into one. It can act as a feedback tool, roadmapping tool, prioritization engine, and more. 
Cons
Craft.io has limited integrations. To be clear, it does have integrations. But they're far fewer than you would expect from an app in 2022. 

Additionally, Craft.io can get expensive. Even the basic plan carries a hefty price tag, and if you have enterprise-level needs, expect to invest a lot in Craft.io. 

Craft.io is heavily geared toward agile development. This is great for those that already use or want to start using agile development. For others, though, it can wind up slowing you down. 
Designed for a variety of uses, including marketing, software development, and task management, Monday.com is a great all-arounder. 
It's also one of the most popular tools out there, with users that include Coca-Cola, Hulu, and HubSpot. It's colorful, flexible, and built to optimize your workflow. 
Pros
Monday.com allows users to manage multiple products at once. This means that you can keep track of several projects within your team or even multiple teams' projects. In either case, Monday.com will help you stay organized. 

Monday.com also comes with a handful of automation features that can help you save time. Product managers will love being able to offload tasks onto Monday.com. 

Templates allow you to quickly add new content without starting from scratch. 
Cons
Monday.com has an affordable and popular basic plan. Unfortunately, though, this plan is missing a lot of the features that make Monday.com such a great tool. 

The differences between plans can be confusing, so you might not be clear on what you're paying for. The end result is a confusing pricing scheme that could end up costing you more than you need to be spending. Or, you could miss out on helpful features.

Some of Monday.com's features can be limited. Because it aims to be a jack of all trades, nailing down specific workflows and features on Monday.com can be more challenging. 
Last on our list of product management tools is Slack. Slack is a bit of a departure from many other apps on this list. It's designed to keep your team in touch rather than as a visual representation of your work and tasks. 
However, a lot is going on under the surface that can make Slack a powerful product management tool in conjunction with other tools or as a standalone resource. 
Pros
Some of the features that make Slack so powerful are its integrations. It integrates with virtually everything, allowing you to create rich automations, unique workflows, and save yourself and your team a lot of time. 

Slack offers a variety of ways for your team to communicate. It can host audio calls, instant messaging, product demos, audio notes, and more. In just a few years it's become the go-to app for staying in touch with your team and is, in many ways, the gold standard. 
Cons
Slack isn't perfect. Starting with the fact that Slack is a messaging app first, so it doesn't have many of the visualization tools that other apps in this list have to offer. 

Additionally, many of Slack's features are locked behind a paywall. This can leave some users feeling that Slack in underpowered
How airfocus can help with product management
Now, if you're looking for a fantastic, modular product management tool, we think you should consider airfocus! We've worked hard to make airfocus one of the best strategic product management tools out there. Here's how it works and can help you. 
A modular approach
From the start, we wanted airfocus to work the way you work. That's why we decided to go with a modular design. That means you can take the features and tools that work for you and leave the rest.
It also means that airfocus users can save money without compromising on the features they need to be productive. It's flexible, which (we believe) should be standard. 
You can use a modular approach to personalize your workflow, too. You may find that certain features are redundant or that others work better for your needs. You can trade features in and out over time to craft that perfect workflow.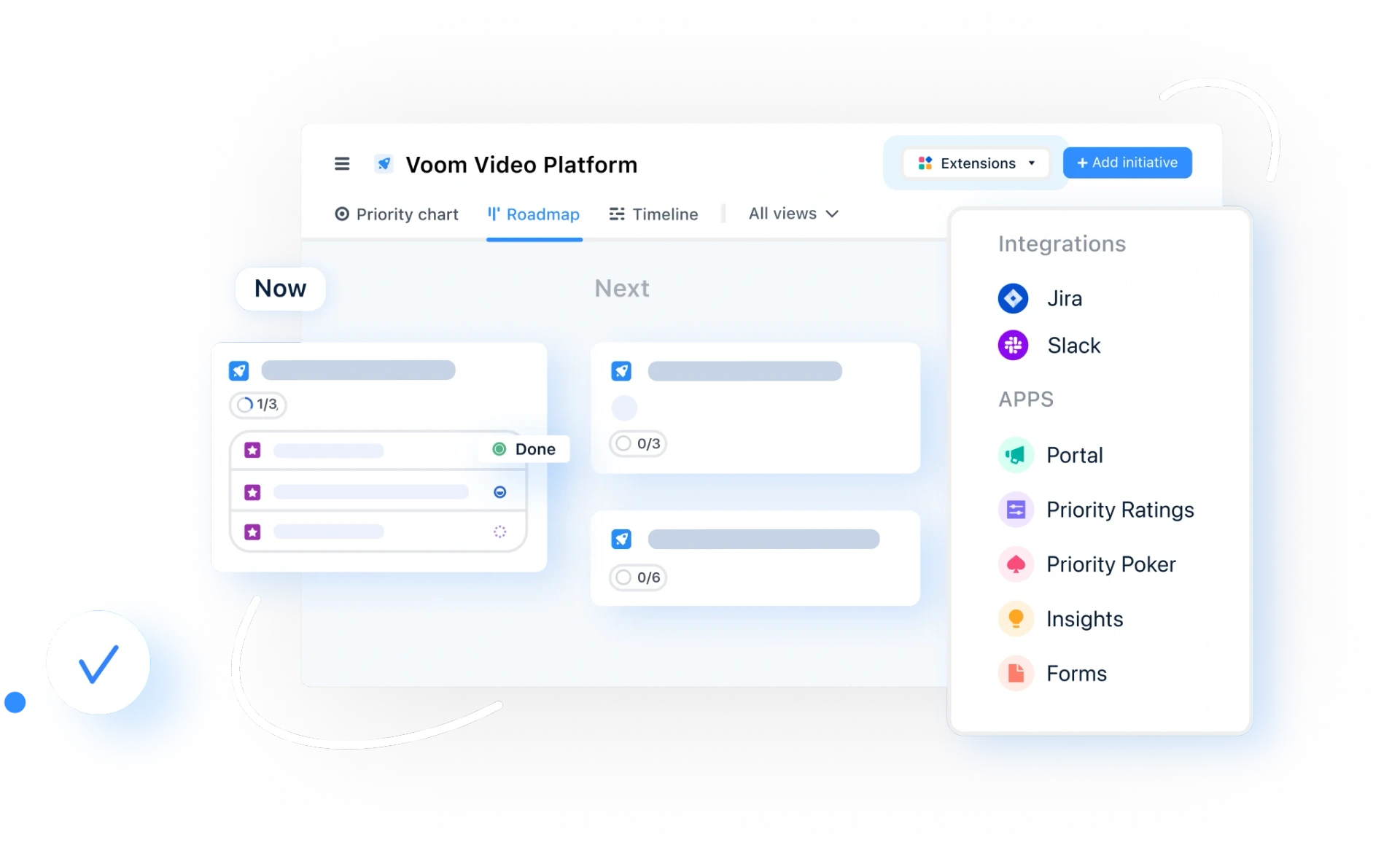 Algorithmic prioritization
Product managers are always working on prioritization. Knowing what will take the most work, what you should work on first, and what can wait, is difficult when trying to keep an eye on the big picture. 
That's where airfocus comes in to help. airfocus uses algorithmic prioritization to rank tasks automatically. You can use these rankings as a starting point for further prioritization and refinement or stick with the suggested task order. 
You can use algorithmic prioritization at any stage of your product management. So early or late in your project, airfocus will be there to help keep you organized. 
Simple drag-and-drop structure 
While we would all love it if there were a single app that could meet all of our needs, the truth is that you'll likely be leaning on a handful of apps to keep your team organized and productive. 
That's why airfocus was built to keep things simple with a simple drag-and-drop interface. You can easily move data, create groups, manage lists and team members, and more. And you can do all of it without needing to learn a complicated series of steps. 
And our simple user interface means less training and more time to get down to work. Anyone can learn how to use airfocus in a matter of minutes. 
Centralize and align your team's work
In 2023, it's not uncommon for each team member to have their own software stack. Everyone's working with different files in different apps, and before you know it, you're completely disorganized. 
A tool like airfocus can help bring everything back under one roof. Each member can check in, see what's due, find tools and features to help with their workflow, and otherwise collaborate with the rest of your team. 
In other words, airfocus can act as the ultimate home base for your team. 
Packed with tools, features, and resources to help you succeed
airfocus is packed with tools and features designed to help you succeed. When choosing your modular elements, you may find it hard to choose what to leave out!
We have features that support agile development and modern product management including Priority Poker, customizable forms, priority ratings, and item mirroring. Each of these helps you interact with your team, improve your visibility, and save you time. 
We don't want you to think of airfocus as a single tool, but a collection of resources that you can use to boost your productivity and shrink your workload. 
Choosing the right product management tools for your team
Choosing the right tool (or tools) for your product management team will be a unique process based on your specific needs. Hopefully, this list has given you a place to start. 
To learn more about product management, including news, resource round-ups, and industry insights, stay tuned to the airfocus blog. 
And to learn more about how airfocus can help your product management team, book a demo with us today!