It's no secret that the product management discipline has burst into the tech scene in the last few years. Like the popular kid in school, everyone wants to be part of the inner circle, and as such, a plethora of tools have cropped up everywhere in an attempt to cater to the needs of the role.
One of those tools is Canny, which has a unique focus on collecting customer feedback in order to build better products. As we all know, product managers do much more than just collect feedback. While feedback is indeed the center of how we understand the value we might be able to provide with our products, how much can you really achieve with a tool that only lets you do that? 
In this article, we'll be taking a look at Canny and 7 viable alternatives for you.
TL;DR
All products mentioned in this article have clear strengths and can serve as part of a product management ecosystem. A modern product management tool must cover outcome-focused roadmaps, strong support in product discovery, easy user adoption, and seamless scalability for growing teams. According to our evaluation, airfocus is best suited to cover this full set of capabilities a modern product manager needs. 
What is Canny, and why look for an alternative?
Canny was founded in 2015 by Sarah Hum and Andrew Rasmussen in Delaware, United States. The company is entirely bootstrapped - which you do have to admire - and the small team of 12 have been doing great work over the last few years to put the tool on the map.
Canny seems to have realized that product managers need more out of their tools, and they expanded their tool to support roadmapping as well. The real question here is though, how can you go from feedback to roadmaps in one go? And how do you handle discovery, research, and manage a backlog and multiple workflows and processes when the tool is just not equipped to handle it? (The obvious answer: You can't achieve these things easily if a tool does not allow you to.)
More than feedback
Like many tools that realize they must grow to meet demands, Canny certainly had great intentions. And unfortunately, like many other tools that seem to misunderstand how product works, Canny set up their roadmapping space to support a list of features tied to statuses.  
Their feedback management consists of a voting-style forum where you can collect thoughts from customers, then analyze them and put those items onto a roadmap. A lot can be said on this topic alone, but let's try to clarify one thing here: popularity contests are not the way to decide what users want - even less what they need. Product management requires a lot more work than just having people vote on items, and using a tool that promotes that will do you and your team a disservice. 
Defining Canny competitors
When it came to looking at Canny competitors, we looked at answering the following:
How does it help with roadmapping and sharing roadmaps?

How does it help with discovery?

How does it help with prioritization?

How does it help with scaling teams?

How does it help with involving other team members?

What is their pricing like?
Why these questions? 
Gathering feedback is one of the most important things a product manager can do, but it's not the only thing we do. We negotiate, prioritize, communicate, and work with various teams to figure out how to best solve problems for our customers.
This requires a platform that thoroughly understands and supports workflows and processes that will help us reach success - not just one that caters to one step of the entire process.
With this in mind, we looked through sources and reviews online to assess our competitor list. As a result, we've chosen the five most recognizable authorities to conduct an investigation:
We used these sources to find the closest Canny Alternatives and compared them with one another.
Here are your top 7 alternatives:
Aha!

airfocus

Asana

Craft

Productboard

Trello

Uservoice.
Let's get right into it!
1. Aha! Vs Canny
In their own words: "Anything is possible with the world's #1 product development software
Aha! was one of the first product tools in the market in 2012. Initially a roadmapping tool, it expanded its offering to include idea and feedback management. Now catering to large project-focused enterprises, Aha! offers both product and project management solutions.
Founded in: 2013
Based in: United States
Employees on LinkedIn: 300
Funding: bootstrapped
Website: www.aha.io
How does it help with roadmapping and sharing roadmaps?
As a roadmapping tool, Aha! offers extensive roadmap sharing capabilities - that is, if you're comfortable using timelines as roadmaps. The world has evolved, and sadly Aha! did not totally evolve with it. 
If you're a product manager wanting to apply better PM practices, such as outcome-based or theme-based roadmaps, you'll find these options aren't really within the tool. That said, they do offer the ability to visualize goals and objectives, but all of these are set against a delivery timeline. This unfortunately does not entirely prevent you from falling into a feature factory.
How does it help with discovery?
Aha! has a feedback portal where you can engage with your customers so you can gain more insights. Much like Canny's portal, theirs is forum and voting based, which as we know can lead to popularity contests and lead you astray as to what is actually the best thing to build next. 
Creating an internal process is impossible, as all feedback remains on the portal itself. This makes it difficult to establish an internal feedback management process for your team, allowing you to use feedback as part of the evidence you'll need to proceed with a decision.
How does it help with prioritization?
Aha! is quite flexible when it comes to applying different prioritization methods. That said, as a project-focused tool, it ties objectives to timelines and features - not problems and outcomes. It runs the risk of making you overly reliant on any given framework, rather than offering you the ability to make a decision based on evidence. 
How does it help with scaling teams?
Aha! provides custom fields and workflows you can set up for your team. It also has extensive reporting tools, with charts and graphs that can help support cross-functional work.
How does it help with involving other team members?
Aha! comprises a suite of products: Roadmaps, Create, Ideas, Develop and Academy. They're not exactly known for having the best UI, and if anything, it is notorious for not being particularly user friendly. While the general idea to be able to support cross-functional teams is there, its overly complicated user experience makes it difficult to adopt. 
What is their pricing like?
Aha! packages their product in four plans for "Roadmaps" and two for "Ideas". "Roadmaps" starts at $59 per user per month, paid annually and goes up to $149. "Ideas" is either $39 per user per month, paid annually or $59. You'll need both products to cover all of your product management activities.  
Anything else comes at an added cost.
Pros and Cons
Pros:
Backlog and workflow management

Ability to create custom fields

Extensive reporting capabilities

Crowdsourcing and engagement with a portal
Cons:
Roadmapping is timeline based

Project-based focus

Complicated UX/UI

Feature management is through voting, not problem solving
Rating
G2: 4.3 out of 5

Capterra: 4.7 out of 5
2. airfocus vs Canny
In their own words: "A platform built for the new way of doing product management"
airfocus has been able to prove in its short time in the market that they understand the difficulties of product in practice, and have designed a platform that adapts to growing and scaling teams. With a unique take on product management and team experiences that no other platform offers, its approach ensures that the tool adapts to your way of working.
Its offering includes product strategy, discovery, roadmaps and insights management, making it a great complement to any product management tool your team is already using.
Founded in: 2017
Based in: Germany
Employees on LinkedIn: 60
Funding: $10M
Website: www.airfocus.com
How does it help with roadmapping and sharing roadmaps?
With airfocus you can create individual and portfolio roadmaps, all of which are shareable via custom links or custom portal. 
The platform offers a variety of different templates during onboarding to get you started quickly. Templates are included for different kinds of roadmaps, but also backlog and feedback management. 
 All templates and workspaces are fully customizable, allowing you to define views, fields and user permissions as needed. The flexibility is there to visualize and understand data in different ways, catering to different mind maps. (Of course, you can also start from scratch and do your own thing.)
How does it help with discovery?
airfocus has put great care into ensuring that it's not just a product workflow and process tool, but also a  place where you can collate insights and run discovery.
The platform has a heavy focus on customer feedback, in the form of two apps: Insights and Portal. Working in conjunction, as feedback comes in through your portal (as well as a variety of different sources), you can manage that feedback internally through a set of custom workflows. This allows you to link insights from your customers to your backlog and roadmap.
This flexibility means you have full autonomy over how feedback is managed, and keeps your team continuously customer-focused.
How does it help with prioritization?
airfocus has a very flexible approach to prioritization, like everything else on their platform. Each workspace can be customized to each team's specific needs. There are also prepopulated templates available, so you don't need to waste time dabbling in the setup. Each framework comes with an algorithm that will calculate a custom score, which you can then use to visualize how items compare to one another in a visual comparison chart. The chart shows quick wins and strategic items, as well as those that may potentially become time wasters.
The platform also offers a Priority Poker tool, which assists with team alignment and opportunity scoring. With it, a session begins and team members can score opportunities individually, then discuss what the best way forward might be. It is certainly a unique way of bringing a team together and make sure there aren't any assumptions made!
How does it help with scaling teams?
airfocus is a modular platform, and as such, it is designed specifically to grow and adapt with your team. With it, you can design your own set of workspaces - each with its own views, workflows, fields, and integrations that support your ways of working.
If there is one thing airfocus understands is that no two teams (or organizations) work the same way. They do, however, provide useful guidance through their templates, tool tips, videos, and various educational content. If you still want to proceed your own way, you are still free to set up the platform in whichever way is the most helpful to you.
How does it help with involving other team members?
airfocus' has a pretty user-friendly UI, ensuring your team will want to jump on and collaborate. In addition to bringing your team onboard, you can also use forms, portals, and integrations to work with cross-team members, reducing whatever friction there might be in establishing the platform across your organization, beyond the realms of just the product team.
Their most popular integrations include tools such as Intercom, Jira and Asana, so you can set up a dynamic system across multiple teams.
What is their pricing like?
airfocus offers four pricing plans for their product. Pricing is based on paid seats, while also offering free viewers. The smallest is $19 per user per month, billed annually. The next larger one is $69. The two upper tiers are custom pricing, also billed annually. 
Pros and Cons
Pros:
Integrations with development tools like Jira, Trello and Asana

Ability to create and share roadmaps

Portfolio view of multiple roadmaps

Customizable fields, views, and apps

Custom prioritization frameworks + priority poker

Good UI, easy setup
Cons:
Rating
G2: 4.4 out of 5

Capterra: 4.5 out of 5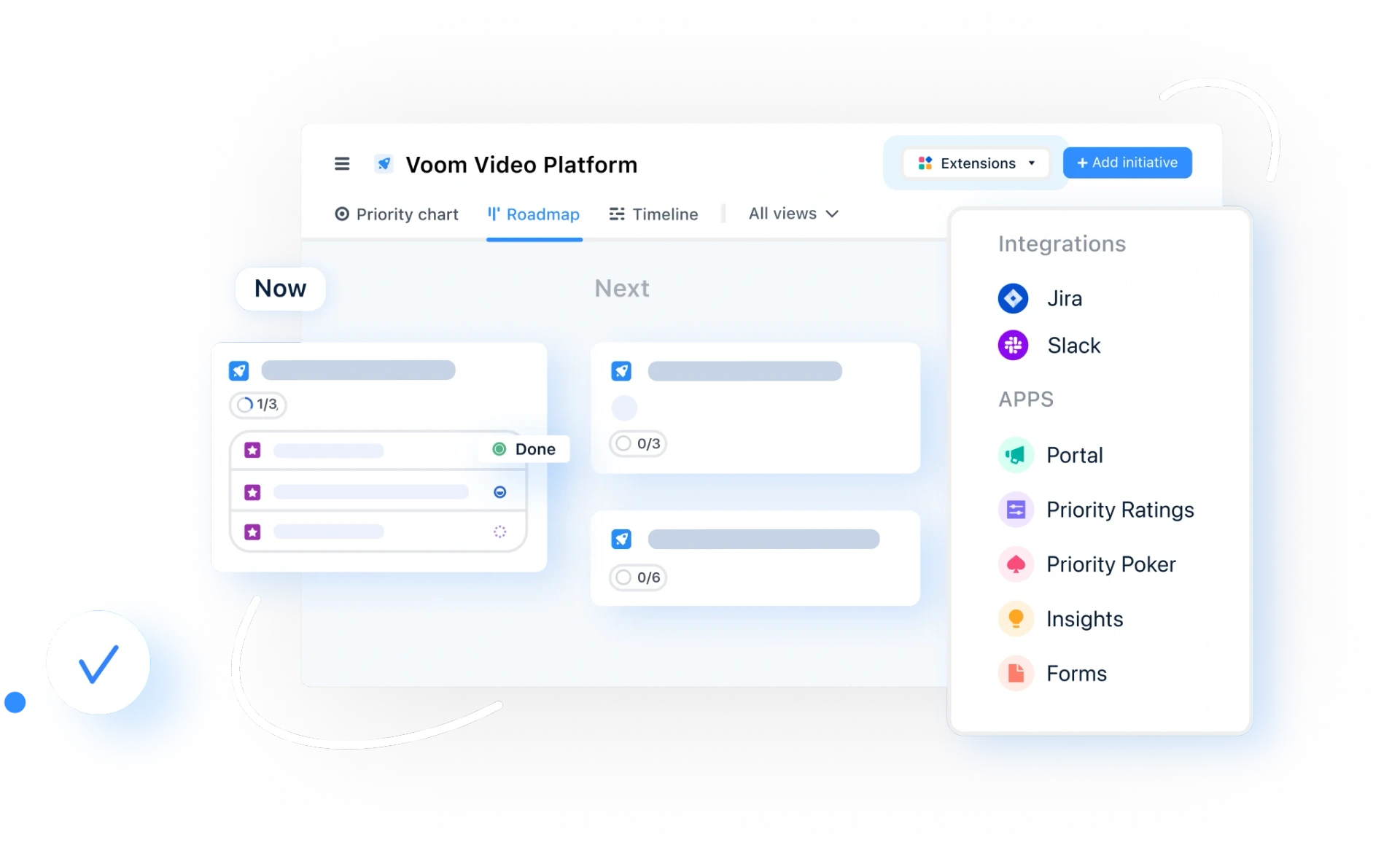 3. Asana vs Canny
In their own words: "The best platform for cross-functional work."
Asana has become one of the most well known project and task management platforms in recent years. With their easy to use UI and excellent detail towards user experience, they've certainly made task management a lot less dreadful. 
Founded in: 2008
Based in: United States
Employees on LinkedIn: 2500
Funding: $453.2M
Website: www.asana.com
How does it help with roadmapping and sharing roadmaps?
As a task-management tool, Asana's use cases don't really tackle the needs of product managers beyond the use of timelines and project management. If you're wearing multiple hats, which we all sometimes do, it'll certainly make sure that you're able to keep track of your day to day both for yourself and your teams. That said, it lacks outcome-based roadmaps, objectives, backlog and feedback management in order to support product teams.
It would certainly act as a great complement to a product platform of your choice, but it isn't a product platform in itself.
How does it help with discovery?
Asana isn't set up to manage feedback, insights, or research. Its focus is primarily task management, and as such that means you'd struggle to set up a discovery process with it.
How does it help with prioritization?
Asana offers pre-defined labels of high, medium and low - providing a simple but effective way of prioritizing. You could create your own custom labels as well, but it'd be difficult to create any sort of framework beyond the high level task management options provided.
How does it help with scaling teams?
Asana is very well designed when it comes to scalability and team growth -  its workspaces, flexibility and customizability make it quite easy to adopt across multiple teams.
How does it help with involving other team members?
The team behind Asana has taken a lot of care when it comes to user experience. It is truly delightful, and you should encounter minimum friction with your team. As far as managing tasks across teams, it's probably the easiest to adopt.
What is their pricing like?
Asana offers three tiers paid per user, billed annually: free, $10,99 and $24,99.
Pros and cons
Pros:
Great UX/UI

Interconnected apps and workflows

A variety of integrations to choose from
Cons:
It's a task-management tool, not a product tool

No space for feedback or insights management

No ability to create product roadmaps
Rating
G2: 4.3 out of 5

Capterra: 4.5 out of 5
4. Craft vs. Canny
In their own words: "Build great products with confidence"
Craft describes themselves as a small team with a powerful tool. With options to create roadmaps, manage backlogs, and keep track of feedback - this relatively new product management tool is trying to break into the scene as of recent.
Founded in: 2015
Based in: Israel
Employees on LinkedIn: 43 
Funding: $8 Million Series A 
Website: www.craft.io 
How does it help with roadmapping and sharing roadmaps?
Like many other tools, Craft has gone down the road of initially offering timelines and eventually learning that product managers need a lot more than that, eventually expanding their roadmap offering to include customizable boards. Roadmaps are all shareable through a link, which is handy when it comes to transparency and communication with external stakeholders.
How does it help with discovery?
Craft does have a portal you can use, however, users are required to login to Craft and create an account with them in order to submit feedback. This seems like a bit of an odd way of approaching things, and can raise some concerns around data privacy.
How does it help with prioritization?
Craft is quite flexible as far as allowing you to set up multiple formulas and algorithms, all of which are customizable. Whether you're looking for something overly output driven, or a simple impact vs effort matrix, the tool has taken care of ensuring you have the options available to move forward.
How does it help with scaling teams?
Craft does seem to understand that different teams may have different ways of working, and as such have made their product quite customizable. That said, the UI does need a bit of an improved user experience touch, as there's a lot of buttons in various places that don't make sense. Their pricing is also incredibly expensive, with their lowest tier starting at $39/per user/per month - with no access to free viewers or even a feedback portal.
How does it help with involving other team members?
The biggest friction point with Craft is forcing members to login to submit feedback. Many may worry about data privacy or data collection, or having to of course remember yet another password for a tool they might use once. While other tools offer the ability to submit feedback for themselves or their customers without any barriers, this particular approach seems like it would cause issues with larger teams. 
A good product team must be able to work closely cross-functionally, and if others refuse to adopt your workspace, teamwork will just be that much harder.
What is their pricing like?
Craft's pricing begins at $39 per user per month on their lowest tier, $89 for their mid tier, and an Enterprise plan. 
Pros and cons
Pros:
Roadmapping available in various formats

Access to various prioritization frameworks

Visibility of objectives and initiatives
Cons:
Feedback tool requires login

Expensive per user packaging and pricing

Portfolio management and feedback portal only available on higher plans
Rating
G2: 4.2 out of 5

Capterra: 4.4 out of 5
5. Productboard vs Canny
In their own words: "Productboard helps product teams understand what customers need, prioritize what to build next, and align everyone around the roadmap."
Productboard has become a big player in the product industry lately, with a platform that focuses on roadmapping and customer centricity. With offices in various countries around the world, it has expanded its offering globally to support product managers everywhere.
Founded in: 2014
Based in: San Francisco, California
Employees on LinkedIn: 500 
Funding: $125M Series D 
Website: www.productboard.com
How does it help with roadmapping and sharing roadmaps?
Productboard's approach to product management involves working with timeline roadmaps, so if you're looking for an outcome-based approach, this may not be the tool for you. They have templates such as "release roadmap" and "timeline roadmap" readily available, but do also offer the ability to create a now, next, later roadmap focused around releases, not outcomes. The platform also bypasses the concept of initiatives entirely and places features directly on the roadmap, potentially silo'ing you and your team into a build trap.
That said, their roadmaps are easily shareable, both through links and through a customized portal. The portal itself seems to be a separate customer-facing roadmap with a lot more flexibility than the internal-facing roadmaps for your team.
How does it help with discovery?
Productboard offers a user portal that your team can use to gather feedback around items in discovery, as well as general feedback from the public. The downside is that all items in your backlog will appear as a "feature," once again pushing you towards a feature factory. 
How does it help with prioritization?
The tool allows you to set up any framework you choose, yet you have no control over how the algorithms are calculated. Because there is a lack of initiatives on the roadmap level, the ability to take other factors into account with the initiative (like objectives, vision, theme, or even feedback) are entirely missed - it all happens on an individual feature level. If you're solely prioritizing features and not taking larger problems into account, this places Productboard's third red flag as a feature factory.
How does it help with scaling teams?
Productboard does have the concept of multiple workspaces, but these workspaces are not connected to one another. You are able to manage multiple products from a single space - provided your entire team is ok with the same set of views, fields, and workflows. However, if you'd like to provide your various teams with a single source of truth while allowing for more flexibility, Productboard will certainly not scale in that direction.
If you do choose to go through the multiple workspace route, their lack of connection means you won't be able to apply any form of cross-team collaboration, or be able to roll up multiple roadmaps into a single portfolio for your entire team.
How does it help with involving other team members?
While Productboard does offer connections to other tools such as Intercom, the tool itself can be difficult to navigate. Luckily, the portal is user-friendly enough you might be able to get traction through there. Otherwise, you'll have your entire team constantly submitting "features" without understanding their viability prior to them hitting your backlog.
What is their pricing like?
Productboard has four different price plans, billed per user per month. Starting at $20, continuing with $80, with the upper two plans available on request. 
Pros and cons
Pros:
Focus on customer feedback and insights

Public portal for customer engagement

Ability to share roadmaps
Cons:
Mixed messaging around roadmaps and product approach - they appear to be heavily feature-focused.

Price can be expensive

No focus on experimentation, ideas, or outcomes.
Rating
G2: 4.3 out of 5

Capterra: 4.7 out of 5
6. Trello vs Canny
In their own words: "Keep everything in the same place—even if your team isn't." 
Trello is a task management tool focused on productivity and unblocking work. Recently acquired by Atlassian, it helps teams with everything from brainstorming to task management.
Founded in: 2011
Based in: New York
Employees on LinkedIn: 201-500
Funding: Series A $10.3M (later acquired by Atlassian)
Website: www.trello.com 
How does it help with roadmapping and sharing roadmaps?
Trello consists of boards. These boards contain cards, which can represent any sort of item you want. While you could create a sort of now, next, later roadmap to highlight your initiatives, the fact that these cards are difficult to then break down into ideas, that then break down into stories, that also have feedback attached make the whole roadmapping approach on the tool a bit difficult to achieve. That said, if you're looking for a stand-alone roadmap (which is generally not a good idea!) - it could work. All boards are shareable, and you can even allow for people to submit feedback. 
While it may not specialize in product, it does provide a quick and cost-effective way of creating a roadmap to get you started.
How does it help with discovery?
Much like you can hack your way around a roadmap, you can also hack your way around customer feedback. You could, potentially, create a portal of sorts where people add feedback to a board - but managing, collating, organizing and sorting through all of that will be a bit of a headache for your team.
If you take a different approach and use it as an internal dual-track agile flow, that may work out a little bit better. Its free board approach means that you can set up any workflow you want for your backlog, even creating a distinction between your product and development backlogs, which is quite neat.
How does it help with prioritization?
As a task management tool, it offers labels that can be customized to signify any priority level. Trello also offers "power ups", or additional features such as the ability to add story points, if that's the route you want to follow. That said, there are no algorithms or framework customizations available, other than through custom text fields and labels that you can create. If you're looking for a really simple and straightforward way to prioritize work, the Kanban approach will definitely work for you.If you're looking for more advanced algorithms and frameworks, it may not be the tool you're looking for. 
How does it help with scaling teams?
If we approach Trello from a task-management point of view, there are rarely any friction points when it comes to scaling. If you're able to afford the higher tier to allow for unlimited boards, that is. The tool itself is user-friendly and quite easy to use. 
However, if we are approaching it from a product management perspective, that's where things start to fall apart. You will end up with multiple boards which cannot always be connected the way you'd need them to be, creating friction for how information is shared and used. 
How does it help with involving other team members?
The learning curve is so short with Trello, you won't really have any issues with involving other team members. What you will need to figure out is how you want to involve them - will this be your task-management tool, or will you go down the route of trying to make it your product tool?
What is their pricing like?
Trello's pricing revolves around storage, users, and boards.
They offer a free tier with a 10MB storage and 10 board max, then go up to $5/per user/per month, $10, and $17.50 (based on a 50 user team - price will vary.) 
Pros and cons
Pros
Cons
Not a product management tool

Limitations on storage and boards

No customization of priority frameworks

Not a product tool
Rating
G2: 4.4 out of 5

Capterra: 4.5 out of 5
7. UserVoice vs. Canny
In their own words: "Product feedback management software for growing SaaS companies"
UserVoice is an insights and feedback management tool. It started out as a forum-based platform, now expanding into revenue prediction and even roadmapping.
Founded in: 2008
Based in: Raleigh, NC (USA)
Employees: 50 
Funding: Series A $7.5M
Website: www.uservoice.com
How does it help with roadmapping and sharing roadmaps?
UserVoice does allow you to create outcome-based roadmaps, even if the example they provide is "considering, building, released" (which looks more like a Kanban board than anything). Roadmaps are primarily for user consumption, and will miss out on things like objectives, success measurements, and a link to a product backlog. 
It definitely offers a way to communicate your roadmap externally, but fails a bit on the internal roadmapping portion of the process.
How does it help with discovery?
UserVoice expresses their bread and butter as "validation". They offer plenty of tools to understand if you're heading in the right direction, allowing you to ask questions to customers directly. As far as quick testing and iteration goes, they've really nailed this part of their platform.
The platform itself is more well known for its forum-approach though, which depending on how you see it, could be a double-edge sword. The user engagement will definitely be there, but you have to watch out for confirmation bias and popularity contests.
How does it help with prioritization?
UserVoice doesn't really offer any product prioritization frameworks, but does offer you a way to analyze the feedback and insights you're receiving. You will be able to understand what your customers are talking about the most and where you might be able to put effort to solve a problem, but the next clear step would be to see all problems together holistically alongside your roadmap and objectives in order to make a decision. UserVoice doesn't take it that far, but it will raise those problems for you to then identify, prioritize, and action somewhere else.
How does it help with scaling teams?
It's difficult to articulate what their strategy is in terms of scaling. Their pricing is based on how many end-users you have, and as a growing business you'd hope to be able to go above and beyond 1000 in your first year. With that in mind, their 1000-end user pricing is $999 a month, which is quite steep for a growing startup. Features are also capped per tier, so in order to really make the most out of it, you'd need to go Premium or above for $1499 a month.
How does it help with involving other team members?
UserVoice has a very niche approach, so it'd be interesting to define which other team members would want to/could get involved. It really only does one thing: collect and analyse feedback, but that feedback then needs to be taken somewhere else to understand it next to all other priorities. It makes it a bit difficult to understand how and where you would want to include other team members in such a niche process. 
What is their pricing like?
UserVoice starts out at $799 for 200 end users, $999 for their next year, and $1499 for their Premium tier. Web portal and widgets are not available on the lowest tier, forcing most product teams towards the $999 Pro plan.
Pros and cons
Pros:
Analyzes and collects feedback

Has revenue-prediction tools 

Has public roadmaps
Cons:
Only offers feedback management

Niche part of the product process, no backlogs or internal roadmaps

No prioritization frameworks

Extremely expensive
Rating
G2: 4.3 out of 5

Capterra: 4.2 out of 5
Conclusion