Nobody ever said roadmapping was easy. 
But if you pick the wrong tool for the job, you can make the process even harder.
That's why it's important to compare roadmapping tools before settling on the one that works best for you. 
One option you have is Aha! roadmapping software, but if you've actually tried it, you might have found it a bit challenging.
While it has its benefits, Aha! can also be needlessly complex, limited on integrations, and tough on the wallet. 
So are there any Aha! alternatives out there? And if so, which of them are worth your time? 
Don't worry — we've done the hard work, so you don't have to.
Let's jump in!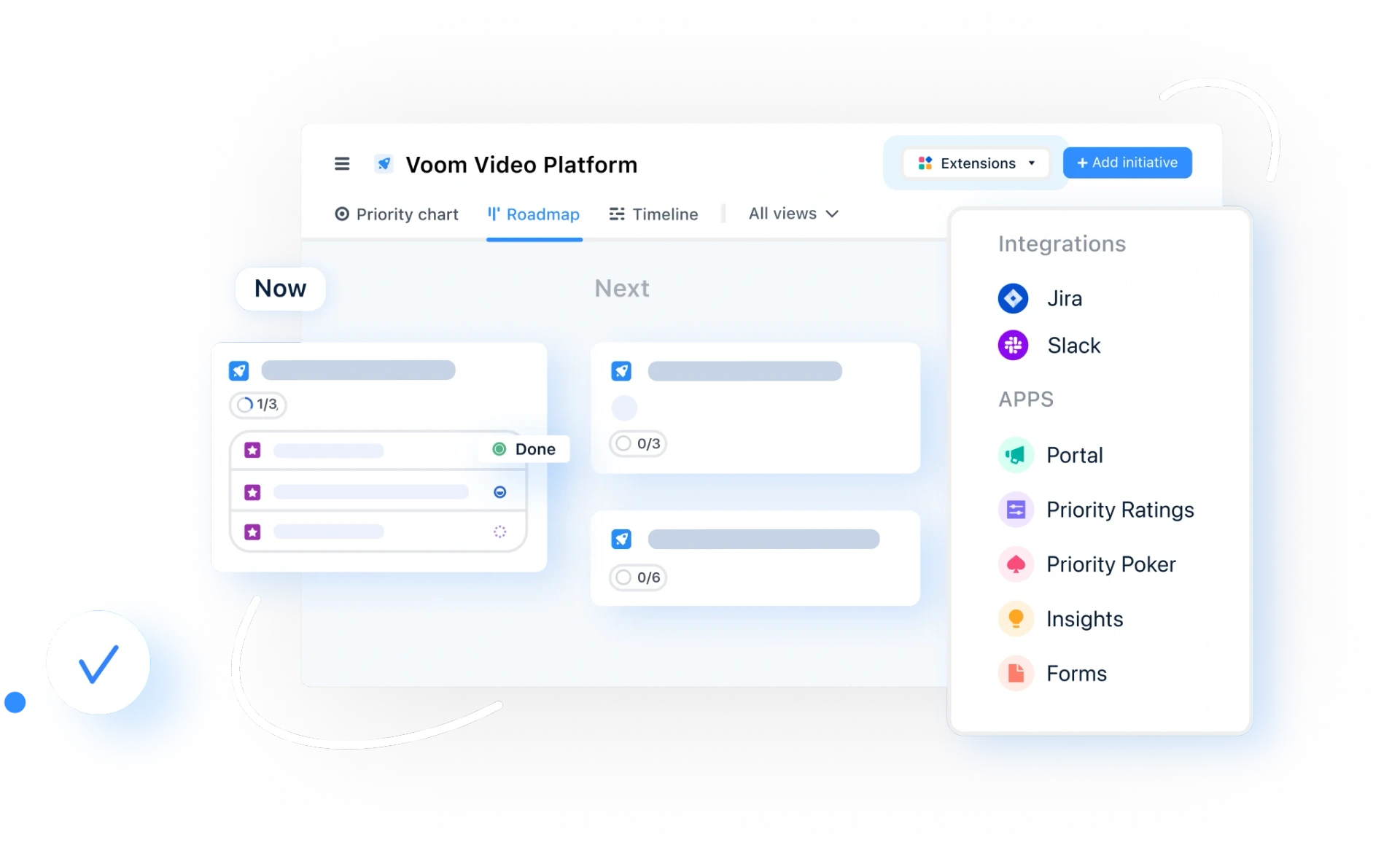 3 Aha! alternatives for your next roadmap
Below we'll look at three different alternatives to Aha! Roadmaps and take a deep dive into each feature set to compare what each one can offer versus Aha! to help make your next roadmapping project even easier. 
Wrike
Wrike markets itself as a "work management platform," which supports multiple aspects of remote working within teams. 
Founded in 2003 with an initial release in 2006, Wrike is one of the longest-standing platforms, but it's undergone multiple evolutions over the years. With the rise of remote and hybrid working, Wrike has become a popular option for teams looking to project manage at scale from anywhere. 
Right now, Wrike's tentpole features include custom dashboards and workflows, cross-department visibility, scalability, request forms, Gantt charts, and Kanban boards. Wrike also includes pre-built product templates, which can help product managers and owners plan and execute their roadmap faster. 
Why choose Wrike over Aha! Roadmaps?
Wrike is the more affordable choice, ringing up at $9.80 per month vs. the price of Aha! at $59 per month.

Offers a free subscription tier with certain limitations compared to the paid versions. 

More customization options than Aha!, including pre-built product templates for Agile teams. 

A more modern, streamlined user interface for a smoother in-app experience. 
Trello
Trello is somewhat unique in the digital productivity tool space because it's focused primarily on one model: the Kanban board. 
Wearing this inspiration on its sleeve means that Trello is very much a visual platform. Thanks to the card-based drag-and-drop system, it's easy to understand and easy to use. You can move tasks from swimlanes (e.g., In Progress, Completed, To Do) to provide an at-a-glance summary of project progress. 
Trello is great at showing the progress that teams are making on their roadmap through its system of boards, lists, and cards. As you'd expect, each task can be assigned to a user, given a due date, and shifted along the timeline dynamically as needed. 
Why choose Trello over Aha! Roadmaps?
Trello is much more visually comprehensible than Aha!, making it useful for quickly assessing overall product development progress. 

The straightforward drag-and-drop functionality means teams can focus less on managing the minutiae of the app and more on getting stuff done.

Along with visual roadmapping, Trello also allows users to attach photos and files to cards, create checklists to keep on top of smaller to-do items, and create progress meters for tasks. 

Trello integrates with hundreds of third-party apps and services. Funnily enough, Trello also integrates seamlessly with the next platform on this list.
Of course, we wouldn't be doing our job right if we didn't steal a moment in the spotlight ourselves here. After all, when it comes to airfocus vs. Aha!, we think we've got the edge… but we would say that, wouldn't we? So let's prove it. 
airfocus was founded in 2017 with a mission to make roadmapping and prioritization easier for product teams.
It's that simple. We've built airfocus from the ground up with an eye on how product teams want to work.
The platform seamlessly enables prioritization, roadmapping, visualization, and collaboration.
And all that lives in one sleek user interface built with modularity in mind.
Why choose airfocus over Aha! Roadmaps?
The airfocus user interface is clean, uncluttered, and streamlined to ensure the focus is always on what matters: getting work done. 

airfocus was built from scratch as a modular system, meaning it allows you to customize fields, views, integrations, sharing settings, prioritization criteria, scoring formulas, frameworks, and more. 

airfocus focuses on prioritization with unique (and, dare we say, fun) features such as Priority Poker. 

Not sure if airfocus is right for you? Try it out yourself free for 14 days — no strings attached.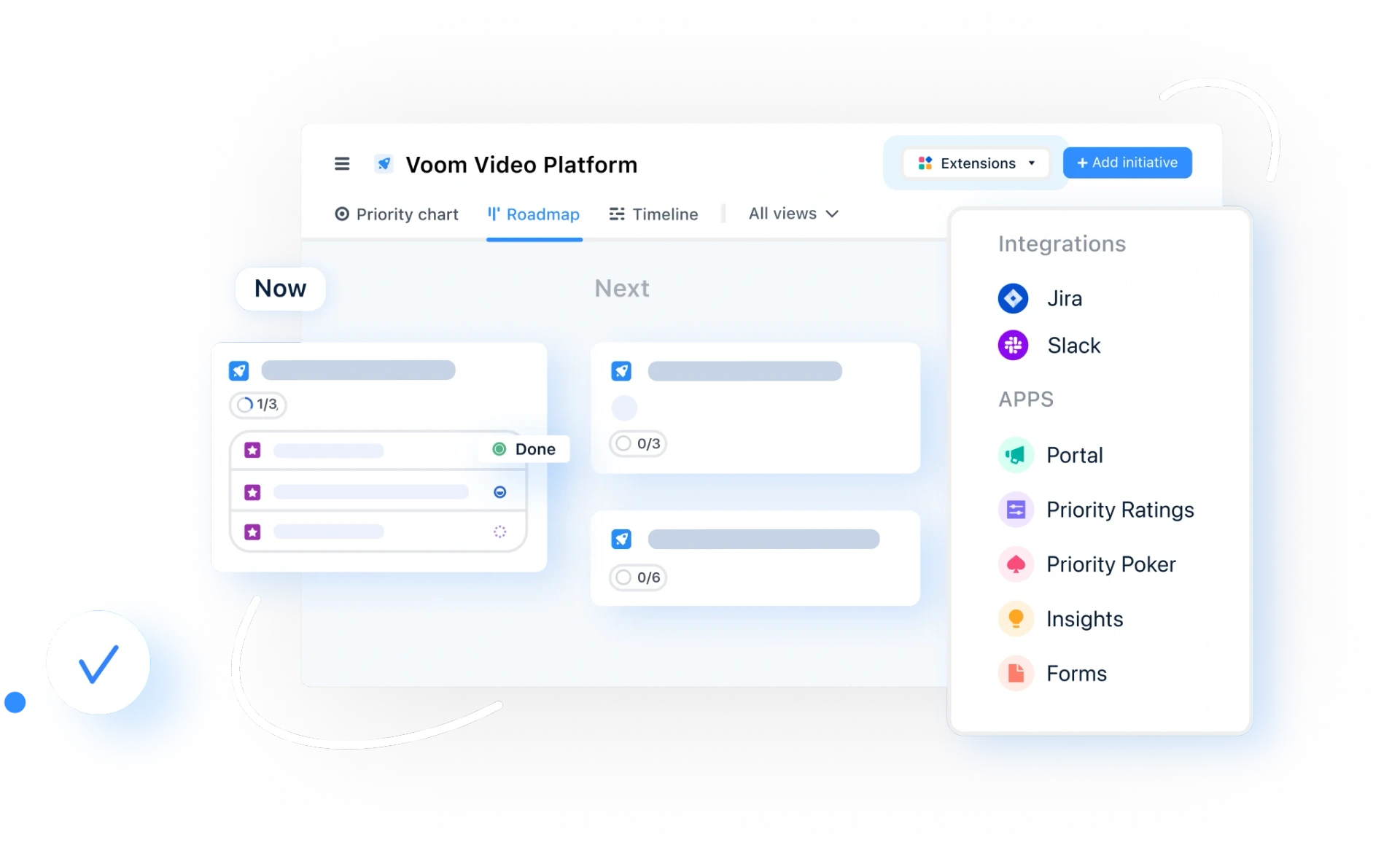 Ready to switch to a better way to do roadmaps?
We hope this comparison has helped shed some light on the various alternatives to Aha! roadmap software you'll find on the market. 
Don't forget, if you have any questions about roadmapping, prioritization, or you'd like to try out airfocus totally free for 14 days, you know where we are.