When it comes to staying ahead of the game, most startups, marketers, and SaaS companies find they need to be more agile.
Agile working can supercharge project management and delivery. It has become one of the most popular and in-demand ways of working for teams and organizations across a huge range of sectors. 
But even with the added benefits of an agile team, actually project managing the work is a tough task.
Project managers need to know their Scrum Meeting from their Standup, be completely in control of the backlog, and know that an "epic" user story isn't just one that's really great.
Leading an agile project management team is demanding, and project managers need to be totally up to speed on all workflow elements.
Guiding the team through the agile process alone requires focus and attention — and that's before you even get on to doing the project's work or managing client expectations. 
And because it's agile, everything happens so much faster.
Luckily for all the overworked agile project managers out there, the last few years have seen a boom in brilliant agile project management tools — each designed to make life a little bit easier. 
💬
Agile project management software
An agile project management software makes it easier to plan the work and stay on top of the process, all the while ensuring that everything is prioritized and delivered using agile principles and values.
Agile tools can help spread the load a little and address specific pain points in agile project management — particularly if you are working remotely. 
Ready to supercharge your team's agility with the helping hand of agile tools and platforms?
Of course, you are. 
Keep reading for our pick of the best agile tools and project management software around in 2022.
And, because we value your time, we've made it easy to see what's so great about each piece of software — without you having to bend over backward!
What's so great about airfocus?
Well, we're glad you've asked — this is one of our favorite topics! Roadmaps are a fundamental building block for good agile project management.
airfocus offers state-of-the-art roadmapping software that gives project managers amazing control over strategy, development, change, and prioritization during project iterations.
With Kanban boarding, you can easily visualize your project priorities. And creating interactive timelines for every element of the project cycle is a breeze with Gantt chart roadmaps.
But where airfocus really shines as an agile project management software is prioritization. Creating visual representations of your priorities is a key part of the airfocus software. The platform is constantly learning from your past projects to automatically predict your most pressing priorities — freeing you up to concentrate on other things. 
airfocus combines the best elements of standard agile software with some genuinely cutting edge innovations — making it one of the best agile project management tools around.
How much does airfocus cost?
airfocus starts at a reasonable $24 per month. The Starter package offers unlimited workspaces, all the key prioritization features, and Kanban roadmaps.
The most popular package is the Pro, at $79 per month. The Pro package includes 20 contributors and adds in key integrations with Trello, Asana, MS Planner, GitHub, Zapier, and Jira, as well as roadmap timelines and the Priority Poker functionality.
Larger organizations can opt for a custom Enterprise package that offers enhanced security and support.
airfocus offers a 14-day free trial package to get you started, with no commitment required.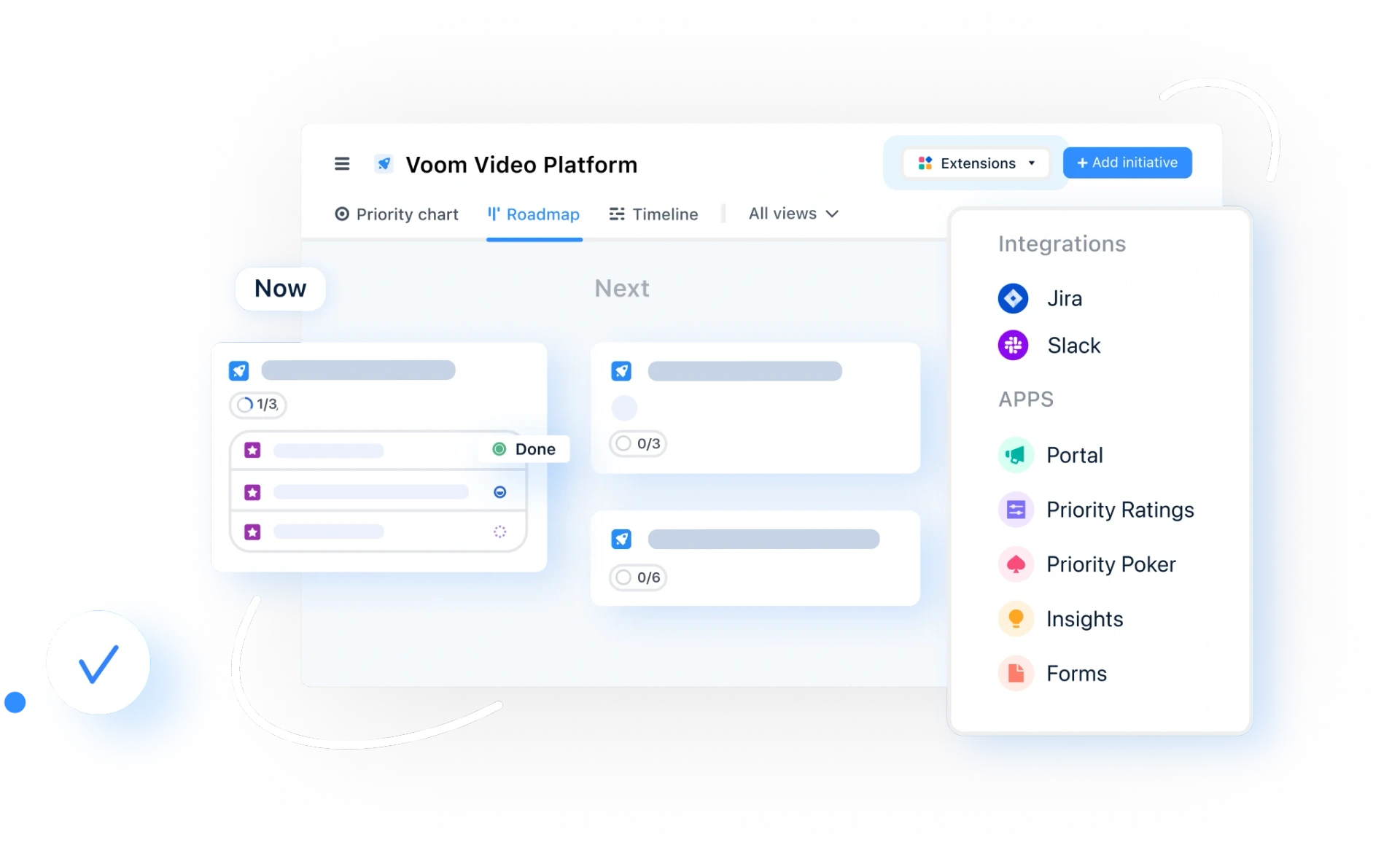 What do users think about airfocus?
Source Capterra: https://www.capterra.com/p/172674/airfocus/reviews/
Templates, prioritization, and Scrum?
airfocus comes with built-in templates that allow project managers to instantly prioritize using templates like the agile roadmap template.
The platform's built-in prioritization algorithm automates your priorities, so you know which tasks are the most valuable to take on.
airfocus slots seamlessly into Scrum methodology, with its Priority Poker function allowing collective prioritization — with easy voting on items and tasks — allowing every team member to be included in the process.
What's so great about Infinity?
As a team collaboration and project management tool, Infinity's biggest advantage is its pricing structure. One-off payments may just save your business thousands in software fees.
Infinity's customer service is a key feature for its users, with many offering high praise for their determination to help you succeed with their software.
The software is also incredibly flexible, well laid out, and easy to use (complete with a handful of ready-to-use templates). That means your team can jump straight in without worrying about potential roadblocks caused by changing tools.
How much does Infinity cost?
Free trial: No. However, there is a 30-day money-back guarantee 

No monthly costs, just a one-off payment that scales depending on how many users you need, starting at $99
What do users think about Infinity?
"The most easy, simple to use project management in the market by far."
"Great bang for the buck"
"Extremely flexible solution for keeping track of just anything you can think of"
What's so great about Clarizen?
Clarizen packs loads of features and agile tools into its platform and is incredibly flexible — fitting into agile methodologies just right. Its main focus is speeding up tasks and projects, using automation and time-saving workflows.
Clarizen effortlessly covers all the standard project management basics like scheduling, comms, and reporting, but its best functionality offers collaboration and real-time insights. Team members can work together on the dashboard and get a real understanding of how their contributions benefit the project overall. At the same time, real-time insights allow project managers to constantly test hypotheticals and make changes where necessary. 
Clarizen is a fantastic agile tool for larger organizations. Still, it can be a little unwieldy for smaller organizations or those who don't have as much experience, as it doesn't offer much in the way of preloaded templates or processes. 
How much does Clarizen cost?
Clarizen has two main products: Clarizen One and Clarizen Go. Clarizen Go is designed specifically for smaller, agile teams and starts at $60 per month. Clarizen One is designed for Enterprise organizations and is custom built to suit your needs. 
Clarizen Go also offers a 30-day free trial package. 
What do users think about Clarizen?
Source Capterra: https://www.capterra.com/p/75768/Clarizen/#reviews
Templates, prioritization, and Scrum?
When it comes to templates, Clarizen falls a little.
Sure, you can create your own templates from previously completed projects — which is great for repeat work — but the platform doesn't come with a library of preexisting templates.
For larger, more experienced set-ups, this may not be an issue, but it can be trickier for smaller businesses new to agile project management. 
Prioritization of tasks is simple with Clarizen's centralized view and project dashboard, but it does not offer built-in automated prioritization in the same way that airfocus does. 
Clarizen has specific Scrum tools built-in, meaning epics, stories, sprint management, and retrospectives are all easily taken care of, with Scrum boards to keep track of project progress. In addition, collaboration is easy, with comments available on every task, meaning you can stay on track of project progress.
What's so great about Kanbanize?
Kanbanize is designed specifically for agile project management, making it an intuitive and beneficial tool for agile teams working with a Kanban-style methodology. Users can easily and simply structure their daily tasks, visualize dependencies, and combine multiple workflows on one Kanban board to enable multi-team projects. 
Kanbanize offers great business automation features, and all boards and cards are fully customizable, allowing you to create bespoke working practices and timelines. It brings you a great way of visualizing your projects and is perfect for teams looking to be leaner.
How much does Kanbanize cost?
Kanbanize starts at $99 per month for up to 15 users, scaling up to $529 per month for up to 100 users, with a custom Enterprise plan available beyond that. All packages offer unlimited Kanban boards, customizable workflows, built-in automation, and workflow analytics and reports.
Kanbanize offers a 30-day free trial package.
What do users think about Kanbanize?
Source GetApp: https://www.getapp.com/project-management-planning-software/a/kanbanize/reviews/
Templates, prioritization, and Scrum?
As you might expect from agile software specifically designed for agile teams, Kanbanize serves up all the features you need to make agile project management a breeze.
It has built-in templates for Kanban board views, and customizable boards and cards — so even if you aren't a practiced Kanban ninja it is easy to get started. 
Kanbanize doesn't offer automated or crowd-sourced prioritization. Still, it does have built-in frameworks to support clear priorities, with swimlanes and color-coding offering two very visual methods of marking high-value tasks. 
While hardly Montagues vs Capulets, Kanban and Scrum are two differing agile methodologies. Agile teams can use them together, but Kanbanize has planted its flag firmly in the Kanban corner — as you'd expect from the name! — and doesn't support Scrum. 
What's so great about Easy Redmine?
Redmine is considered by plenty of teams and project managers as the industry-standard agile tool. It is popular with a huge variety of organizations in sectors around the world. It's flexible, open-source, and full of project management features, as well as a great range of extensions and plug-ins that make it a great choice for agile project management.
It has to be said that it isn't the most aesthetically pleasing piece of software around, but it is important not to judge a book by its cover, right?
Easy Redmine's Advanced Plugins provide superb functionality for agile teams, with test cases, Scrum and Kanban boards, workflows, and many other options.
The extensions offered by Easy Redmine go a long way towards making up for the lack of integrations with other tools, as most things you could want to do are covered within the tool itself.
How much does Easy Redmine cost?
Easy Redmine starts at $78 per month for Small teams of up to 25 users. It offers a Medium package for up to 50 users at $118 per month and a Large package at $238 per month including up to 100 users. Larger Enterprise teams can get a custom quote depending on their specific needs.
Easy Redmine does not offer a free version or a trial period.
What do users think about Easy Redmine?
Source Capterra: https://www.capterra.com/p/136070/Easy-Redmine/#reviews
Templates, prioritization, and Scrum?
Easy Redmine doesn't come with built-in templates out of the box. However, it does allow you to import and export previous projects as templates for future work.
Easy Redmine allows prioritization using color coding, and orders tasks accessible by priority and value. It doesn't automate prioritization, however, or provide a prediction or crowd-sourced value function. 
Easy Redmine's Advanced Plugins make it a great tool for a range of agile methodologies, and it comes with both Scrum and Kanban boards, as well as great collaboration and workflow functions. It works really well with Scrum in particular, and you can track, comment on, and rate tasks throughout the project. 
What's so great about Trello?
Trello is straightforward to use and offers an easy way into the world of agile project management. It is one of the easiest agile tools to get the hang of, as it's incredibly intuitive.
Of course, with simplicity comes less functionality. And Trello's free version out of the box works well for collaboration and task management, but not much else. With the paid premium versions you can start adding extensions and integrations that give you access to more features through Slack, GitHub, SalesForce, and others.
How much does Trello cost?
The great news? Trello's standard version is free — forever. Trello also offers a Business Class package at $9.99 per month with priority support, unlimited boards and unlimited 'power-ups' or integrations, and an Enterprise package that starts at $17.99 per month.
What do users think about Trello?
Source Capterra: https://www.capterra.com/p/72069/Trello/#reviews
Templates, prioritization, and Scrum?
As we said, Trello's free version comes with limited features. For example, don't expect any built-in templates — you need to upgrade to the Business Class package for that.
Similarly, there's no built-in automatic prioritization, although you can label and filter tasks by color. It is great for organizing simple sprints and for Scrum teams, although you can't rate individual tasks. 
Most features on Trello are accessible via the huge library of power-ups and integrations available, but you do have to upgrade to the paid-for version. 
What's so great about Zoho?
Zoho is a great project management tool — one that successfully finds the sweet spot between being feature-rich and being simple to use. As a result, it's a great choice for smaller or boot-strapped businesses, offering a clean, intuitive interface and excellent project management abilities at a reasonable price. 
Zoho has a range of tools on offer, but for agile teams, the most useful is Zoho Sprints: a planning and tracking tool developed specifically for agile project management. It is great for visualizing your project iterations, tracking feedback and progress, and customizing workflows. 
How much does Zoho cost?
Zoho Sprints offers a free plan including five users, five projects, and 500mb of storage space. But the most popular version comes in at $10 per month — giving you unlimited projects, 100gb of storage, and a whole host of features and integrations. 
You can also take advantage of a free 10-day trial of the paid version, to see if it's right for you.
What do users think about Zoho?
Source Capterra: https://www.capterra.com/p/155928/Zoho-CRM/#reviews
Templates, prioritization, and Scrum?
The Professional paid version of Zoho Sprints comes with custom project templates, as well as custom layouts and fields, meaning it is fairly effortless to get started. 
Zoho Sprints offers multiple ways to categorize and prioritize work, with custom prioritization, tags and filters making it easy to stay on top of the backlog. They don't offer any form of automated prioritization, but you can comment on and rate tasks throughout each sprint, and the tool is perfect for scrum teams.
What's so great about Microsoft Teams?
Last but not least: Microsoft Teams is a powerful collaboration and remote working tool, that helps keep teams together wherever they are in the world. While communication is its main focus, it works well as an agile project management tool — largely due to its seamless integration with the rest of the Microsoft Office 365 suite of applications. 
The Planner function allows teams to visualize and assign tasks, with a dashboard where team members can view team progress and be held accountable for their work. SharePoint allows transparent, easy access to all project files, data, and documents, while the 'buckets' in Planner stand-in for the backlog.
How much does Microsoft Teams cost?
Microsoft Teams is part of the Office 365 subscription, so plenty of teams will already have access to it for no extra cost. Office 356 plans start at $5 per user per month for the Basic package, with the standard Business package available for $8.25 per user per month, and the Premium package for $12.50 per user per month.
You can take a free trial of Office 365 for 15 days with no commitment required. 
What do users think about Microsoft Teams?
Source Capterra: https://www.capterra.com/p/202376/Microsoft-Teams/#reviews
Templates, prioritization, and Scrum?
Microsoft Teams does include ready-made templates, but they're largely based around team structure rather than projects. Still, they make a useful addition to a project manager's toolkit.
As it's not a specifically designed piece of agile software, Teams does not come with built-in prioritization frameworks. However, the Planner function allows you to prioritize and comment on tasks.
To end on a high: Teams does offer some excellent support from Scrum teams, with the communication and collaboration functionality coming to the fore when it comes to daily standups and dispersed working. However, it is not as intuitive for Scrum as other agile project management tools.
What's so great about ProofHub?
ProofHub is a project management and team collaboration software that enables teams to organize their work in one central location. It's a centralized platform that enables teams to cut through the clutter and manage their tasks in real time. 
ProofHub also assists users in keeping track of where each member of their team spends their time, who is working on what, and what is the overall project progress. ProofHub's shared workspace keeps everyone focused on the same goals, allowing teams to collaborate effectively and produce great outcomes. You can easily manage your team, files, communication, tasks, review process with ease using ProofHub. 
How much does ProofHub cost?
ProofHub provides you a 14-day free trial. 

ProofHub has a flexible and easy pricing policy. You can visit ProofHub's pricing page for more information. 
What do users think about ProofHub?
"We're happy how ProofHub helps teams to work together in an easy, fast, and smart way with all tools under one roof."
"The #1 project management tool for growing teams"
"Great collaboration tool for teams working remotely or hybrid."
Source: https://www.capterra.com/p/118040/ProofHub/reviews/
What's so great about nTask?
nTask is an incredible task management and project management tool that allows you to make sure that all of your tasks and processes related to your project development process are tracked and managed, according to the needs and requirements of the project. 
The application has incredible features like Kanban boards and Gantt charts that give you a different view of all of the tasks that are included in your project. They help you in properly managing all of the dependencies that are associated with the tasks and processes, and finishing the project in no time. 
How much does nTask cost? 
nTask gives you an amazing free trial that you can use to check out all of the different features that the application has to offer, but with some restrictions. If you want to purchase the paid subscription with a more premium toolkit, you need to pay $3/user/month.
What do users think about nTask?
Templates, prioritization, and Scrum? 
nTask doesn't come with a lot of built-in templates, but it more than makes up for it by being intuitive and easy to use for all of its users. 
The software provides dependencies in Gantt charting and Kanban boarding. These dependencies allow you to get an idea about the correct task prioritization which is perfect for finishing the project on time. 
There are also many different agile and scrum-related features being offered by the application, but you will have to pay for a paid subscription for a more premium toolkit.
Download and level up
Agile project management tools are fundamental for project managers. They allow you to set up seamless working processes and monitor every aspect of a project — liberating you from repetitive, mindless tasks so you can concentrate on making the project a success. 
When it comes to Agile, being fast and effective is key. And the best project management tools can make all the difference!
Do you have a favorite agile or Scrum tool that we left off our list? Let us know via Twitter — we love to meet new platforms (as well as people).