The last few years have seen a tremendous hyper-growth in product tools offering product professionals the tools they need to function effectively as vital parts of organizations.
There is something for everyone, from roadmapping to managing user feedback.
Leading players are opening up new prospects in the never-ending demand for new products as a result of the expanding demand for product management. With so many competitors out there, it's important to understand the pros and cons of each, and how the tool may help with your overall product process. 
In this article, we've chosen to take a look at Dragonboat and 8 viable alternatives for you.
TL;DR
All products mentioned in this article have clear strengths and can serve as part of a product management ecosystem. A modern product management tool must cover outcome-focused roadmaps, strong support in product discovery, easy user adoption, and seamless scalability for growing teams. According to our evaluation, airfocus is best suited to cover this full set of capabilities a modern product manager needs.
What is Dragonboat, and why look for an alternative?
Led by CEO Becky Flint, Dragonboat's goal is to strengthen product organizations and provide positive commercial outcomes. In their own words: "Alignment, collaboration, and team synergy are essential in dragon boat racing. They are key for successful product organizations as well. Dragonboat helps teams row in sync."
Another SAFe platform
While Dragonboat calls itself a product management tool, it seems more apt for larger organizations that can't move past the build trap. From the get-go, they offer a SAFe model to get you started, and all roadmaps are on timeline formats (and something they call "a kanban portfolio" - whatever that is.)
With already a clear misunderstanding of how to best help product managers and leaders in agile organizations, Dragonboat is edging towards larger enterprises that still work with very old-school processes - including Gantt charts, forecast resourcing, and capacity planning. Now, this isn't bad, but it's also unfair to position a tool as an outcome-driven tool when the bulk of the core platform does not actually enable those processes to be actioned.
With that in mind, Dragonboat has missed out on:
Flexible and dynamic outcome-based roadmaps

Supporting discovery workflows

Giving a friendly space for the entire product team to work from - not just product managers.
Being a product tool that mixes up various other roles like IT management, resource management and project management alongside product can only result in a platform that is overloaded with options, creating nothing but an overwhelming experience.
Defining Dragonboat competitors
When it came to looking at Dragonboat competitors, we looked at answering the following:
How does it help with roadmapping and sharing roadmaps?

How does it help with discovery?

How does it help with prioritization?

How does it help with scaling teams?

How does it help with involving other team members?

What is their pricing like?
Why these questions? 
The role of a product manager is far more dynamic than we realise.
Although creating roadmaps is a crucial component, there are still many other concerns that must be addressed.
A successful product platform should fully support these workflows, from team scaling through prioritizing, communication, discovery, and cross-team collaboration. In order to evaluate our competitor list, we searched via online sources and reviews.
As a result, we've decided to look into five most well-known entities:
We used these sources to find the closest Dragonboat alternatives and compared them with one another.
Here are your top 8 alternatives:
Aha!

airfocus

Craft.io

Jira 

Productboard

ProdPad

Roadmunk

Trello
Let's get right into it!
Aha! vs. Dragonboat
In their own words: "Where products come to life"
In 2013, Brian de Haaf co-founded Aha!, a tool that was brand-new to the product industry.Having a distinct emphasis on roadmaps, it eventually broadened to provide concept and organizational management, even moving into the developer space.
Aha! has long been regarded as having a focus on large, project-focused businesses and has established itself as a competitor in the industry.
Founded in: 2013
Based in: United States
Employees on LinkedIn: 300
Funding: bootstrapped
Website: www.aha.io
How does it help with roadmapping and sharing roadmaps?
Although Aha! offers a wide range of sharing options, all of their roadmaps are Gantt chart or timeline centred.
You will find it extremely difficult to put into practise your desire as a product manager to work with more contemporary methods of articulating strategy, such as outcome-based or theme-based roadmaps.
You can visualise targets and objectives, but they are all tied to a delivery schedule, so you would be working as a project team rather than a product team.
How does it help with discovery?
If you're wanting to learn more about your clients, Aha! will support with feedback portal where you can interact with them directly. However, because the feedback and idea systems are not entirely interconnected, it is challenging to develop an internal feedback management system to comprehend how that input affects idea prioritization and provides support for additional evidence.
How does it help with prioritization?
Although their feedback prioritization is fairly thorough, it does not offer visibility over systemic holistic problems. Aha! supports project visualization only, making overarching decision-making hard to picture.
How does it help with scaling teams?
With the availability of custom fields, Aha! offers flexibility, enabling you to configure inputs for your team as necessary. Their extensive reporting structure may be helpful when reporting higher up.
How does it help with involving other team members?
Beyond roadmaps, Aha! has added a number of additional products, including Create, Ideas, Develop, and Academy. The suite can be a little clumsy at times, and its navigation and usability are notoriously tough to understand.You might have trouble attracting your team to it because of its poor UX.Still, the Ideas section serves as an ideation platform, so you might find success there.
What is their pricing like?
Aha! packages their product in four plans for "Roadmaps" and two for "Ideas". "Roadmaps" starts at $59 per user per month, paid annually and goes up to $149. "Ideas" is either $39 per user per month, paid annually or $59. You'll need both products to cover all of your product management activities. 
Anything else comes at an added cost.
Pros and Cons
Pros:
Extensive backlog management capabilities

Capacity to create unique fields

Reporting and tracking

Crowdsourcing and interactive portal
Cons:
Roadmapping is timeline based

Full of features you might never use

Voting is the primary means of feature management, not problem solving.

Difficult learning curve
Rating
G2: 4.3 out of 5

Capterra: 4.7 out of 5
airfocus vs. Dragonboat
In their own words: "Everything you need in a strategic product platform"
Despite being a newcomer to the product scene, airfocus has already blown everyone else out of the water. In order to accommodate expanding and scaling teams, airfocus created a platform that takes into account the challenges of product in practice.
Its method expands and develops with you thanks to a distinctive perspective on flexibility, adaptability, and personalisation.
Its understanding of specific product management workflows makes it adaptable in any environment, from product planning, discovery, and roadmaps through insights management.
Founded in: 2017
Based in: Germany
Employees on LinkedIn: 60
Funding: $10M
Website: www.airfocus.com
How does it help with roadmapping and sharing roadmaps?
Because airfocus has chosen a flexible strategy, it is possible to create roadmaps for both the portfolio and each individual product or team level. Quick links allow for internal and external sharing of both, fostering collaboration and openness from the beginning.
With a variety of templates available during onboarding, it's also incredibly simple to get started. It's quite simple to begin regardless of whether you choose to use one of their pre-populated settings or one of your own liking.
The platform is more adaptable as all templates and workspaces may be completely customised. airfocus is a genuinely flexible platform for the modern product team, whether you need to implement different views, fields, or access to the system.
How does it help with discovery?
With their freshly created user portal where you can engage with individuals directly, airfocus has placed a strong emphasis on customer feedback.
But wait - there's more!
Additionally, you can set up internal workflows for both opportunities and feedback giving you complete visibility into who is saying what and the information you need to make informed decisions.
You also have complete control over how your product team executes the discovery process by setting up bespoke workflows on all product levels (roadmaps, backlog, feedback).
How does it help with prioritization?
Out of all the available product tools, airfocus has the most versatile prioritising options.
No matter what framework principles you prefer, you can adapt your workspace(s) to your preferences. As with roadmaps, there are prefilled templates for backlog management which includes pre-loaded frameworks, allowing you to get started right away. Each framework has an algorithm that generates a unique score that you can use to see how different items compare to one another.
The software also provides a Priority Poker tool that aids in team alignment around the relevance of an opportunity. It allows for the start of a meeting where team members score opportunities on an individual basis before discussing the best course of action.
How does it help with scaling teams?
The goal of airfocus has always been to be a modular platform, or a product that can expand and change as teams grow. This means that it will enable you to quickly adjust to new working methods, regardless of your preferred approach or the size of your team.
One rule that the team strictly adheres to is that no two organizations or teams must operate in the same way. As a result, even though they offer helpful advice through their templates, tool tips, videos, and other instructional content, you are still free to configure the tool anyway you think it would be most beneficial for you.
How does it help with involving other team members?
Because of its user-friendly UI, airfocus makes collaboration simple. You can use forms, portals, and integrations to collaborate with team members outside of your team - ensuring you're able to implement the platform more smoothly within the whole of your organization.
Their most common integrations allow you to set up a dynamic system across several teams using applications like Intercom, Jira, and Asana.
What is their pricing like?
airfocus offers four pricing plans for their product. Pricing is based on paid seats, while also offering free viewers. The smallest is $19 per user per month, billed annually. The next larger one is $69. The two upper tiers are custom pricing, also billed annually. 
Pros and Cons
Pros:
Cons:
Rating
G2: 4.4 out of 5

Capterra: 4.5 out of 5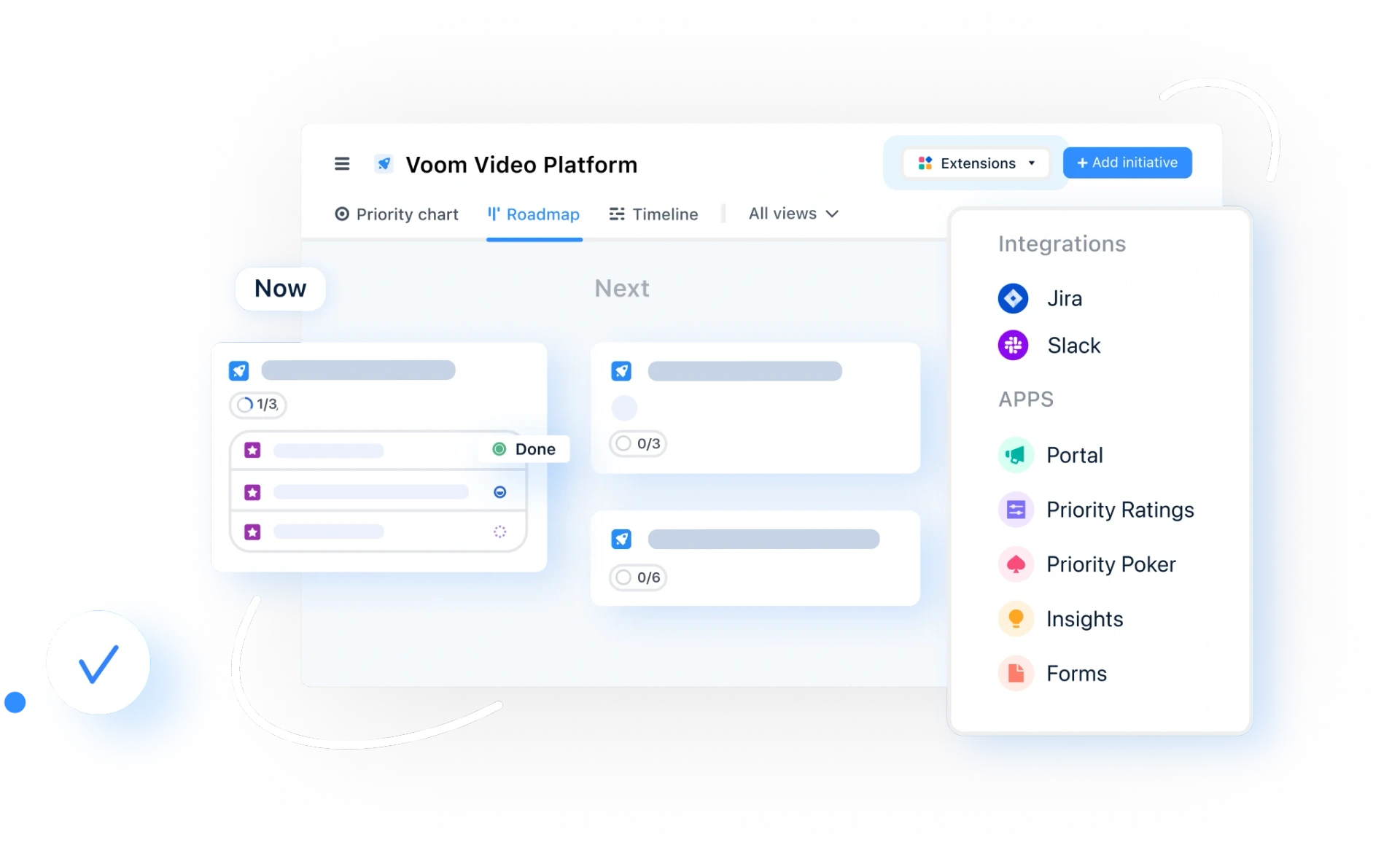 Craft vs. Dragonboat
In their own words: "Build great products with confidence"
Elad Simon and Roni Ben Aharon developed Craft.io in 2015. It originated from a personal need that both of the founders had to manage their own products, as many products do.
Craft appears to have taken the route of permitting more project management than product management practices, creating a mix-match of features in their tool.
Founded in: 2008
Based in: United States
Employees on LinkedIn: 2500
Funding: $453.2M
Website: www.craft.io
How does it help with roadmapping and sharing roadmaps?
Craft.io's strategy appears to be going through a little bit of an identity crisis. This is obvious from the start of its onboarding to the implementation of what they call "roadmaps" - a timeline view tied specifically to releases. While these views are shareable, one is to question why a roadmap is set up a delivery plan, instead of a strategic document. 
How does it help with discovery?
Craft does provide options to manage ideation as well as a feedback portal, but it should be noted that it is voting-based instead of problem-based. While voting platforms can give you higher engagement, you do run the risk of potentially implementing the wrong solution based solely on popularity rather than usefulness and value for a wider market.
How does it help with prioritization?
Craft does offer prioritization options, including labels you can work with to denote importance. That said, their own landing page includes now, next, later roadmapping as a prioritization framework, which makes one raise an eyebrow as to how much the team understands the difference between a backlog and a roadmap.
How does it help with scaling teams?
With Craft.io, you can launch numerous workspaces easily.
According to their help documentation, best practise is to designate a specific workspace for each team, allowing them to independently manage their product lifecycle, whether you want to build segregation by Squads, Value Streams, or Products.
How does it help with involving other team members?
Overall, Craft does have a pretty user-friendly interface. That said, because it is so heavily leaning towards project management, it might be difficult to get team members involved when they're looking for more product management best practices (like easily submitting a new idea or piece of feedback on behalf of a customer.)
What is their pricing like?
Craft's pricing begins at $39 per user per month on their lowest tier, $89 for their mid tier, and an Enterprise plan.
Pros and cons
Pros:
Roadmapping available in various formats

Access to various prioritization frameworks

Visibility of objectives and initiatives
Cons:
Feedback tool requires login

Expensive per user packaging and pricing

Portfolio management and feedback portal only available on higher plans
Rating
G2: 4.3 out of 5

Capterra: 4.5 out of 5
Jira vs. Dragonboat
In their own words: "Move fast, stay aligned, and build better - together"
Jira is considered the crown jewel of the Atlassian suite. It links support, operations, and project teams together as a development tool and with the rest of the software stack. Additionally, they offer more than 3000 integrations, clearly emphasizing cross-tool collaboration between teams.
Founded in: 2002
Based in: Australia
Employees on LinkedIn: 15.300 
Funding: $210M (Secondary market) + $462M(IPO) 
Website: www.jira.com
*Data for Atlassian, Jira's parent company
How does it help with roadmapping and sharing roadmaps?
Jira does provide roadmapping capabilities as part of their new discovery platform, however sharing those views outside the Atlassian ecosystem is not possible (unless you purchase Jira Premium or Enterprise.) Unless you're ready to grant access, this makes it difficult to communicate the strategy externally, especially with board members or consumers.
When used as a delivery tool, it enables teams to view work down to the task level, but it offers less in terms of understanding results, goals, and potential risks or advantages related to your roadmap opportunities - although their new Jira Discovery platform has come a long way in those areas.
How does it help with discovery?
A discovery board or process may be possible to set up, but you'll need to do so in a unique way with a few integrations in mind, as Jira Discovery offers no extensive feedback collection on its own. Similar to other all-inclusive tools, your IT manager will need to approve and set up your integration, which will add some setup time.
How does it help with prioritization?
Custom fields are required to set up more complex frameworks, and you will need to know how to use them or get the help of someone with the relevant permissions to accomplish it for you (like your IT manager.) Once more, this slows down quick setup and would be more difficult to sustain over time.
How does it help with scaling teams?
There are no questions about the fact that Jira and the entire Atlassian suite were designed to be scalable. Yet, scaling also brings with it more intricate IT procedures and permission levels. This means that in order to set up your own working space, you will need someone else's approval. As a result, when your team expands and adjustments are required, such changes may be delayed because you will be dependent on someone else to approve and implement them.
How does it help with involving other team members?
For better or worse, Atlassian always provides a wide range of advanced permissions you can provide team members.
Its user interface (UI) can be difficult to use and can be a major source of friction when trying to extend the product to include business-facing team members like marketing and sales. A good product team needs to be able to collaborate across organizational functions, and teamwork will be more difficult if others won't utilise your product tool.
What is their pricing like?
Jira is available at four different prices: free, $7,50, $14,50 per user, per month (no matter if paid annually or monthly). Lastly, an enterprise tier, only available with annual billing from 801 users at $10,70 per user per month. 
Pros and cons
Pros:
Great for software development teams

Over 3000 apps and integrations available

Boards, reports, timelines, and views can all be customised.

Works great with large teams
Cons:
It is not a product management tool - although they are trying

Time-consuming management process

Confusing layout, configuration, and UI
Rating
G2: 4.2 out of 5

Capterra: 4.4 out of 5
Productboard vs. Dragonboat
In their own words: "Productboard helps product teams understand what customers need, prioritize what to build next, and align everyone around the roadmap."
With an emphasis on customer centricity and roadmapping, Productboard is one of the top competitors in the product market. Productboard has offices in San Francisco, Prague, and Vancouver and has recently expanded on its platform to become a global firm.
Founded in: 2014
Based in: San Francisco, California
Employees on LinkedIn: 500 
Funding: $125M Series D 
Website: www.productboard.com
How does it help with roadmapping and sharing roadmaps?
With readily available templates like "release roadmap" and "timeline roadmap," Productboard focuses mostly on timelines. Although they do provide a now, next, and later roadmap, they appear to have missed the fact that they these are not focused on specific releases.
Additionally, their roadmap completely ignores the concept of initiatives, allowing you to add features directly to the roadmap.This lacks the capacity to give product managers a more comprehensive grasp of problems, moving straight into solutions and favouring feature-factory tactics.
Having said that, all of their roadmaps are simple to distribute via links and a user portal.
How does it help with discovery?
You can use the user portal on Productboard to get feedback on items that are currently in discovery, or to just get feedback in general. It's vital to keep in mind that they view every item in your product backlog as a "feature" rather than an opportunity, experiment, or idea –  funneling you once more into the solution space rather than the problem space. (Remember, outcome over output means start with the outcome!)
How does it help with prioritization?
Productboard does allow for some flexibility, and you are able to put up any kind of prioritisation framework you like, including RICE (though keep in mind it's just the inputs, not the algorithm you will have control over). Because there aren't any initiatives at the roadmap level, it's impossible to incorporate other aspects into decision-making (such as objectives, vision, or theme) that can easily be considered beyond the feature level.
How does it help with scaling teams?
Although there are several workspaces on Productboard, they are not connected to one another. Despite that, you can still manage several products from a single, unified workspace. You won't experience any problems with this setup if your team can collaborate without flexibility. You will, however, encounter some issues if you want to give your diverse teams a single source of truth, while allowing for additional flexibility.
Working from a central place implies that everyone has the same workflows, processes, and custom field setup. As a result, less room is left for team-level modifications.
If you go the multiple workspace route, you won't benefit from cross-team collaboration.  You will also miss out on being able to roll up these various workspaces into a single portfolio that is visible to your entire team, as they are so disjointed from one another.
How does it help with involving other team members?
Productboard's user interface, while visually appealing, can be a little confusing at times. It takes some time to get used to the specific mindmap they've created.
Keeping this in mind, it will most likely be easier to get your team onboard through the user portal, as it is much easier to use than the internal product management side of the tool.
What is their pricing like?
Productboard has four different price plans, billed per user per month. Starting at $20, continuing with $80, with the upper two plans available on request. 
Pros and cons
Pros:
Focus on customer feedback and insights

Public customer engagement portal
Cons:
Rating
G2: 4.3 out of 5

Capterra: 4.7 out of 5
ProdPad vs. Dragonboat
In their own words: "Roadmap, idea, and feedback management that ties actions to outcomes"
ProdPad is one of the few outcome-focused tools in the product world. This is a great tool for any product team looking to make the switch to better product practices and switch to a more modern way of working.
Founded in: 2012
Based in: UK
Employees on LinkedIn: 20
Funding: Bootstrapped
Website: www.prodpad.com 
How does it help with roadmapping and sharing roadmaps?
The founders of ProdPad created the original Now, Next, Later roadmap, so if anyone knows about building roadmaps, it's them. Their roadmaps are quite enjoyable delightful and easy to read, and can be easily shared via PDF, URL, or embed code.
All roadmaps are combined into a portfolio view, giving you a comprehensive view of your product. However, it does have some limitations, such as cross-product dependency tracking.
How does it help with discovery?
ProdPad does have a portal and widget for gathering customer feedback, as well as the ability to set up custom workflows. However, these areas are limited by the fact that all teams must adhere to the same structure.
The widget and portal have limited customization and are created and shared independently of the roadmap. Similarly, they limit your ability to create a custom feedback workflow by forcing you to use what they consider is best.
How does it help with prioritization?
ProdPad does include a basic impact versus effort priority scale, which may be displayed as a fibonacci sequence, a 1-10 scale, or tshirt sizes. That said, they do not provide any additional customization of prioritization frameworks, so you must use the alternatives they provide. If you're comfortable with the basic setup, you won't have any trouble comparing items on their priority chart, allowing you to make informed decisions as a team.
How does it help with scaling teams?
As we all know, as teams expand and adapt, different teams will have different needs.
When you expect your team to work from a single source of truth, things get pretty complicated.
ProdPad encourages everyone to work on a single workspace, with no control over fields, workflows, or processes, which means everyone must operate in the same manner.
This will very probably lead to scalability concerns in the long run.
How does it help with involving other team members?
Because everyone has access to all capabilities of the system at the same time, the jargon can be a little perplexing for team members (especially those outside of product).
Not everyone will know the difference between an idea or a piece of feedback after all.
Sadly, there is little to no modularity with permissions in ProdPad (other than their pricing) which means that everyone gets access to all areas, making it tough to advise users where they need to go and why. They also lack integrations with commercial-minded solutions like Intercom, Zendesk, or Salesforce, making it more difficult to implement with your business-facing employees.
What is their pricing like?
ProdPad's pricing is based on modules and power-ups. Their base modules are all $20 per editor/per month for access to roadmaps, ideas and feedback. Their power ups are all $10 per editor per month, and include things like portfolios, OKRs, publishing and portal access.
Pros and cons
Pros:
They're the roadmapping experts

Ability to create a portfolio view

Have access to feedback and portals
Cons:
No customization of fields or views

No customization of workflows or processes for backlog or feedback

No customization of priority frameworks

No scalability options
Rating
G2: 4.2 / 5

Capterra: 3.8 / 5
Roadmunk vs. Dragonboat
In their own words: "Create and present boardroom-ready roadmaps"
Roadmunk, a Canadian startup, first appeared on the scene as a roadmap-only solution, but has now expanded its offering to include backlog and feedback management. They're now a challenger in the industry as a more comprehensive product management solution.
Founded in: 2012
Based in: Canada
Employees on LinkedIn: 60 
Funding: $1,7M (bought by Tempo at an undisclosed price)
Website: www.roadmunk.com
How does it help with roadmapping and sharing roadmaps?
Roadmunk has a large library of roadmap templates, including timelines and outcome-based roadmaps, covering a wide range of topics, sectors, and project kinds.
All roadmaps are simple to distribute and come in a variety of forms, including CSV, PNG, HTML, and publishing to a URL.
How does it help with discovery?
Roadmunk's discovery focus is lacking.
They're strong on project management, providing access to schedule roadmaps and task management, but fall short on the more important product work. They help you "commit to product ideas," as they say, which is far from being able to undertake a discovery process to guarantee you're not engaging with the wrong solutions.
They do provide a portal and a feedback inbox, but they do not provide significant feedback management. The inbox just has two statuses: "New" and "Processed," with nothing in between. While this is a fine starting point, it will fail as team operations become more sophisticated.
How does it help with prioritization?
Roadmunk only provides two frameworks for prioritization: impact vs effort and RICE.
It also provides other data points such as time estimates and revenue - all of which are very project and output-oriented. If you're satisfied with a very minimal framework, this might work for you. If you want to take more into account, you may find it a little too limiting.
How does it help with scaling teams?
Roadmunk is ideal for small teams, but its limited flexibility, workflows, and processes would make scaling any company difficult. They try to cram everyone into a box, but as we've learned so far, not everyone is able to follow the same set of practices.
They also only provide two out-of-the-box integrations: Jira and AzureDevops. For anything else, an API is provided, which would require your team to find engineering time to integrate with any other tools.
How does it help with involving other team members?
It is simple to communicate and include other team members, but their Interface remains challenging and clumsy throughout, perhaps making adoption difficult.
What is their pricing like?
Roadmunk offers four price tiers starting at $19 per user per month, billed annually. The second and third tiers are $49 and $99 respectively. Enterprise pricing is available on request only. 
Pros and cons
Pros:
Extensive roadmap template library

Has a feedback portal and inbox

Has integrations with Jira and Azure Devops
Cons:
Only has two integrations out of the box

Restrictions on prioritization and fields

No flexibility for feedback management

No scaling options
Rating
G2: 4.1 out of 5

Capterra: 4.4 out of 5
Trello vs. Dragonboat
In their words: "Trello brings all your tasks, teammates, and tools together"
Trello and their user-friendly boards have been well-known for years, guaranteeing you can collaborate with your team - and across teams - to plan tasks throughout your organisation. Atlassian recently acquired the company and they are now part of their extensive ecosystem, allowing them to expand on task management and development tools.
Founded in: 2010
Based in: United States
Employees on LinkedIn: 100
Funding: $10M Series A + acquired by Atlassian for $425M
Website: www.trello.com
How does it help with roadmapping and sharing roadmaps?
Trello provides you with access to individual boards, each of which has its own set of custom fields, labels, and "power ups" (integrations) that you can use.
However, as a task-based tool, it is not intended to be used as a roadmap.
It's critical to have in mind that a Kanban board is not the same as a roadmap; just because they look the same doesn't imply they work the same. While you can create some semblance of a roadmap, it is not its primary purpose.
How does it help with discovery?
This is where Trello can become a little dicey. You can create a bespoke discovery board, and you can certainly create a separate customer-facing board to serve as your portal. Of course, you may then establish another board to manage your product backlog, as well as another to track your development.
That is a lot of separate boards and context switching required! Imagine having to work with something that gives you a headache simply thinking about it.
You can try to make it work, but it will probably not scale in the long run.
How does it help with prioritization?
Trello is still excellent at visualizing and prioritizing tasks, but fails at providing a more holistic view of items across various teams and portfolios. You can utilize Trello's custom fields and labels to prioritize, but because it is a task-based platform, you won't be able to consider objects across several boards (for example, how does feedback impact an idea?)
How does it help with scaling teams?
Trello is excellent at scaling task management across an organisation.
You do need to watch out for boards becoming out of hand, and you'll need to start connecting them to one another to keep context. This is not impossible, but the amount of information shared between boards and cards is limited.
Remember that we're talking about product management scalability here, not task management scalability. Trello is still one of our favourite task management apps.
How does it help with involving other team members?
Trello is really plain and simple to use, so you won't have many difficulties with other team members.
What is their pricing like?
Prices start at $0, then move up to $5, $10, and $17.50 per user per month, billed annually. 
Pros and Cons
Pros:
Cons:
It is not a product management tool

Its focus is on task management 

Limits on workspaces, boards and commands unless you're on Enterprise

Difficult to create and interconnect workflows between boards
Rating
G2: 4.4 out of 5

Capterra: 4.5 out of 5
Conclusion
* public prices only, billed annually. All companies offer custom enterprise prices on demand. Dragonboat is only just getting started, and they do still have the opportunity to listen to their audience and create a more apt product management solution. 
If you want to learn more about applied modern product management, feel free to check out our academy guide on just that.