While product managers work closely with development and design teams to design and develop digital products, there is a lot of thought that goes into defining the specific solutions that will be released to solve defined problems.
This is where product planning comes in, it sits at the center of the many responsibilities that product managers hold.
What is product planning? It involves both prioritization and roadmapping.
Prioritization is determining which problems to solve, why, and when to solve them. While the roadmap communicates which solutions the product team will deliver and how doing so aligns with the company's vision and goals. We wrote a comprehensive detailed guide on roadmaps, check it out here.
Strategic product planning is included in this definition, ultimately defining how you will achieve your product vision with your product(s).
We took it upon ourselves to gather 6 product planning tools that you can rely on to ship impactful products with your teams. These tools support the key activities required for prioritization and roadmapping.
By the end of this article you will know:
Some of the many tools that product teams rely on for product planning

How product teams can leverage these tools

Pros and cons of each one

Their cost and available plans

And more
Let's get started.
While other tools may force you to work a certain way or work well with a small team but present challenges when scaling, airfocus is modular. You can build it to fit your team's best practices and scales as your product(s) and team grow.
Modern product teams rely on airfocus for product planning. Crowdsource feedback from customers via insights, prioritize product backlog items with priority poker, and communicate the product strategy with one of its ready-made roadmap templates that are available out-of-the-box.
While some tools may shine when it comes to prioritization but fall short with roadmaps, and vice versa, airfocus combines both very well in its ready-to-use modular platform. It's built to be a home for product management.
Pros
Gather customer feedback and insights to build the product backlog

Prioritize your backlog around a clear product strategy with scoring frameworks, Priority Poker, user insights, and OKRs

Supports a wide range of out-of-the-box roadmap templates for every industry and use case

Modular, so you can adapt it to your team's specific needs and processes
Cons
JIRA boasts as the top software development tool for agile teams. With support for multiple agile methodologies, such as scrum and kanban, JIRA excels in managing the software development life cycle. Customization options are also available to suit your team's unique needs.
While JIRA can help product teams with tasks such as backlog management and work assignments, its primary focus is on software development and delivery. It may not be the best fit for product strategy or prioritization.
Teams of up to 10 users can use JIRA for free, while pricing starts at $17.75 per user/month for larger teams.
Pros
Can be used to build and release prioritized work from the product backlog

Organize multiple products, development teams, and projects

Use custom labels to collect important information on customer and user requests
Cons
Not made for product managers but rather for software development, which makes it not ideal for prioritization

A very powerful tool but has a steep learning curve and time-consuming setup process

Lacks a standardized version. It is up to the organization to set it up in a way that works for them
Miro is a visual platform for teams to connect, collaborate, and create as a team. It contains many features and products including whiteboards, templates, apps and integrations, and more. Its solutions can be used for various use cases.
While Miro can be useful for some team activities such as stakeholder engagement and customer journey mapping, its product planning capabilities fall short. Product teams may find themselves limited to using the platform's pre-designed templates for backlog and roadmapping, and customizing these to suit their needs can be a frustrating experience.
It has a free plan for unlimited users with one workspace, then starting with $8/user/month for unlimited and private boards with the most essential features its customers rely on.
Pros
A very user-friendly tool via its delightful interface and intuitive design

300+ ready-made templates that teams can leverage for whatever they need to work on

Extremely easy to gather and organize thoughts from multiple stakeholders in real time
Cons
Built for team collaboration, not specifically for product managers and product teams

Lacks core roadmapping capabilities that product teams can rely on daily

While it can be used for prioritization, this involves custom work rather than out-of-the-box available prioritization features
Launched in 2016, Favro enables organizations to leverage agile practices by enabling teams to work as one while supporting business leaders by ensuring that work performed supports company objectives. Irrespective of which department you work in, everyone will have one central location to plan, document, and collaborate on work.
Favro is mainly geared towards game production companies, enterprise organizations that leverage agile methodologies, and SaaS businesses.
Its Lite plan starts at $12/user/month with a limited feature set, the price increases based on the total number of users required.
Pros
Provides transparency to departments to understand how planned work ties to company goals

One central view for product and development teams to view and manage their work

Multiple integrations including JIRA, GitHub, Slack, and more
Cons
Geared towards agile software development and delivery rather than product strategy and planning

Lacks out-of-the-box product prioritization features that modern product teams rely on

Suitable mostly for enterprise companies. Its lack of a free tier and price point may make it out of reach for many startups
Trello is a collaboration tool that makes it easy to work with your team in a few easy steps, especially with Kanban.
It has come far since launching in 2011 with even more developments made since being acquired by Atlassian in 2017. While many teams use it to manage and assign work, it can also be used to create a simple roadmap.
It is free for individuals and teams looking to get started, with a $5 user/month starting price for additional workspaces, features, and storage.
However, Trello may not be the most suitable tool for product planning. While it can be helpful in managing and assigning tasks, its simplicity can be a double-edged sword when it comes to product planning. Its lack of advanced features, such as customizable reporting and prioritization, may limit its ability to fully support a team's product planning needs. As a result, teams may need to look into other tools that provide more robust product planning capabilities.
Pros
Visually appealing and easy to use

Cards can be customized in each board to work your way

Its UX makes it easy to move cards, prioritize work, and craft a simple roadmap

"Power-Ups" to enable additional features and integrations into your workflow
Cons
Not specifically a product management tool but rather a tool for task management

Does not support prioritization frameworks that product managers rely on

Lacks many roadmapping capabilities

Challenging to connect workflows for a holistic view of work to complete
Craft is an end-to-end product management platform with best practices built-in. From the start, it enables product teams to make smart decisions by gathering feedback from key stakeholders, built-in features to prioritize according to some of the most common prioritization frameworks (RICE, MoSCoW, and more), and creating tailored roadmaps that communicate product strategy.
It also comes with other capabilities including feature definition, capacity planning, product portfolio management, integrations, and more.
With no free plan, it starts at $49/user/month for a limited feature set, with additional features at the pro ($109/editor/month) and a custom plan.
Pros
Create roadmaps, customize views, and track the progress of prioritized work

Prioritize which items to focus on with your team in a transparent manner

Integrates with many tools that product teams rely on for their work including Confluence, Jira, Slack, Salesforce, and more
Cons
Users have reported issues with the UI

Lacks the ability to prioritize features for a specific release

It can be difficult to find items that have not been properly tagged when many items are entered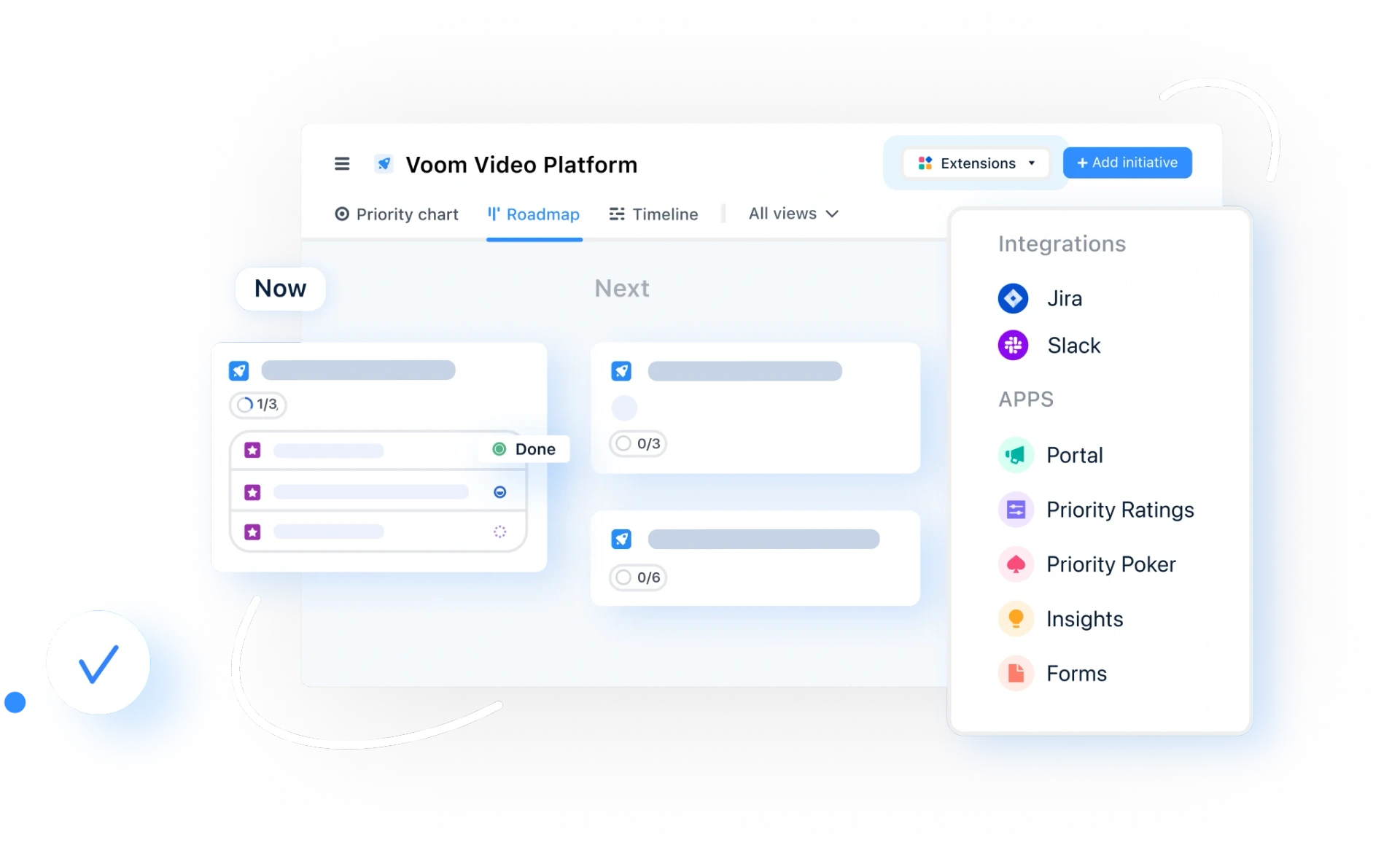 Leverage the right product planning tool
There are many tools that can be used for product planning, prioritizing the problems you will solve, and crafting your roadmap. While some of these may be more geared to one versus the other, we recommend using a tool that does both and can be customized to meet your team's specific needs.
Let's face it, while prioritization generally boils down to value vs. effort, not all product teams prioritize the same way. Likewise, product teams have various processes for collecting and storing information in their product backlog, and teams have different roadmapping needs, especially for crafting, communicating, and sharing roadmaps.
During your selection process prioritize finding a tool that meets your and your team's specific needs. We hope that we have given you a good starting point with this focused list of product planning tools.
Check out the airfocus blog to continue learning about product management including news, round-ups, and industry insights.