Enterprise companies differ from startups in many ways. They are more mature, and established, and usually have more employees, customers they serve, and often regulatory and security requirements they must adhere to. They also have more defined processes that cater to their specific needs, hence the need for customization around the tools they use.
The nature of product management in enterprise companies differs from other businesses as well, hence why their product teams need the right tools to serve their product practice.
In this article, we're going to focus on enterprise product management software. Tools that product teams at enterprise-level companies can rely on that cover some of their most common needs, which include:
Strategy

Feedback generation

Prioritization

Roadmapping

Reporting

Stakeholder management
By the end of this article you will know:
Some of the most popular tools that product teams at enterprise companies can rely on

How product teams can leverage these tools

Capabilities of each tool

Pros and cons

Enterprise plans and pricing

And more
Let's get started.
Enterprise companies normally need customization, this is due to the fact that they have processes that work for their specific line of business, but also, the various departments in their business also have specific ways that they function.
Many product management tools on the market force you to work a certain way, or work well with a small team but present challenges when scaling. airfocus on the other hand is modular; you can build it to fit your team, department, and company's best practices, and it scales so it's perfect for enterprise needs.
Modern product teams rely on airfocus for product planning. Use it to crowdsource feedback from customers and internal stakeholders via insights and Portal, prioritize product backlog items with priority poker, and communicate the product strategy with one of its ready-made out-of-the-box roadmap templates.
airfocus are also ahead of the game. They introduced AI Assist, an embedded AI tool that helps product managers save time. Ai Assist can draft ideas, analyze feedback sentiment or create summarized briefs, all with a simple slash command.
Along with the rich feature set, there are best-in-class professional services and guidance for enterprise customers (dedicated training services, priority customer support, dedicated customer success managers, and more). Their enterprise package also includes support for Single-Sign-On (SSO), full transparency into their system status and performance for reliability, privacy, and data protection, and adherence to global privacy and security laws.
Pros
Modular, so you can adapt it to your enterprise needs

End-to-end product management support from strategy, insight generation, prioritization, roadmap creation, stakeholder management, and more

Full hand-held support throughout the entire process for enterprise product teams to accomplish their goals

Multiple customizable integrations that work with existing tools

Adherence to not only local, but global privacy and security laws
Cons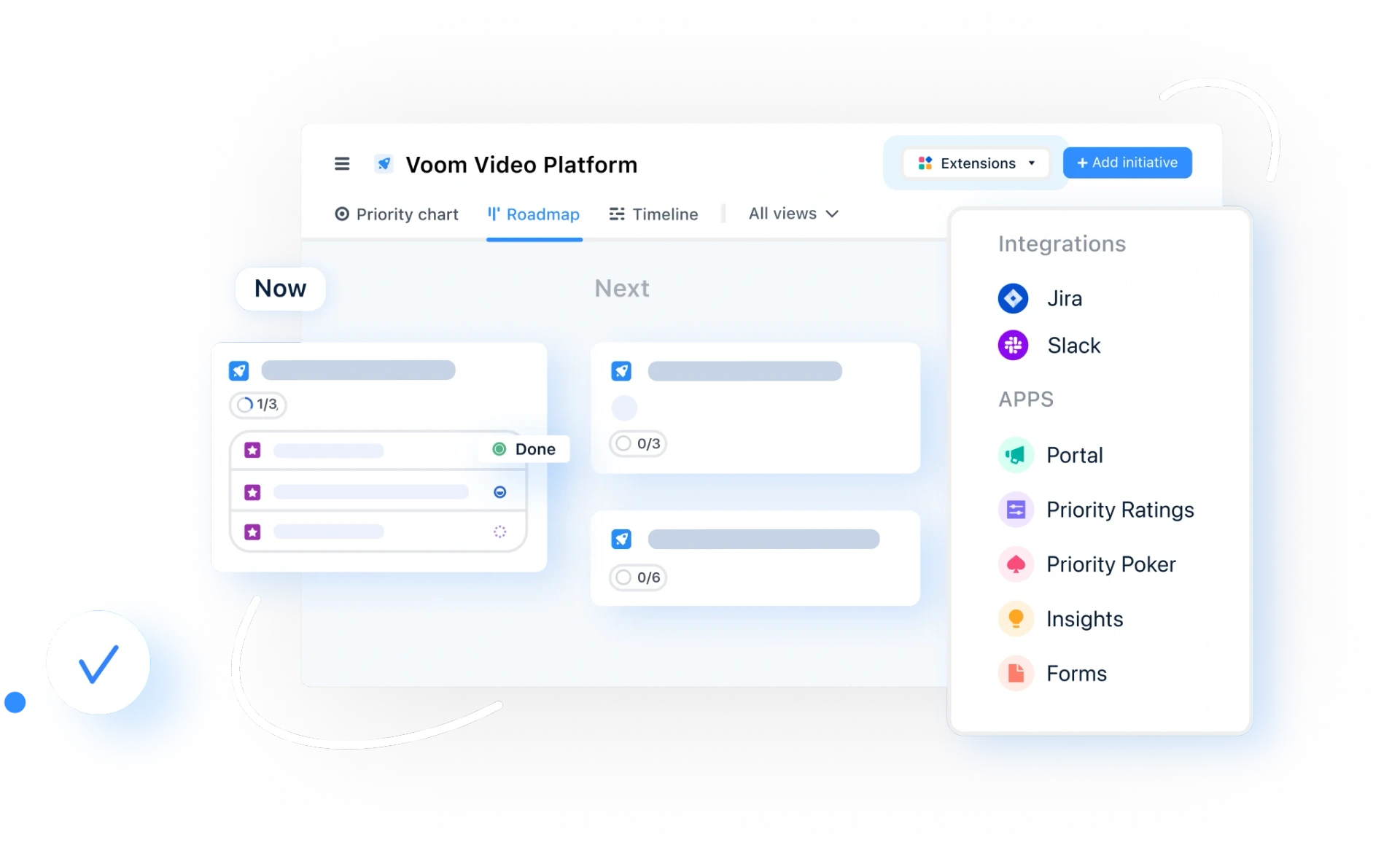 JIRA is one of the best software development tools that are relied on by agile teams, especially those that rely on scrum or kanban. It excels in managing the software development life cycle and has multiple customization options for enterprises.
While JIRA can help product teams with tasks such as backlog management and work assignments, its primary focus remains on software development and delivery. For this reason it is not the best tool to rely on for product strategy or prioritization. Execution yes, but for the end-to-end product management process there are better options.
JIRA offers tiered pricing with a monthly charge. Larger enterprise companies would start at $17.75 user/month for their needs.
Pros
Can be used to build and release prioritized work from the product backlog

Easy to manage multiple products, development teams, and projects

Use custom labels to collect important information on customer and user requests
Cons
Not made for product managers but rather software development; it is not ideal for prioritization

A very powerful tool but has a steep learning curve and time consuming setup process

Lacks a standardized version; it is up to the organization to set it up in a way that works for them
As an open platform, monday.com users can create the tools they need to get their work done with an interface that supports building blocks and integrations for teams to customize their work. Their Work OS product enables enterprise companies to maximize efficiencies and work at scale as it adapts to enterprise needs. 
Enterprise product teams can rely on monday.com to make roadmaps, manage their feature backlog, track bugs, communicate with their development team, facilitate the scrum process, and more.
Backed by increased security and offering world-class support, it's trusted by leading global enterprise customers across multiple industries including Coca Cola, Lionsgate, Mars Wrigley, and more. With many enterprise rich features including premium support, multi-level permissions, and tailored onboarding, you need to reach out to their team for their enterprise pricing options.
Pros
Multiple project boards to effectively manage multiple projects at once

Multi-level permissions available for enterprise teams

A plethora of guided resources are available for their community
Cons
Lacks data filtering on dashboards to quickly find information

Lacks ability to duplicate an entire workspace

Users have reported issues with the mobile app experience
Enterprise companies need an easy way to quickly gather insights to improve the experience offered by their products. Not only insights from customers, but their employees as well. This is where Pendo comes in. Pendo gives product teams the power of data to make better decisions.
With a focused feature set, for enterprise companies it solves use cases for user onboarding, in-app support, product-led growth, user experience, revenue growth, and more. And for internal employees, it assists with portfolio management, governance and compliance, change management, productivity, and more.
Pendo's fees consider the number of monthly active users/month. Reach out to their team for enterprise pricing needs.
Pros
Gather customer insights, run NPS surveys, and deliver guides to users and internal stakeholders

Visually appealing and easy to use interface

Facilitates great user onboarding experience for users
Cons
Lacks roadmapping capabilities

Lengthy startup process with back and forth required from their team

Lacking in data analysis capabilities compared to other tools on the market
Productboard is an end-to-end product management platform built for product teams to gather insights, prioritize, and align stakeholders with roadmaps. Trusted by 6,000+ customers, it supports enterprises with services which include onboarding, customer success, priority support, and more.
It also integrates with multiple tools that enterprises rely on, has API support, and is built with high security standards considering product, cloud, and application security.
While their Pro program starts at $80 per maker/month, you have to reach out to their team for custom pricing for the enterprise plan.
Pros
Build interactive customizable roadmaps and track progress

Product portal to gather feedback from customers and take action

Multiple integrations and API support

Professional services team to support onboarding and customer success
Cons
Only has integrations and API support for the most relied upon delivery tools

Internal insights tool does not separate customer insights from internal insights (can prove difficult when measuring via impact score)

Onboarding can be challenging for non-product managers

Concern has been expressed around the high cost and the subscription model
The ideal tool for enterprise product teams
Product teams at enterprise companies have a large number of internal stakeholders, customers, and users to support. This on top of customization required for the tools they use and security compliance that must be met.
For this reason there are only a select number of product management tools that support product teams with their end-to-end product process, while also passing the procurement checklist of their IT team.
With the options available on the market it may be difficult to source the right one to support your team's needs. This is why your selection process will be a unique one that not only focuses on the needs of your team, but also company requirements.
We hope that this focused list gives you a great starting point.
Check out the airfocus blog to continue learning about product management including news, round-ups, and industry insights.
To learn more about how airfocus can assist your product management team, book a demo with us today!