According to Microsoft, Visio is the "ultimate tool" for collaboration. Business professionals use it to transform the way they use and visualize data to bring it to life.
It's relied upon for creating organization charts, network diagrams, home and office plans, and workflows. With its ready-to-use shapes, out-of-the-box free microsoft visio templates, and drag-and-drop features, it makes visualizing data very easy while supporting team collaboration.
Enterprise businesses can document their workflows, and gain clarity on processes, all while gathering feedback with sharing and collaboration features. It even has version control.
Since it belongs to the Microsoft suite of products, diagrams can also be embedded into its other products like Microsoft Word, PowerPoint, and Excel.
While many benefit from Visio, some drawbacks customers have mentioned are that its interface can be confusing (which makes it difficult to navigate for non-technical users) and it has limited reporting capabilities.
In addition, the customization options of the shapes provided are limited.
Visio is a beneficial tool for specific use cases.
However, how does Visio support product managers and teams with roadmaps?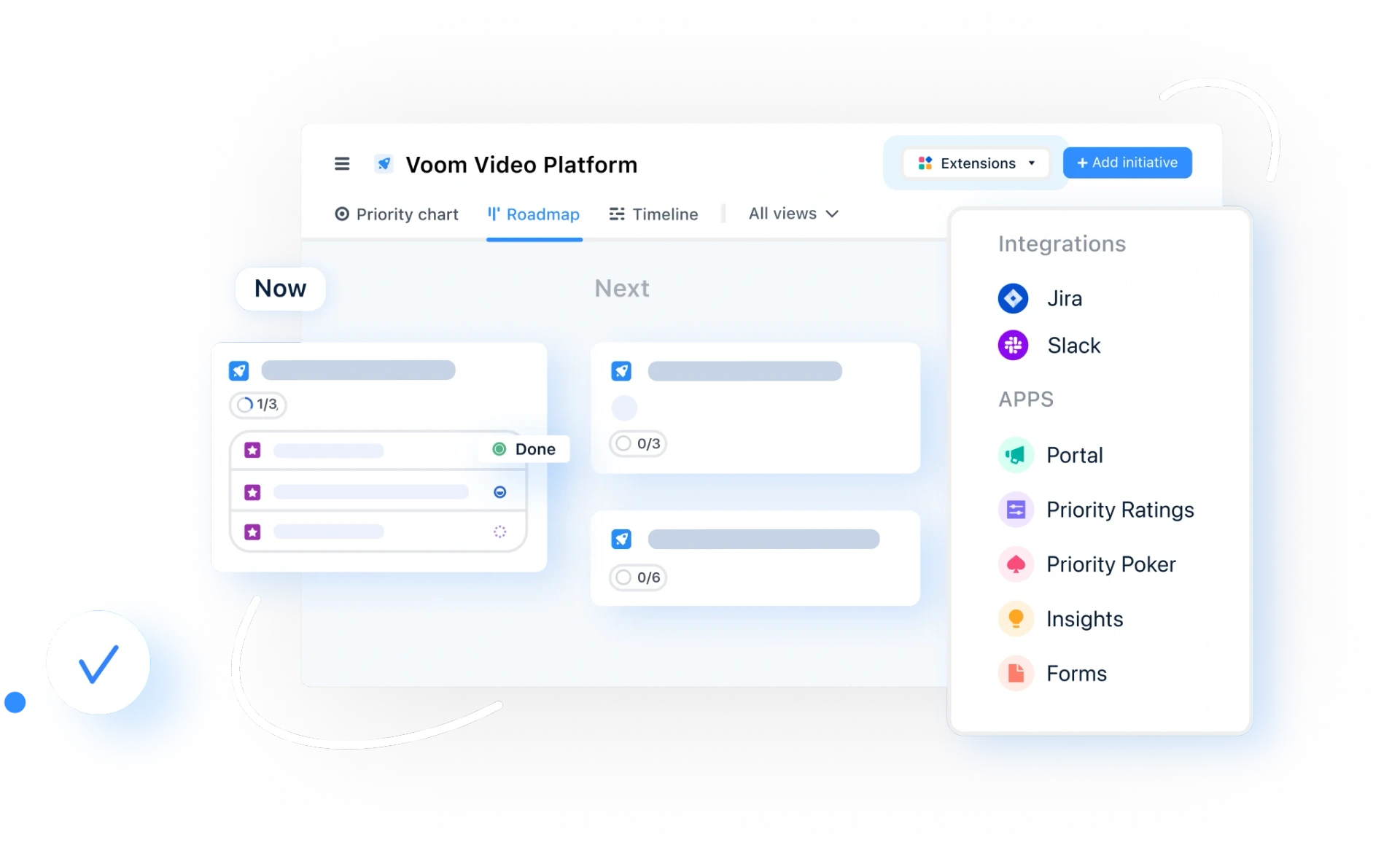 Building roadmaps in Visio
A product roadmap is a tool that outlines the strategic objectives of a business and how they plan to evolve its product to accomplish business goals.
With the many responsibilities that product managers have, generating, communicating, executing, and updating the product roadmap are among their core responsibilities.
Product leaders need the right tools to support their work. As we wrote in the Ultimate Guide to Roadmaps, there are drawbacks to using tools like Word and Excel.
What about a Visio roadmap template? Is Visio a decent option for building roadmaps?
It's definitely an option. Users can build a timeline in Microsoft Visio, however, it does not look like it offers out-of-the-box product roadmap templates. After analyzing Visio's core features and use cases it may not be the best option for product roadmaps.
For one, Microsoft Visio is more geared towards project management and process flows rather than product management.
Secondly, while Visio can be leveraged to prepare and share a product roadmap in a visual format, it lacks many key features that roadmapping tools offer which make product managers' jobs much easier.
For example gathering customer feedback, prioritizing requests, multiple sharing capabilities, and integrations.
While Visio diagrams can be embedded into existing Microsoft products, we don't advise taking this approach due to the manual effort required to update them constantly.
Isn't it easier to manage one roadmap that both internal and external stakeholders have access to, that automatically updates with changes, rather than saving and sharing multiple files?
A better approach to roadmapping
Roadmapping tools make it easier for product leaders and their teams to not only craft roadmaps in a practical way, but also provide additional features that make the entire process easier. These include:
Drag and drop interfaces

Multiple sharing and viewing options

Visually appealing displays
The right tool is a daily companion for product leaders.
Why leverage airfocus?
airfocus helps product teams manage their roadmaps from discovery through delivery, and the steps in between. It's a modular home for product management.
1. Use airfocus Insights to gather feedback from stakeholders
Collecting customer feedback in a central location to help inform your roadmap is an ongoing process. This is where airfocus assists.
With airfocus Insights you can:
Organize product feedback from various sources

Connect insights to product discovery and strategy

Keep stakeholders up to date while closing the feedback loop.
Hear how Lemoway uses airfocus to support their large and growing user base.
2. Prioritize opportunities with your team with Priority Poker
How do you take multiple requests from various channels and stakeholders (internal and external) and then determine which ones to action? 
One way to do this is by leveraging the knowledge and experience of your entire team. This is why we created Priority Poker. A feature that offers a unique way to asynchronously and collaboratively prioritize features, enhancements, projects, and initiatives with your team(s) in a fun and engaging activity.
3. Multiple ready-to-use roadmap templates
Once you've prioritized the initiatives with your team and have clarity on the goals of your roadmap, the audience, and key collaborators, then choose the right template and easily start adding your initiatives.
airfocus has multiple out of the box product roadmap templates that you can take advantage of, check them out.
They're also fully adjustable so that you can modify them to your teams' specific needs.
4. Seamlessly share roadmaps with the right stakeholders
airfocus' drag-and-drop interface makes it easy to edit roadmaps and keep them up to date.
To support cross-functional collaboration among teams, it's easy to roll up various roadmaps into one single source of truth, and seamlessly share and export roadmaps via secure URLs and exports.
Whether internal stakeholders (your team), or external (your customers), everyone will be aware of the latest initiatives and progress.
5.Flexibility to work your team's way
Easily configure airfocus to the specific needs of your team(s).
This modular platform gives you the ability to add the applications that you need (building blocks) as you manage your product(s) from vision to delivery.
In add, airfocus provides two-way integrations with your favorite software development tools. Track the status of synced items in the development tool of your choice right from airfocus.
Some of the development tool integrations that are available include Jira, Trello, Asana, and GitHub. Some of the feedback tool integrations include Intercom and Google Chrome.
Besides planning and determining your initiatives, airfocus makes it easy to see these initiatives through to completion with the existing tools that you already rely on.
A better option
Product teams need the right tools to plan, manage, and execute their product strategy and reach their goals. A tool that contains the key features that product leaders rely on and enable them to work according to their needs.
If you're looking for a platform that's built on the modern way of doing product management then check out airfocus.