For years, the brightest minds in business struggled with ways to get inside a customer's head and find out what they truly want from a product. Then someone had a brilliant idea: why not just ask?
Enter customer feedback surveys. 
There's no better way to find out what your customer thinks than a feedback survey — and product feedback is essential for product and SaaS growth. You can tailor the questions to your specific needs and allow the customer to speak their mind about what they're enjoying, what could be better, and what they don't like at all. 
However, customer feedback can also be a double-edged sword. 
Of course, the goal is to obtain as much feedback as possible. But if you don't have a decent customer feedback management tool, then you may just find yourself snowed under with data — unable to see the insights. 
💬
Lean Business Canvas
The lean business canvas is a one-page business plan template that helps deconstruct ideas into key assumptions. It was designed to replace elaborate business plans with a single-page business model. It's an approach to creating and managing startups centered around delivering quality products to customers in an expedited fashion.
That's a big risk. Why? Because acting on customer feedback brings considerable increases to customer satisfaction and customer retention. 81% of customers are likely to return with repeat business if a company exceeds their expectations — and you can only exceed customer expectations if you know what the customer actually expects!
That means trawling through endless data in an attempt to make sense of it all or simply using the right customer feedback management software.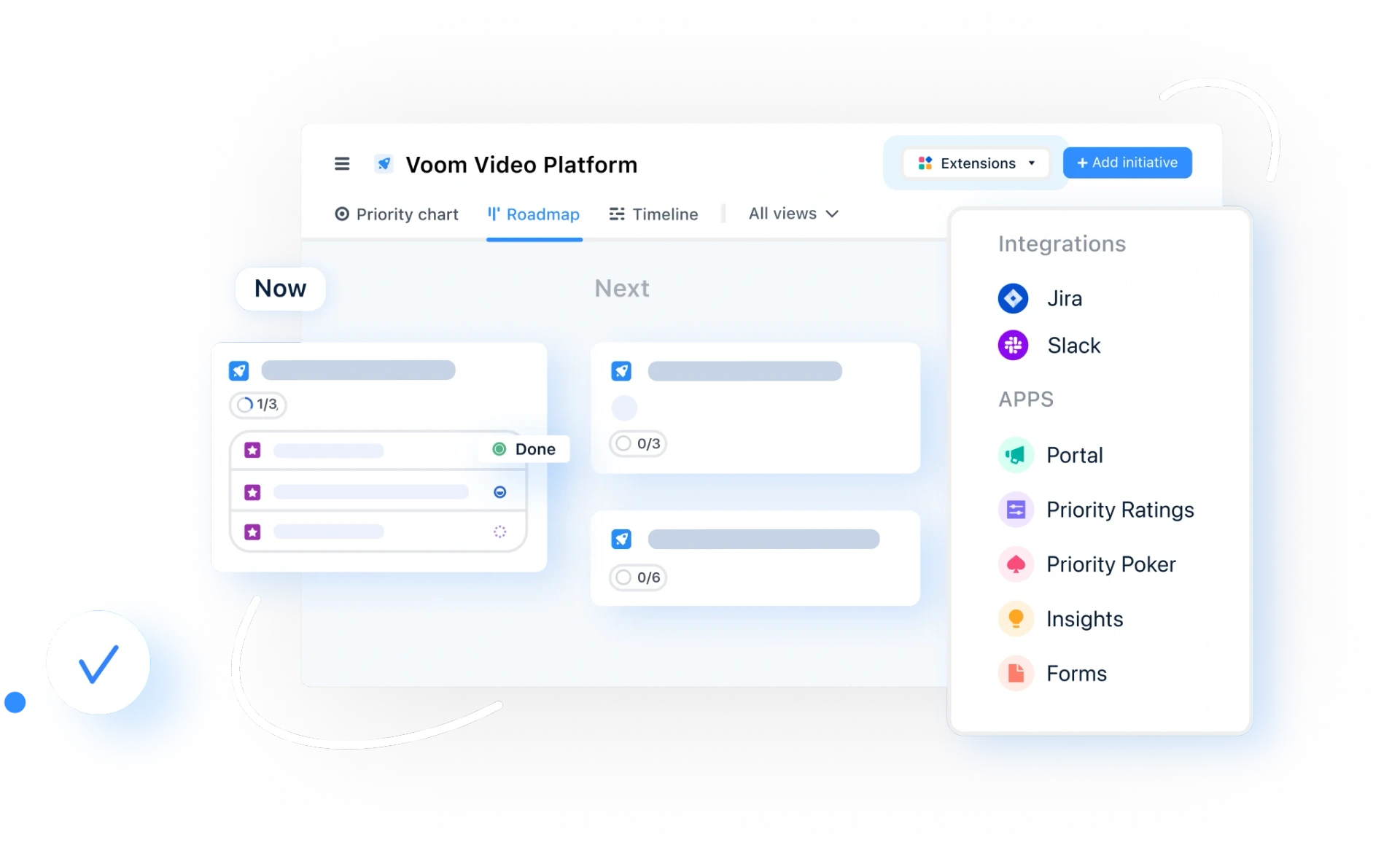 Which feedback management software should I choose? Here's our pick of 8 of the best
Truth be told, this is a tough question to answer. Most customer feedback management tools offer similar functionality at similar costs — it all depends on what your business needs as to which is right for you.
That said, the majority of the software we're about to cover in our list comes with a free trial included. So if you're still undecided by the end of this blog, you can get hands-on experience with the tool for little to no financial risk!
So without any further ado, here's our countdown of the 8 best customer feedback management tools in 2022:
airfocus Insights

Qualaroo

Typeform

Feedier

SurveySparrow

Usersnap

Fider

Feature Upvote
airfocus insights
Insights is a brand-new app from airfocus, that allows you to centralize, segment, and filter feedback from multiple channels in order to see what truly matters to your customers. It's incredibly simple to use and connects directly with your product backlog — ideal for product teams!
What are the key features of airfocus Insights?
airfocus Insights collates customer feedback from multiple channels in one, shared location. That means actionable insights for discovery, product strategy, marketing plans, promo campaigns and more can now be found all in one place, accessible by everyone involved in the customer lifecycle. 
Once the feedback is there, you can also segment the insights based on a range of criteria and filter the feedback to show what's really important. No more ambiguity — just crystal clear customer-centric plans.
Better still, Insights empowers teams to close the feedback loop and get back to customers in a way that makes them feel truly valued. Hello, boost in customer satisfaction! And as we already know, high customer satisfaction rates translate to great success for your business too.
airfocus Portal
When we built airfocus Portal, we wanted it to be the secret weapon product managers could use to amplify their customers' voices. And we think we nailed it.
airfocus Portal gives product managers a customer feedback management solution that allows customers to easily throw in their two cents, fits with their brand, and keeps feedback from customers, teammates, and even business stakeholders all in one place.
You can use airfocus Portal to share roadmaps, ideas, and plans with relevant parties, then gather user feedback and ideas. You can even test and validate ideas or concepts, all in a fully-branded application.
AI Assist from airfocus
We're really excited about our new AI Assist, built specifically for product managers. We know time is at a premium in the product management world, so we wanted to make a solution that would allow PMs to get started quickly and cut down on tedious work.
We knew that AI has the power to transform the way we collect and address customer feedback. It allows us to make purely objective decisions based on real user feedback and data analysis, allowing us to spend less time organizing feedback and more time building what your customers really need.
"airfocus is a great tool for PM's/Engineering/Scrum teams — or anyone that practices AGILE" - Eric P (via g2)
Qualaroo's customer and user feedback software is designed to "ask the right questions at the right time". It's an on-page widget that you can configure to pop up at any time while a customer browses or uses your product.
What are the key features of Qualaroo?
The Qualaroo 'Nudge' can be used to (politely and unobtrusively) request written feedback while the software also tracks browsing behavior, time on page, purchasing trends, and so on. Teams can also use Qualaroo to target specific customer segments, based on where in the buying journey they are, the location they live in, how frequently they visit the page or use the product, and more.
How much does Qualaroo cost?
There are three packages to choose from — Essentials, Premium, and Enterprise — starting from $80/month.

Free trial? Yes.
What is Typeform?
Typeform helps you create sleek and stylish surveys, customized straight from a library of templates. It's web-based platform is super easy to use and the results speak for themselves.
What are the key features of Typeform?
If you need to build an attractive quiz, poll, survey, or form, Typeform is the perfect tool. You can then share your survey format via a range of integrations, including Slack, Zapier, MailChimp, and Salesforce.
What Typeform lacks in data-heavy features, it makes up for in design. There's also a handy 'Logic Jumps' option to make building a survey even easier. 
How much does Typeform cost?
What is Feedier?
Feedier has taken customer feedback and gamified it — offering playful, interactive surveys across website, in-app, email, and SMS.
What are the key features of Feedier?
Feedier is intuitive at both the customer end and for product teams using the platform. Run continuous feedback gathering — including NPS (Net Promoter Score) — and then use Feedier's technology to link that feedback directly to your business KPIs (sales, operations, etc.).
The only thing holding Feedier back is its lack of data-rich reporting.
How much does Feedier cost?
Feedier prices its platform based on your number of users, volume of feedback, and need for integrations.

Free trial? No.
What is SurveySparrow?
SurveySparrow prides itself on being a "one-of-its-kind continuous improvement platform where the customer feedback loop can be brought to a closure".
What are the key features of SurveySparrow?
The platform aims to bring in more customer feedback by making enticing and interesting surveys that grab your customer's attention. They're so confident about their conversational interface that they promise a 40% increase in customer responses! 
Once all your feedback is collected, SurveySparrow allows you to import contexts and create custom lists based on user profiles. This allows you to start customizing your surveys to individual user groups, rather than just sending out a generic form to everyone.
"Every step in creating a survey form is super simple and almost no learning curves needed before working with this software." - Maszni A (via Capterra)
How much does SurveySparrow cost?
What is Usersnap?
Usersnap takes customer feedback to the next level by seamlessly integrating itself into your website — making it ideal for real-time UX feedback and customer support.
What are the key features of Usersnap?
The unobtrusive widget reveals a handy customer service menu once clicked, allowing you to gather general feedback, offer links to the relevant documentation, connect the customer to your support team, and submit bug reports with their unique bug reporting tool. 
The bug report tool allows your customers to select very specific parts of your website and explain the issue they're having. This saves your team time by directing you straight to the issue.
"Really useful and simple way to receive feedback in development" - Arttu R (via g2)
How much does Usersnap cost?
What is Fider?
Fider is unique to this list for one main reason: it's an open-source platform and there's no cost to users! 
What are the key features of Fider?
Fider may be free but it's still feature-packed and a great customer feedback management tool for product and marketing teams. Fider operates more like a community board — somewhere users can go to share their thoughts and vote on other people's feedback. 
It also has everything you need to give a voice to your customers in a completely customizable and on-brand way. 
"Simple, slick and self-hosted" - Petar S. (via ProductHunt)
How much does Fider cost?
Fider is free for any business to use

Free trial? There's no need for one — Fider is free all the time!
What is Feature Upvote?
Feature Upvote aims to be the simplest way to manage your customer feedback. It gathers all of your customer feedback into one place and organizes it in a way that offers value even at a glance. 
What are the key features of Feature Upvote?
As the name suggests, this platform invites customers and employees to add their own ideas and/or vote on others. The more upvotes an idea gets, the higher up the list it goes. 
Group decision-making doesn't get easier than that! (And for when it does, there's our 'Ultimate Guide to to Group Decision Making - Techniques, Tools and Strategies' available here) 
"Affordable and easy to set up" - Margherita (via alternativeto.net) 
How much does Feature Upvote cost?
What is Hotjar?
Hotjar promises their platform "helps you understand how users behave on your site, what they need, and how they feel." This is perfect for businesses seeking a holistic understanding of how users interact with their website. 
What are the key features of Hotjar?
Hotjar features all the typical tools you would expect in customer feedback management software. It offers great roadmapping tools to visualize user behavior and plenty of feedback collection channels, including surveys and interviews. Hotjar even offers recordings of a user's experience on your website so you can see how your users navigate the pages in real-time.
How much does Hotjar cost?
Hotjar's pricing structure is a little complicated, with multiple packages for their "Observe," "Ask," and "Engage" platforms. Businesses can also create customized plans if needed. All platforms come with a free basic plan, and users are automatically given access to the basic plans of the other platforms. So if you buy an Observe package, you'll receive Ask basic and Engage basic at no extra cost.
What is Userbrain?
Finding enough people to test your product can be difficult, especially for smaller businesses. Userbrain is a slightly different customer feedback management software that solves that issue by giving companies access to 100k+ product testers from across the globe. 
What are the key features of Userbrain? 
The biggest feature of Userbrain is just how simple it is to test your product. You get access to real users and can choose them based on your product and market to get the most value from the results. 
Userbrain allows you to analyze user testing, collaborate with your team, and schedule regular testing with their testers, or you can invite your own if you'd rather keep it in-house.
How much does Userbrain cost?
Userbrain is a little pricey but offers something unique, so it balances out. Packages start at $99 per month and offer a free trial or two months if you pay annually. 
What is Rapidr?
Rapidr promises to help you "build better products with customer feedback." The platform allows you to gather prioritized feedback from your customers and teammates all in one place.
What are the key features of Rapidr?
Rapidr's customer feedback management software offers many solutions and features. Businesses can grab a custom domain that directs customers to Rapidr's easy-to-use and customizable customer feedback portal that aims to close the feedback loop for good. 
You can easily collaborate with other teammates with the simple invite system, and there's little to get in their way thanks to Single Sign On. You can also set permissions for each collaborator so they can only perform the actions you need them to perform.  
How much does Rapidr cost?
Rapidr has a simple pricing structure with Startup, Business, and Enterprise plans that start at $49 per month for 200 tracked users. Businesses can scale their plans, starting at $20 for an additional 200 tracked users. Plans come with a 14-day free trial with no credit card required.
Customer feedback tools can make
ALL
the difference — get yours today!
If you'll allow us to be blunt for a moment: if you're not listening to your customers, then you won't have many customers for long. That's why airfocus makes it so easy to integrate customer feedback into your product's vision and strategy. 
We understand how important customer feedback is and want to enable you to take the key and create real and valuable change. 
Start your free trial today to find out how we can help make that happen for you.