One of the key roles within a scrum team, the most popular agile framework, is the product owner.
A product owner manages the product backlog and determines what goes into the product.
💬
Definition of a Product Owner (PO)
The product owner (PO) represents next to the Scrum Master and the development team a key player in a Scrum team. This role entails product management responsibilities, implicitly increasing the value of a product by governing tasks according to the vision of a product.
Strategy comes from the product manager and the product owner works with the team on implementation. They ensure that the backlog is prioritized with the most important items at the top and the least important at the very bottom, and keep key stakeholders informed as they work with their team (design and development) to bring solutions to life.
Why do product owners need tools?
Given the close relationship that product owners have with their product team, they have key tools that they rely on to accomplish their tasks. These tools assist them with:
Managing and prioritizing work

Tracking and communicating progress

Collecting feedback

Generating insights

Aligning with the roadmap

Supporting product strategy

And much more
Many tools cater to these responsibilities to support product owners and a few shine above the rest. We are going to outline some of them here.
At the end of this article, you will know:
A few of the common tools that product owners use and why

How they are used by product owners and their teams

Pros and cons of each tool

Their costs

And more
Let's get started.
Trello is a collaboration tool that makes it easy to work with your team in a few easy steps, especially with Kanban.
It has come far since launching in 2011 with even more developments made since being acquired by Atlassian in 2017. It is free for individuals and teams looking to get started, with a $5 per user/month starting price for additional workspaces, features, and storage.
Pros
Visually appealing and easy to use

Cards can be customized in each board to work your way

Ability to track tasks by individuals and communicate with members

"Power-Ups" to enable additional features and integrations into your workflow
Cons
Not specifically a product management tool, but rather a tool for task management

Lacks roadmapping capabilities

Challenging to connect workflow for a holistic view of work to complete
JIRA is one of the most well-known tools in the software industry for managing the software development life cycle. It is a super powerful tool that supports multiple agile methodologies, whether working in Scrum, Kanban, or more. You can even customize it to work your way.
For product owners, it gives them full visibility into all parts of the software development life cycle, but also enables them to assign, track, and easily report on work while collaborating with team members. Free for up to 10 users, the price then increases to $17.75 per user/month.
Pros
Easy to organize multiple teams and projects

Track team velocity to understand how quickly work is performed

Multiple integrations to other tools for development, design, documentation, project management, and more
Cons
Not a product management tool but rather a great tool for software development

Has a steep learning curve and is time-consuming to set up the tool and permissions

Lacks a standardized version so it is up to the organization to set it up in a way that works for them

One of the most expensive tools on the market
Aha! Is a roadmapping tool for product teams to create roadmaps and share their product development plans.
Roadmaps can be customized to meet the needs of various audiences, shared via custom presentations or secure web pages, and with its ideas portal product teams can crowdsource feedback, engage with their community, and analyze trends
Pros
Map solutions to the product strategy

Advanced backlog management capabilities

Integrates with third-party tools

Crowdsource feedback and engage with your community
Cons
Timeline-based roadmapping, which does not work for modern product teams that want an outcome-based approach

Users have mentioned that its user interface needs work

Requires a learning curve to implement

At a $59/user/month cost, the cost is high for contributors. You will pay for many features which you may hardly use
Once a product owner has worked with their team to ship a feature, it is imperative to gather customer feedback to not only understand how customers feel about it but also to understand what future problems can be solved.
Canny enables product teams to capture, organize, and analyze product feedback in one central location to inform product decisions. Not only can it be embedded directly into a product, but it also supports a roadmap to inform customers which feedback will be acted upon.
It starts free with 2 boards but then increases in price to $400/month for an unlimited number of boards and managers.
Pros
Clean and intuitive user interface

Easy to learn with a quick setup

Multiple integrations to connect with tools you already use

Customers can vote to express their interest for a feature
Cons
Prioritizes based on feature requests and not problems to be solved

Too focused on insights and lacks several setups for PM practices

Restrictive roadmap setup and capabilities

The price makes it out of reach for startups and B2C companies
How about one tool that has the capabilities to support product owners with fulfilling their key responsibilities?
This is where airfocus comes in, a platform for the new way of doing product management.
While other tools may force you to work a certain way, or work well with a small team but present challenges when scaling, airfocus is modular. You can build it to fit your teams' best practices and scales as your product(s) and team grows.
It enables product owners to understand the product strategy, work directly with their delivery teams to craft and ship solutions, and communicate with key stakeholders as they build and support their products.
airfocus enables product teams to build better products.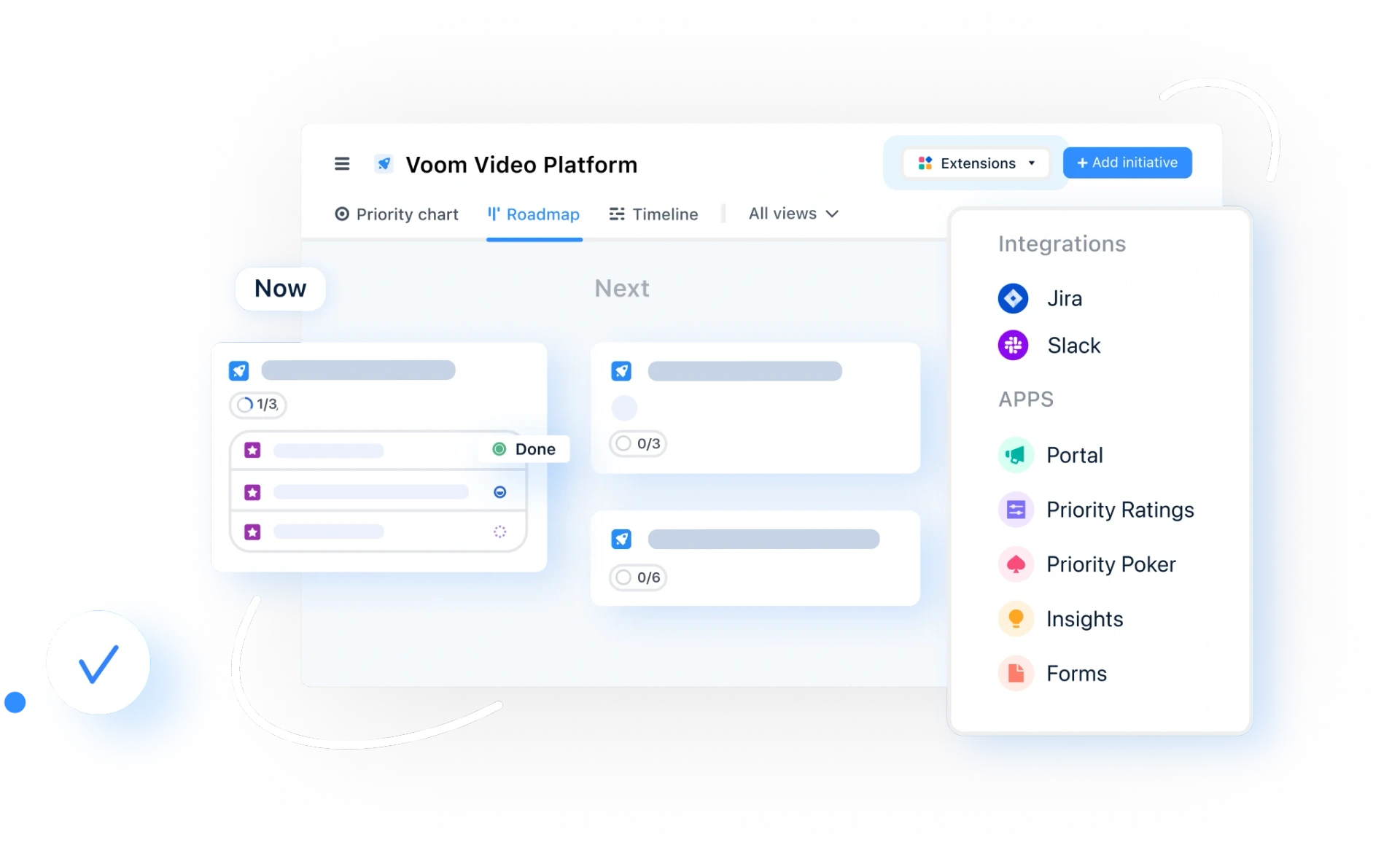 Product owners can ensure that they are building solutions that align with the right strategy. Post launch they can collect feedback and generate insights.
airfocus can also be used to prioritize feedback and craft product roadmaps (comes with support for multiple ready-made templates). And if you rely on JIRA, or other other project management tools, it has multiple integrations which include: Jira, Trello, ASANA, Microsoft Planner, Intercom, Slack, and more.
Pros
Built directly for product teams that prefer an outcome-based approach to building products

Extremely easy to gather insights, prioritize work, and make the connection between strategy and execution

Modular, so you can adapt it to your teams' specific needs and processes

Offers multiple integrations to connect with the tools you already rely on
Cons
Choosing the right tool to work with your team
Product owners need tools to manage their backlog as they work with their team(s) to implement the product strategy. Tools that support them with prioritizing the backlog, assigning work, and keeping key stakeholders informed of progress.
With the many tools that are available on the market it can be difficult to find the right one that can support your product team. This is why your selection process will be a unique one that focuses on you and your teams' specific needs.
We hope that we have given you a good starting point with this focused list.
Check out the airfocus blog to continue learning about product management including news, round-ups, and industry insights.
And to learn more about how airfocus can assist your product management team, book a demo with us today!