Imagine a time before smartphones and GPS. You're driving across the country, but you forgot your map book! How are you ever going to get to where you're going?
While actual roadmaps are a little old-fashioned these days, roadmaps in product management have continued to stand the test of time. Roadmaps are the backbone of any project, letting us know where we are going, how we'll get there, and when we'll get there. 
Unlike their namesake, product management business roadmaps have adapted for the digital age, and now there are countless product management platforms on the market. The right roadmapping tool can facilitate collaboration, improve prioritization efforts, remove friction from the development process and help you consistently deliver better products. The wrong roadmapping software can leave you and your team scratching your head. 
Product roadmaps are a little like a BFF from childhood; the one you really couldn't live without, but who can irritate the heck out of you all the same. We say this because, while pushing on with product development without a well-planned roadmap is usually a recipe for disaster, designing and creating that roadmap can be an epic time drain and headache.
It's here that roadmap planner software can really help out your product team.
What to look for in roadmap planner software
Whether you've been working within the limitations of a free roadmap planner or you're already familiar with some of the paid tools, the formula for an effective solution remains the same. 
That means there are a few essential ingredients you should be on the lookout for. So before we dive into the software options, here's your list of must-have features:
Template support. Being able to quickly switch gears and start a fresh roadmap fast makes templates a necessity. 

Collaboration. Teamwork makes the dream work, so you want to be sure your roadmap planner software provides a shared workflow — one that allows users to communicate, especially on an individual task level. 

Simple, straightforward user interface. Software that makes it harder to get stuff done may cost you more than it saves. 

Help with prioritization and decision-making. Two of the most difficult aspects of product roadmap planning are deciding which tasks to tackle and when. A good roadmap planner software will include features to help teams make better decisions. 
So, let's check out some of the best roadmapping tools and what you should look for when choosing the right roadmap planner software for your needs.
The best roadmap planner software in 2023
Now that we've established the key criteria used to judge a quality piece of roadmap planner software, let's take a look at our options.
Here are 5 of the best roadmap planner software options for product teams in 2023 (and beyond). 
airfocus is the first modular product management platform that promises simplicity without sacrificing features. Our platform is jam-packed with powerful prioritization tools to help you deliver value with every decision. 
With our easy-to-use and intuitive roadmap designer, you can create fully functional roadmaps in minutes. Need a roadmap in a hurry? Try our pre-built templates!
Everyone involved in the product development process — from devs to stakeholders — can be aligned through a unique and customizable portal. airfocus Portal allows you to share roadmaps, plans, and launches with your audiences, complete with your own branding
Pricing: Starts at $15 per editor per month. 14-day free trial available.
G2 rating: 4.4
Standout feature - Modularity + easily create beautiful roadmaps that always stay up-to-date. Visualize your roadmaps in different formats and customize their structure to fit your needs.
Pros
Get started quickly and easily with great templates

Fully customizable to fit your brand and workflow

Intuitive filters to see what you need and nothing you don't

Great prioritization functionality 

Expert customer service 

Huge resources area 

Plenty of integrations
Cons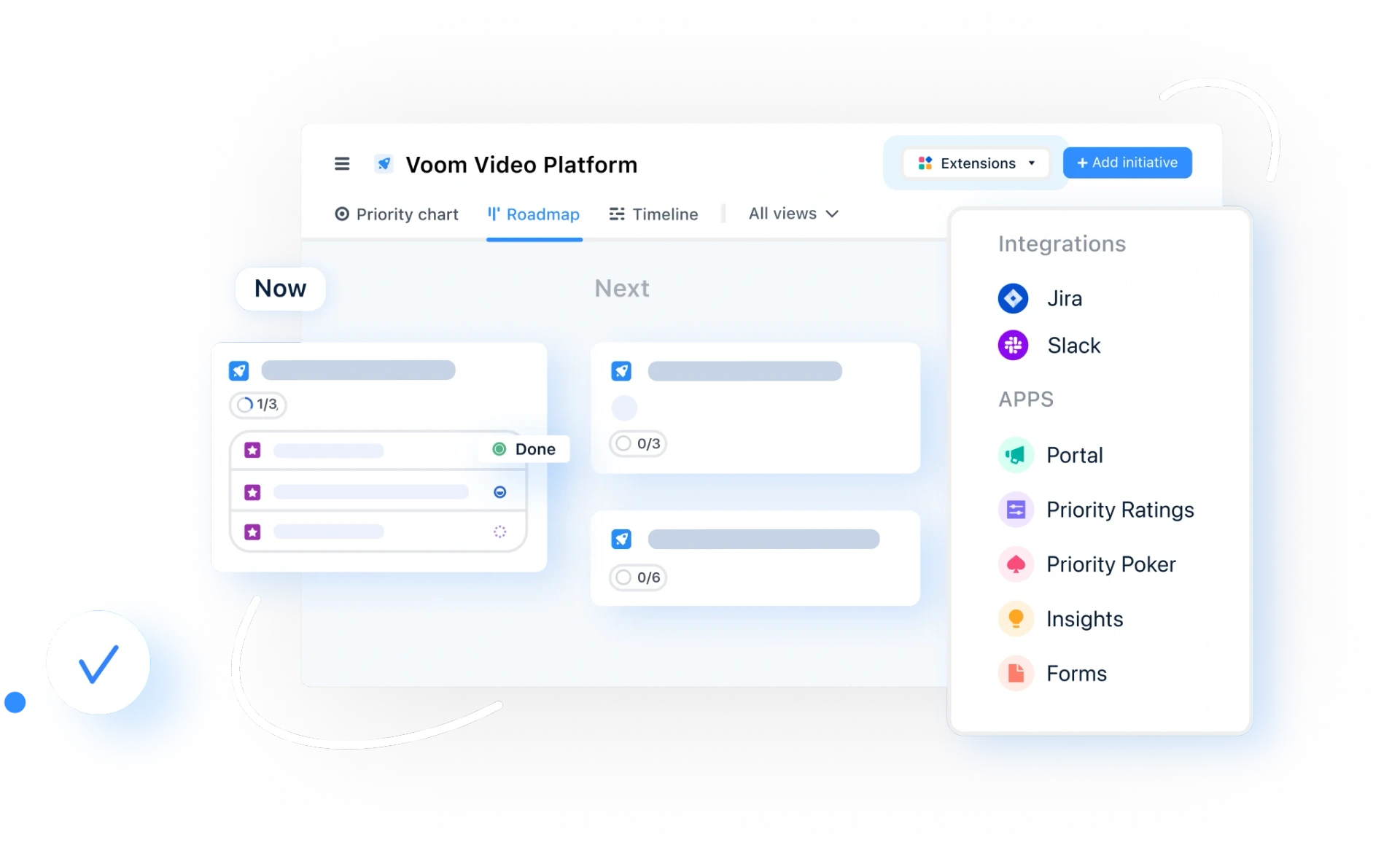 Wrike's roadmapping tools allow you to accelerate your products' journey to launch. You can create boardroom-ready roadmaps that keep you aligned with your stakeholders and create 360° visibility at every stage.
Wrike visualizes each stage of the roadmap plan to give at-a-glance updates to key stakeholders and can also sync customer data from third-party integrations of over 400 apps.
Sync key dates across calendars, strategize upcoming releases, and streamline your approval process with a great range of integrations and automations. You can even automate product requests within your roadmap with Wrike's customer request forms that automatically gather details and assign tasks.´
Pricing - Free, limited plan available. Paid plans start at $9.80 per user per month.
G2 rating - 4.2
Standout feature - Good for large and small teams
Pros
Cons
The interface can be hard to navigate

The mobile apps are lacking

Can be complex to learn and onboard people onto the platform
Key takeaways:
A handful of roadmap planner templates can be applied to get you started. 

A selection of pricing plans, from Free to Enterprise; however some features are only available on higher tiers. Gannt charts are only available on the Professional plan, for example.

Free 14-day trial plus a 'Free forever' option for task management only.
Jira is one of the most well-known tools in the world of product management, so creating a roadmap planner in Jira should be a piece of cake, right? The answer to that is yes, but there's one small caveat to mention.
Jira has two types of roadmap: the basic version which comes as part of Jira's core plans, and "Advanced Roadmaps" which is much more feature-rich and only available with Jira Software Cloud Premium.
Key takeaways:
Does not yet support roadmap planner templates, but more technically-minded users would be able to create and save their own. 

A free version of basic roadmaps is available with Jira Software Cloud Free, but is limited to a single team (among other restrictions). Advanced Roadmaps are only available with the paid Premium edition of Jira.

7-day free trial for Jira Premium.
Trello is a fantastic product management platform from the makers of Jira. While it offers a great range of tools and features, it's not great for roadmapping. However, it's a good option for teams that love to use Kanban boards for their roadmaps. 
Using the airfocus Power-Up, you can create a powerful roadmap in Trello as easily as you would on the airfocus platform. Proof — if you ever needed it — that with airfocus, anything is possible!
Trello also includes collaboration features, calendars, checklists, attachments, due dates, and more.
Pricing - Free up to 10 boards. Paid plans start from $5 per user per month. G2 rating - 4.4
Standout feature - A blank slate to create any type of roadmap you want
Pros
Cons
Not designed specifically for roadmapping

Trello doesn't have built-in roadmap templates, though user-submitted templates are available

Difficult to use for large-scale projects
Key takeaways:
A growing library of templates, including roadmap planner templates for Trello. The app provides a dedicated website with filters to help users find the template they need. You can also learn more about creating roadmaps in Trello right here.

Provides a number of pricing tiers, including a feature-restricted Free plan. 

Also offers a 14-day free trial of its Premium tier subscription. 
monday.com is an open platform that gives users the power to create the tools they need to run every aspect of their work. Their award-winning roadmapping software lets you visually map out everything you could ever need to get a project done. 
You can easily create customizable workflows, set due dates, and prioritize with color-coded labels, so the whole team knows exactly what work is done, what's in progress, and what's to come.
Portfoleon differentiates itself in the market by having a singular focus on lean product roadmapping and portfolio management.
The Portfoleon app allows users to organize their roadmap planning in a variety of views, including timeline, spreadsheet, Kanban, and pivot table. The user interface may be more basic than other roadmap planner software options, but Portfoleon is still a relatively new solution with a lot of growth ahead of it. 
Key takeaways:
When first creating a Portfoleon board, users can select from one of a handful of templates including Marketing, Product, etc. But this app doesn't yet offer an extensive library of templates. 

A feature-restricted free plan that allows up to 3 boards. 

Unlimited resources are unlocked with either the Roadmapping or Portfolio plans, both of which come with free trials. 
How airfocus can help with roadmapping
At airfocus, we realize that not every team works the same way.
That's why we made sure our intuitive yet simple roadmapping tool was fully customizable.
Rather than fitting in with the way the software wants you to, you can create vibrant roadmaps that lay out exactly how your team expects. 
For those new to product management and roadmapping or those simply looking to level up their skills, we have a fantastic resource section packed full of tricks and tips. You can learn what the purpose of a roadmap is, how to design a roadmap, and even how to utilize roadmaps for UX design. 
There are many roadmapping templates to get you started, including outcome-based, technology, and objective-led roadmaps. With our easy-to-use roadmap builder, you can create a clear and strategic roadmap within minutes and turn strategy into action with release and timeline views.
We may be a little biased here, but airfocus truly is the best option for all your roadmapping needs. Get started for free today. No credit card needed!
And don't forget to download our FREE ultimate guide to roadmapping. 
"Roadmapping from A to Z" is a free ebook featuring 60+ pages full of information about roadmapping, especially product roadmaps. In the eBook, you can learn what a roadmap is, how to create a product roadmap, types of roadmaps, prioritization, and tips on communicating with stakeholders effectively using roadmaps.