If you have startup experience or even experience in tech, then it's likely that you have heard the phrase "OKRs".
This acronym stands for Objectives and Key Results, one of the most popular methods used by the world's leading product companies to align strategy with delivery and track progress.
However, how does it work, what are its best practices, and also key, are there tools that can be used to facilitate the process?
In this article we're going to discuss:
The benefits of OKRs

Key challenges when tracking them

Best practices

Tools to leverage

How a leading company leverages OKRs
Let's dive deeper.
Objectives and Key Results (OKRs)
Objectives and Key Results (OKRs) is a goal-setting framework used by businesses to align performance with business objectives. It can be used to track individual, team, and product performance.
The first part is the objectives, which are broad ambitious goals. For example, become the market-leading product in your market.
As Peter Drucker the popular management guru said: "What gets measured gets done".
This ties into the next part, the key results. They outline the initiatives that work towards the objective and track progress. For example, successfully upsell 85% of enterprise customers by the end of Q1.
Some of the benefits of implementing OKRs include:
An easy way to track and measure goals

Focus on outcome-oriented goals

Aligning products, teams, and staff with company objectives

Assisting with managing resources

Surfacing cross-team dependencies
Challenges of tracking OKRs
Here are some of the common challenges that teams face when tracking their OKRs.
1. Providing transparency
OKRs should be transparent.
If all teams are working towards accomplishing the objectives which support the business goals, then all teams should have visibility into who is working on what and their progress.
This creates trust and understanding among the team as everyone has clarity on everyone's activities to support the company goals.
2. Tracking overtime periods and updating progress
Simply listing the OKRs is not sufficient. There is the time required to craft the right ones, ensure that they are understood, and record them, but after this, they need to be tracked and reviewed.
Teams need to ensure that they are reaching their progress over time. This means that the responsible individuals are regularly revisiting them and updating their key results.
It's also beneficial to have historical data to see the trend of progress.
3. Mapping key results to multiple objectives
When there are multiple objectives it can be difficult to map key results directly to the right ones.
While it's best practice to have 2-3 key results per objective, it's important to ensure that key results are clearly mapped to their respective objective(s).
This is beneficial so that those viewing the OKRs can clearly see which objectives match which key results and vice versa.
Best practices for tracking OKRs
Given that OKRs are very popular among leading product companies there are some best practices that have been defined for implementing them.
1. Tie OKRs to a time frame
If you want to increase your market share by 30% for example, when is the deadline to accomplish this?
Having a defined time frame will not only clarify when the OKRs need to be completed but they also help your team manage resources.
2. Use quarters
One practice that many companies employ is to create OKRs for the entire year and then break them down into quarters.
This makes it clear what the main focus for that entire year is and gives teams focus per quarter as well.
This is easy to accomplish when using the right tool.
3. Limit the number of established OKRs
Set a realistic number of OKRs. Perhaps 3-4 objectives max is a good number.
If you set 10 objectives, for example, how will your team know which ones to focus on? It's best to define a few key OKRs to focus on rather than 10 and scatter resources.
It's common practice to have 3-5 key results per objective. A minimum of two at the very least, while more than five may be too much. 
4. Regularly review OKRs and refine your process 
Track and regularly review your OKRs to ensure that the right progress is being made. And if progress isn't being made then you need to determine why and what your next steps will be.
One practice that some teams follow is that they grade their key results at the end of the tracked time period.
Google follows a scale of 0 to 1. A score of 1 (100%) means that you have fully achieved the key result while a 0.7 (70%) is still good but there's room for improvement.
For those who find that they are constantly hitting their key results (constant scores of 1) then this means that they are not being challenged enough.
Tools to manage your OKR process
Leveraging OKRs is definitely beneficial but with the right tools, it will supercharge the process.
Here is a list of tools that you can use to not only define OKRs with your team but also track and assign responsibility with full transparency.
airfocus is a product management tool that enables product teams to work their way.
Product teams can use it to manage strategy through to delivery while ensuring that their initiatives are prioritized effectively, tracked, and shared among their team members.
Along with the multiple resources they have available to support product teams including their detailed eBooks, articles, templates, and events, for those looking to leverage OKRs they can take advantage of their outcome based roadmap template, and the OKR template.
These are 2 of the many out-of-the-box templates that teams can use and customize to their liking. With these templates, users can outline their strategic goals and the key results to accomplish them.
This along with the fact that these views can be shared with other team members for 100% transparency and visibility.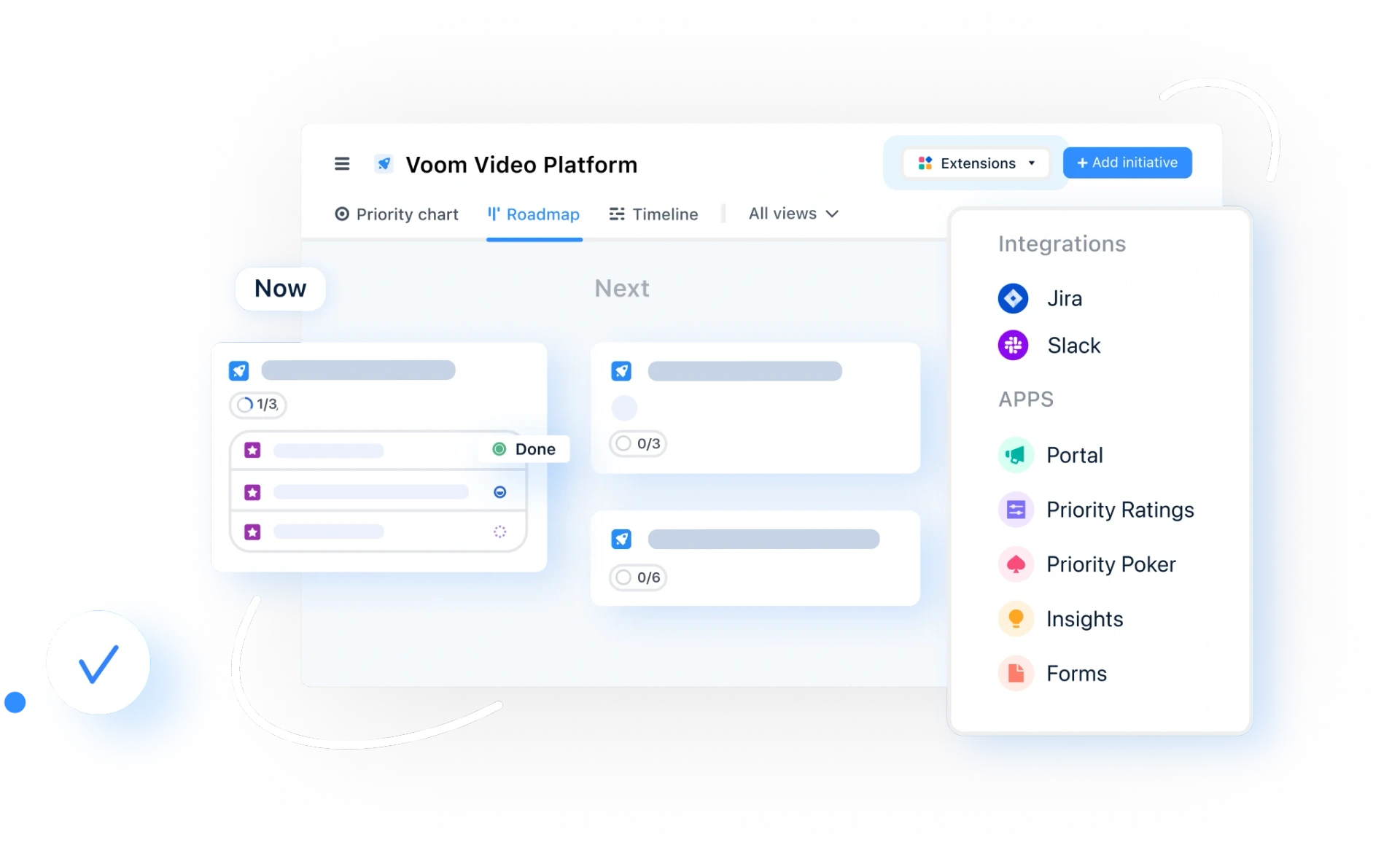 ClickUp is a project management tool that enables teams to plan, organize, and collaborate on projects. Though not built specifically for product management work, it can be customized to enable product teams of any size to document, plan, and deliver work. 
With their Goals feature you can establish OKRs among your team and there is a dedicated OKRs template for users as well.
Aha! is a roadmapping tool used by product teams to create roadmaps and share their product development plans.
Aha! supports outcome-based roadmaps, offering free OKR roadmap templates that not only enable teams to tie initiatives to the company vision, but also templates for teams, the ability to track confidence, and even a weighted OKR template so teams have the flexibility to calibrate results based on the significance of their goals.
Asana is a popular collaboration tool used by teams to manage their projects; manage work, track tasks, and accomplish goals.
It offers boards and views that can be customized to suit a team's needs. With their OKR template users can document their OKRs, assign owners, set due dates, and measure and communicate progress.
Airtable is a low-code platform for building collaborative apps. With it companies can customize their workflow, collaborate with their team(s), and achieve their outcomes.
It integrates with many tools and offers multiple free templates including their OKR tracking template for teams to establish and track OKRs.
Real-world examples
There are many leading product companies that use OKRs. These include:
Google

Amazon

Linkedin

Adobe

Spotify

And many more
Google Ventures, the venture capital investment arm of Alphabet, shares and promotes OKRs among its portfolio companies with best practices.
Some of the items they advise are to:
Have ambitious objectives, so ambitious that there is a certain level of "uncomfortability" associated with them

Ensure that key results are tied to a number (measurable)

Grade yourself on key results on a scale of 0-1 at the of every quarter

Have 100% transparency on OKRs, current and historical

Team members are not punished for not achieving key results, but rather use this as a way to refine the process for the next quarter
Here's a popular video from Rick Klau, the Former Senior Operating Partner of Google Ventures, on how Google sets OKRs. He also wrote a short blog post to go along with it.
Conclusion
OKRs is a popular goal setting framework used by the most respected product companies due to its effectiveness of aligning initiatives to set objectives and company goals.
When using this framework it's important to follow the best practices outlined to set your team up for success, and avoid the common pitfalls that teams fall into (such as not regularly revisiting OKRs and refining your process).
Make the process easier for yourself by leveraging the right tool. There are a number of tools that are out there to draft and communicate your OKRs, however it's highly recommended to use one that ties into your overall product management process.