Did you know that your business has a secret weapon?
It's true. And while every business shares this particular weapon, it's entirely unique to each and every one. 
Use it incorrectly and it won't be of much use to you, but leverage it in just the right way and you can transform your organization's results and fortunes. 
Okay, this is starting to sound a bit like a riddle, so let's cut to the chase: we're talking about Business Intelligence or BI — and the Business Intelligence roadmap in particular.
Put simply, Business Intelligence refers to the collection, collation, and analysis of those countless bits of data that flow in and out of your business every day. This means everything, from the data in your CRM system to the details of every transaction on your website to the behavioral analytics in your app. 
Every action your business, and its customers, leaves a digital footprint. BI is about collecting all of these and making them digestible by systems that analyze and visualize the data to improve business decision-making and, eventually, outcomes.
But how can you ensure you're using your BI insights correctly when data is so fast-moving? How do you introduce real structure into something which is by nature so nebulous?
Here's how.
Introducing: The Business Intelligence roadmap
Wrangling all of your BI insights — without giving yourself a migraine — might sound like a tall order, but it's much easier with a Business Intelligence roadmap. 
A Business Intelligence roadmap helps key stakeholders to track and visualize all of your BI data across organizational silos, over time. A roadmap like this will allow at-a-glance assessment of exactly where BI is being leveraged within your organization to maximize performance and amplify outcomes. 
Speaking of outcomes, that's one point of difference with Business Intelligence roadmaps vs. other business roadmaps you might have come across. Why? Because a Business Intelligence roadmap focuses not on individual features (as is the case with a product roadmap), but instead on the desired outcomes and business goals of your company's BI strategy.
The Key Performance Indicators you set when building your Business Intelligence roadmap will influence the areas that your Business Intelligence team will focus on with a view to delivering specific outcomes. These will differ depending on the organization but might include data-driven outcomes such as:
A month-on-month increase in app users or downloads

Reduce returns rate

Identify seasonal purchasing trends

Monthly sales by segment

… and countless more
The benefits of using a BI roadmap
With definitions done and dusted, let's move on to the reasons why your organization might choose to implement a Business Intelligence roadmap. 
A single source of truth for your entire business
You're likely well aware of the dangers of siloed teams within a business, and without a Business Intelligence roadmap, these issues can get even worse. With a roadmap in place, you can launch coordinated cross-team efforts to target Key Performance Indicators, calendar-based milestones, and specific BI goals from a single shared location.
Better ROI from your BI teams
It's likely you already have some level of BI in operation within your organization — even if that's something as simple as tracking sales or website visitors. But, without this data being shared and analyzed, it's not delivering as much value as it could. And neither are the employees managing it. 
Of course, another benefit here is that these employees will feel more job satisfaction from the work they do, too. After all, they'll be able to see directly how their hard work translates to achieving business goals.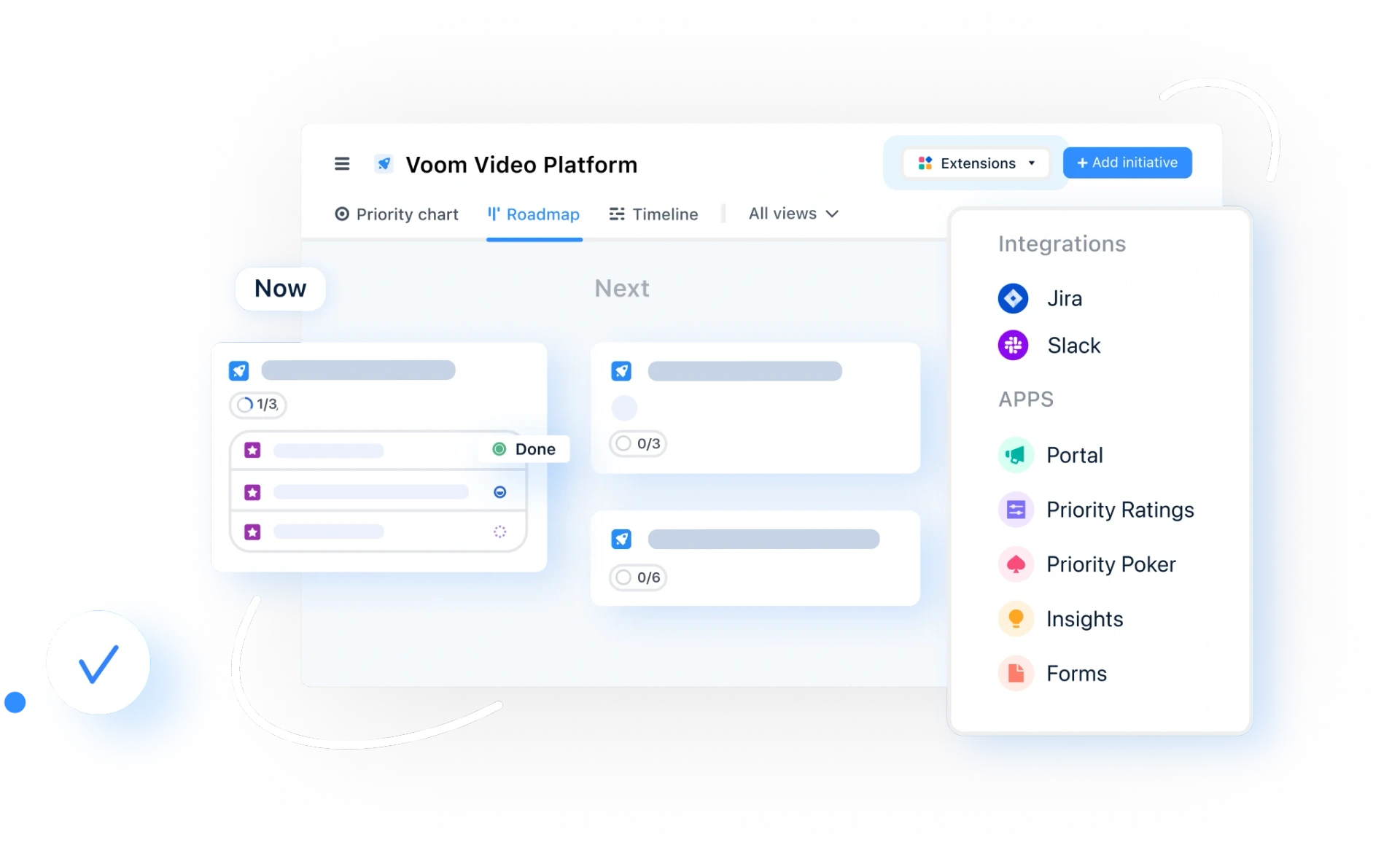 Make better, data-driven decisions
Making group decisions in a business is always tricky, but with a Business Intelligence roadmap in front of you, it's far easier to justify strategic shifts. 
This is especially true for time-based KPIs, like month-on-month changes, because they're easy to track on the roadmap almost at a glance. As the saying goes, the numbers don't lie — and a BI roadmap can give you a plan to find those actionable insights and, well, act on them. 
Stay reactive to changes
If there's one thing that's constant in business, it's change. But when change happens unexpectedly, it can throw a wrench into the works of any project. 
A robust BI roadmap will empower your organization to use historical data-driven trends to prepare for any possible future. There'll still be curveballs, naturally, but the agility of a roadmap means you can shift things around and stay reactive whatever life throws your way. 
Examples of Business Intelligence Roadmaps
Now that the definitions and benefits of having a BI roadmap in place are pretty clear let's take a look at some best-case examples. Learning from the experience of other businesses in similar situations will save you time and effort. Trust us — it's a good idea. We've also added a few examples of complementary BI tools to help get you started.
Datapipe offers enterprise-grade SaaS BI tools, from data visualization to dashboards and SQL queries. Their 16-step overview of how to go about building a BI roadmap and strategy covers everything from getting into the right mindset to firming up a budget and choosing tools. 
Practically everyone knows Tableau, one of the top BI analytics solutions on the market. Their team has compiled a blueprint for developing and implementing a successful BI strategy. This version is more high-level but tackles the equally important implementation aspect of the strategy. Even the best strategy will fall flat if executed poorly. 
Altexsoft is an award-winning technology consulting firm. Their approach to your BI strategy development includes great advice on BI Maturity models and architectures. Similar to the more generic crawl, walk, run approach, the BI maturity model creates a roadmap for progress over time. You can't reach BI maturity overnight, so it's a good idea to start simply and plan for progression. 
In addition, if you haven't considered your architecture and how everything hangs together upfront, your BI strategy is much more likely to fail. Integration at the architecture level is equally as important as integration at the software level.
So, that covers the high-level "why and how" of BI strategies. For some detail on BI tool options, take a look at Finereport's overview, with great insights on selecting tools, prototyping, and building a team. This article runs you through what you will need from a BI tool, the key reasons to prototype, and which roles to select to build your team.
Finally, Roadmunk offers customized roadmapping tools for BI initiatives. Their article stresses that it's critical to ensure your entire business is onboard and aligned with your strategy. Roadmunk takes you through how to prevent communication silos and ensure that your strategy can be easily integrated into your existing tech stack.
Do I really need a dedicated Business Intelligence tool?
The short and simple answer is yes. Yes, you do. And not just because airfocus specializes in BI tools.
Using a selection of different tools that may or may not integrate into your current ecosystem is not an ideal solution. This approach will probably cost you time and money — unnecessarily. 
In Agile environments, silos are efficiency drags. From BI strategies down to unit tests, the more open and streamlined your documentation, the better performance.
Let's take a look at a few good reasons to use a BI tool (like airfocus, of course) rather than the old-school combination of PowerPoint, Excel, and PDFs.
Manual composition and integration. Human error is normal but gets amplified in this kind of cross-platform, manual approach.

No real-time updates. Do you want to see the latest figures across the business? Schedule a few hours (at least) to stitch that report together.

Limited collaboration. Without real-time editing for multiple teams, keeping your documentation up to date will be an unnecessarily slow process.

Depending on how and where you store your documents, there may be security risks that more securely hosted tools mitigate.
That doesn't sound super practical, right? Using a dedicated BI tool (like airfocus) has several advantages worth considering.
Easy to use drag and drop interfaces that make adding data simple and quick

Customizable views for your roadmap. Do different teams need to focus on different data and see specific outcomes? This is a great way to maximize the value of your data across the business and is really easy to do with a BI tool.

Remote, real-time collaboration. A BI strategy and reports cover the entire business, so it's pragmatic to ensure everyone can contribute to the documents. 
Integrate with linked projects. Your BI project will not exist in isolation, and BI tools will enable you to create custom levels and link project hierarchies. This will keep multiple teams aligned on related projects.
Get your BI strategy on the road with airfocus 
So… you're probably left with a question at this point. How do you actually build a Business Intelligence roadmap so that you can see these deeper insights?
There are a few ways to do it, of course, but we're proud to say that airfocus is one of the best (if we do say so ourselves). 
What's more, many of our roadmap templates are designed with the outcomes-based approach in mind, so you can hit the ground running when building your new Business Intelligence roadmap. 
Give it a try for yourself today — and don't forget to watch out for our latest roadmapping guide, coming to an inbox near you very soon indeed.