2021 was the year we grew up. From being an ambitious startup to a series-A funded team helping thousands of product teams, we accomplished so much together. To celebrate, we want to share with you some of the problems we tackled, the solutions we came up with, and what is in the works for 2022.
New modularity approach
We kicked off the year with a big bang and a brand new approach to our product based entirely on modularity. As product organizations scale and become more complex, they need a purpose-built product management platform that can adapt to their unique context. (Not the other way around, where you adapt to a complicated system.)
Our main three goals with this change are to provide product teams with:
a flexible and easy-to-use platform,

unique work environments for all of your teams,

a product stack that grows with you.
We are the first product management platform to take this on, and we're incredibly proud of it!
What does this mean?
Think of the process of putting together your product stack as building blocks. You start with a roadmap, then expand to your product backlog and integrations, and then include feedback as it's needed. All these different building blocks can be added and built upon slowly over time without breaking your processes and workflows. Instead, the blocks grow and expand with you - this is what the new airfocus provides you.
The new modularity logic comes along with:
Product-specific apps

airfocus is designed with modularity in mind, based on distinct problems product managers have. With our unique set of product-specific apps, you can pick the features you use and drop the ones you don't, so that you are not presented with everything at once.

Advanced customization with custom fields, views, and workspaces

Every team has its own process, and with it comes its own way of using and visualizing data. To make this easier, with airfocus you can create your own set of custom fields, visualize data in a number of different view types, and organize all of your information in various workspaces. These workspaces can be interlinked and data can be shared between them, giving you the perfect level of transparency across teams.

Custom prioritization frameworks

How you prioritize should not be dictated by someone else. With airfocus, you can create a custom prioritization framework based on your own factors and criteria, so you can take into account the things that matter to you.

Templates

Get started with one of our easy-to-use templates, be it on your roadmap, to kick-start your prioritization, or streamline a workflow. If you like to tinker around, you can always create your own process from scratch in our Template Store.
We became a platform
At the very start of our journey, airfocus was purely a roadmapping and prioritization tool - but we're a lot more than that now. We've expanded into a platform that can be built upon, while solving very specific product management problems.
This year brought about four major additions to our platform:
Insights app
Bringing in feedback as a way to support product discovery was a key problem for us to solve. Any product team that wants to be customer-focused must have a way to easily collect feedback, keep it organized, and understand its impact against their product backlog.
The airfocus Insights app allows you to centralize feedback from any channel in one place to uncover actionable insights for discovery and product strategy. Above all, it enables teams to listen to their customers and solve the right problems.
Benefits:
Easily collect and organize feedback from various sources and teams into one place (no more missing documents or chats).

Create insights to inform discovery and product strategy.

Close the feedback loop and communicate with customers.

Customer-facing teams talk to users all day long. Invite them to easily submit feedback, keep them informed, and break down silos in communication.
Product Hierarchy
One of the biggest changes this year came with the introduction of Product Hierarchy.
With it, you can use airfocus to create your own product hierarchy in order to manage items in more detail through each level of the product development process: from roadmaps to specific tasks.
Benefits:
Create and visualize your own custom product hierarchy

Product management is about operating on different levels: from your roadmap, to your backlog and tasks. All of these require different processes and workflows. With airfocus you can manage all of this according to your unique needs and visualize how everything connects together.

Organize your product - your way

With workspaces, product teams have the ability to create custom views, fields, and workflows for each hierarchy level. This provides endless possibilities for how things are connected and interact with each other.
Forms app
The Forms app was an interesting experiment that came about while we were trying to solve an entirely different problem. As it goes, sometimes running discovery helps you uncover problems you didn't even know you had!
We started out with a simple statement: how can we help teams gather feedback? We very quickly realized the problem went greater than that - it was really about supporting teams in gathering additional information at all stages, not just when needing feedback.
The airfocus Forms app allows you to create a customizable form for your workspace and allow team members (including those with view-only status) and external viewers on share links to participate in providing additional information and feedback.
Benefits:
Open up your feedback process and engage the rest of your team.

Collaborate with your team and stakeholders without disrupting your current workflows.

Have a more unified system that allows you to support your discovery process.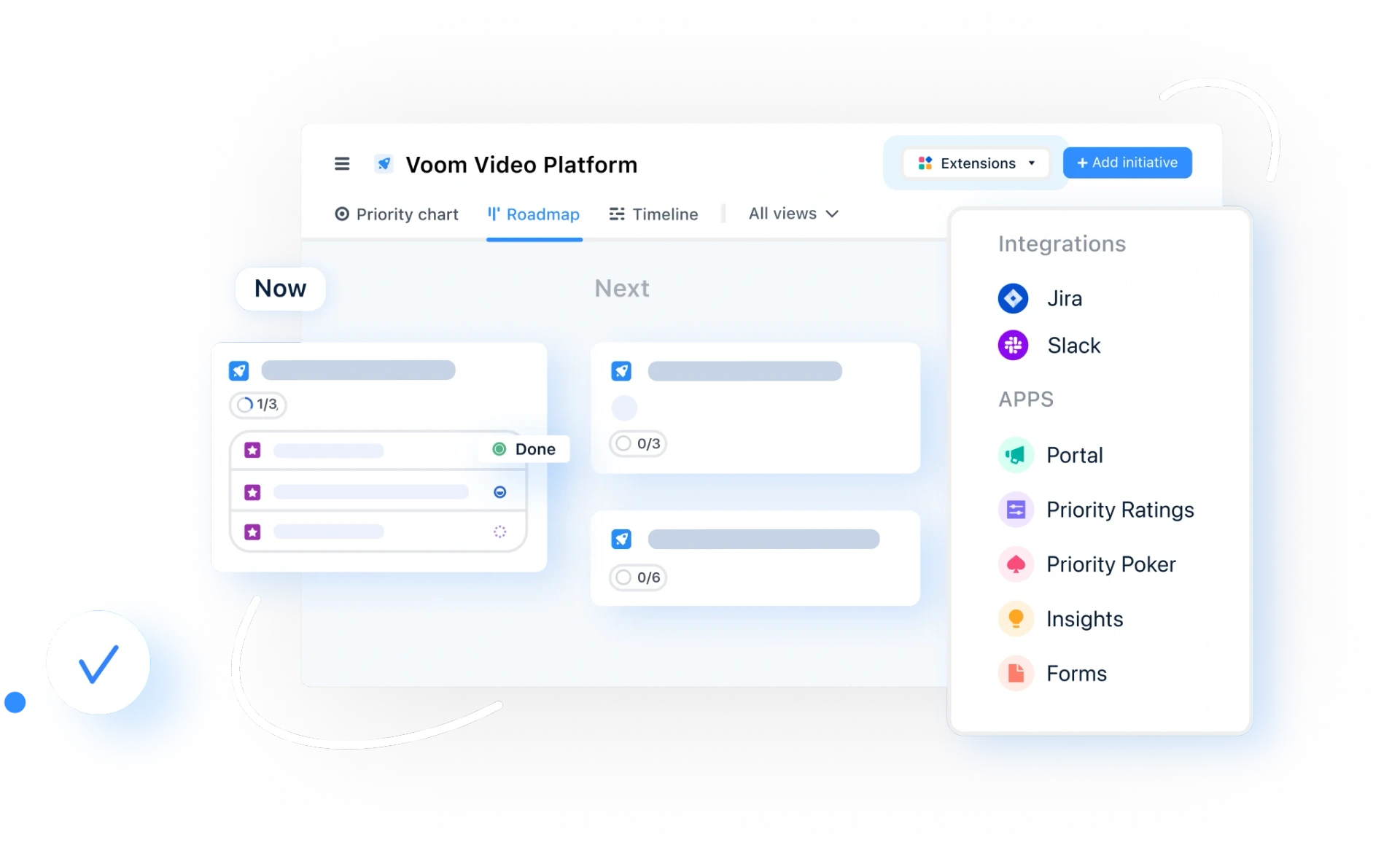 Item Mirror app
Working across workspaces and improving team collaboration and shared understanding is a must. To make sure that data could be collated for multiple teams, we released the Item Mirror app.
Benefits:
Share items across multiple workspaces and teams, ensuring everyone has access to relevant data and information.

Create a portfolio roadmap that collates your entire product line into an easy-to-read document.
Core functionality and usability improvements
We believe in continuous discovery, and this year enabled us to focus on things we had to trade off in the past.
In the words of our CEO Malte:
"Sometimes you keep pushing "core" functionality to later for waaaay too long, but we finally did it!"
But as they say, better late than never! This year we tackled various improvements to our core functionality, as well as UI improvements set to delight everyone.
Enhanced and brand new integrations
Product managers don't work in a bubble. This is why we made sure that we not only provide brand new and crucial integrations to support working with others, but also enhanced some of our current integrations and made them even better.
Custom field mapping for Jira

We extended the flexibility in our Jira integration with custom field mapping, letting you decide which fields you can map between airfocus and Jira. This gives you more control over the information synced between the two systems.

Intercom

The Intercom feedback integration allows you to gather feedback directly from your Intercom conversations. This makes it easier than ever to import your customer feedback directly into airfocus!

Chrome extension

The airfocus Chrome extension allows you to create items on the fly. This makes your work with airfocus even more spontaneous and easy!
In-app notifications and user mentions
Teamwork makes dreams work. That's why we created the in-app notifications function to bring your collaboration to the next level. Nevermind if you and your team are working from the same office or remotely, you'll never miss a beat. You can also mention users to notify your teammates if anything changes. The ability to watch and stop watching items enables you to follow other items and keep up to date with the progress.
Navigation improvements
This year, we've made our navigation a lot easier to use, helping you work more efficiently. We improved our display options, settings, search functions and also made it easier to switch between workspaces.
Item activity log
Keeping track of decision-making has never been easier. With our item activity log, users are able to look into almost every update that has been made to a particular item since its creation.
Delighter bonus: winter mode
Who doesn't like cute and fun stuff? It's been a year of ups and downs, and we created something to lighten the mood - a winter mode in which we've decorated our airfocus logo with some winter gear and added a toggle that enables you to watch the snowfall directly on your workspace!
What's coming for 2022?
We've got a lot of really fantastic stuff planned for 2022. We know product management is hard, and we fully understand the nuances and unique processes involved in growing and expanding product organizations. Our vision as a company is to create a home for products and the people who build them, providing flexibility with a platform that is ready to support your unique needs.
We've put together some of the highlights below, but if you want to learn more, check out our roadmap!
Branded portal

Create your own branded portal and engage with your customers directly.

Set goals with OKRs

Define objectives and key results (OKRs) and link your items to them to reach your desired outcomes.

New view types

Provide more flexibility to structure and communicate product data and items.

Workspace groups

New workspace groups will allow you to manage product work in a tight, interlinked collection of workspaces.

More integrations

We will be adding a brand new Slack integration which allows you to send ideas and feedback into airfocus right where conversations are happening.

We will also be adding a Zendesk integration which enables you to gather feedback directly from Zendesk messages.

We will also be expanding our integration toolset to CRM apps such as Salesforce and Hubspot.

More improvements to notifications

It gets easier and easier to keep track and stay up to date with your work! More improvements to the notifications will be added.