Product Managers often need to incorporate stakeholders' wisdom and expertise in order to make the best possible decisions.
However, most of the time, teams and stakeholders have diverging opinions.
If you eventually gather them into a meeting, you might risk having endless discussions without a constructive conclusion which means delaying development product launch - the worst nightmare for all Product Managers.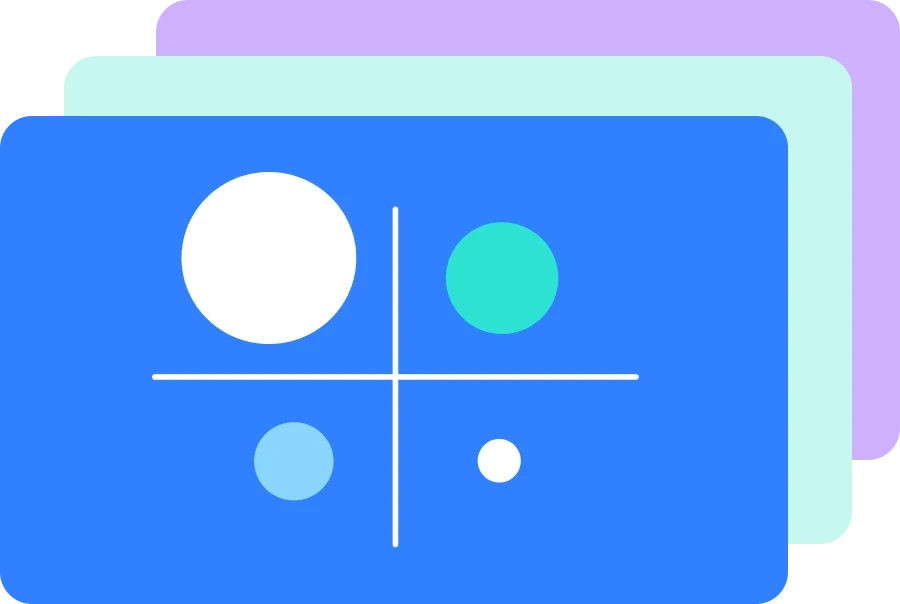 Watch the video to see what's new:
The importance of collaborative prioritization
Prioritization is the number one challenge. In many cases, the struggle to prioritize features can mean the lack of strategic vision or direction, which can cause a business to suffer.
To make the best prioritization decisions, Product Managers can't do this alone. In fact, you should incorporate teams' and stakeholders' opinions.
Not only can you benefit from their wisdom and expertise, but you can also win the buy-in from the team and ensure that the product decisions being made are in alignment.
The Solution 
With Priority Poker, getting everyone aligned and involved in the prioritization process can be easy.
💬
What is Priority poker
Priority poker is a game for collaboratively prioritizing features and initiatives, deciding what new projects to start, doing effort estimations and so much more.
The ideas stem from that each stakeholder has his own view on what is important. Priority Poker is then the best way that all relevant stakeholder opinions are included in the prioritization process. "Since we've brought airfocus' Priority Poker into our prioritization sessions, we saved 65% of the time because the tool helps us focus on what to discuss during meetings." - Philipp Baumgaertel – CEO & Product Leader @Cherrydeck
When do you use Priority Poker?
Priority Poker can be used in cross-functional teams and can be adapted to various projects. The list below shows only a small part of what this feature can do:
Using Priority Poker for anything product-related, such as prioritizing features, initiatives, and backlogs. 

It can be used in agile product management or scrum to execute sprint planning sessions and estimate efforts.

Using the tool for any design-related task such as choosing personas, user journeys, and scenarios.

It can be used during testing phases to prioritize bugs and fixes. Newsletter
Cut through the clutter of
PM Content

with our bi-weekly digest Sign up
How can airfocus' Priority Poker help?
airfocus' Priority Poker is motivated by the idea that prioritization can be a productive team effort, can be executed democratically, and can be done completely remotely in a time-efficient manner.
airfocus' Priority Poker is intuitive and easy to use. Just follow the steps below:
Step 1: As an admin or editor, select "Priority Poker" on the items' view. 
Step 2: Create a game. 
Step 3: Click "Add items" to fill your rating backlog.  
Step 4: Select the items you want to play. Use the filters to narrow down what to include. 
Step 5: Invite other players to join your game. 
Step 6: All players can start rating open items. 
Step 7: Review and have the option to discuss the results. 
This all seems pretty intuitive, right? It is! Here are some of the many reasons why we love this incredible feature:
An interactive, collaborative, fun, and simple way to group prioritize
Priority poker helps assign priorities but in a fun and collaborative way. Priority Poker within airfocus is very flexible; you can change the different priority levels and even define criteria based on the teammates' expertise and involvement within the project.
It encourages discussion
Priority Poker shines a light on why certain items are more important compared to others. Everyone has a differing opinion on what is important, and discrepancies within the game can encourage team discussions.  Sometimes discussions lead to precious discoveries.
Everyone has a say
Priority Poker allows for better estimates as it can incorporate cross-functional teams in different disciplines. The rating is anonymous, and it provides everyone an opportunity to add their input anonymously without biases and external influences. 
Gaming can be done anywhere and at anytime
With this feature, decision-making and estimations can be done entirely remotely. The game owner can decide to either host a live game or allow players to rate asynchronously. Newsletter
Cut through the clutter of
PM Content

with our bi-weekly digest Sign up
Get your meeting focused and save precious time
As the game owner, you can decide which item on the backlog should be rated. This process eliminates unnecessary discussions or unrelated topics to come into the meeting.
Priority Poker is a no-brainer.
It takes all the opinions and views of all important stakeholders into account, saves time and effort, and most importantly, helps Product Managers define product strategy. 
Are you ready to try out the new Priority Poker?
We are happy to extend your trial period.