Jamie Hoyle is the Vice President of Product at MirrorWeb , an archiving solution provider that helps firms meet compliance requirements by capturing immutable digital records. Jamie and his team were responsible for defining and prioritizing which solutions should be built or implemented, ensuring the entire organization understands the overall product goal and strategy, and that team resources are used effectively. To deliver this, Jamie needed a tool that can help them visualize trade-offs and effort in project management and can help them collectively make quantitative product decisions that lead to building outstanding solutions for his clients.
Priority scoring is 'magical'
When Jamie first used airfocus, he was impressed with the intuitive interface and how easy it was to demonstrate a product roadmap to all his relevant stakeholders. Upon the first impression, his favourite feature was the scoring matrix which enabled him to understand the relative effort and customer value of various features.
"The entire team knew we'd be able to build better products with airfocus when we got together to score new product features based on customer value and relative effort"
Not only was he able to start scoring new features based on his team's defined values, but he was also able to see the chart update in real-time and weigh up the options together as a team. To this day, Jamie says that this feature 'was (and still is!) magical.' As the team continues to use airfocus, they've built their ranking system for how features get ranked based on a variety of internal and external factors such as customer value, development time, support value, and more. By ranking features with this system, it allows them to show where the quick wins and rewarding long term projects are. What Jamie found extremely helpful was that he can adjust these values regularly based on any feature discovery that they do and it powers a constant feedback loop that enables them to make better product decisions.
Building and working on things that matter with clear roadmaps
Before airfocus, Jamie and his team would start developing and building their product based on a roadmap that was reviewed only once a month. With an unclear and outdated roadmap, teams can find it difficult to understand the order of execution increasing the risk of building the wrong feature or products.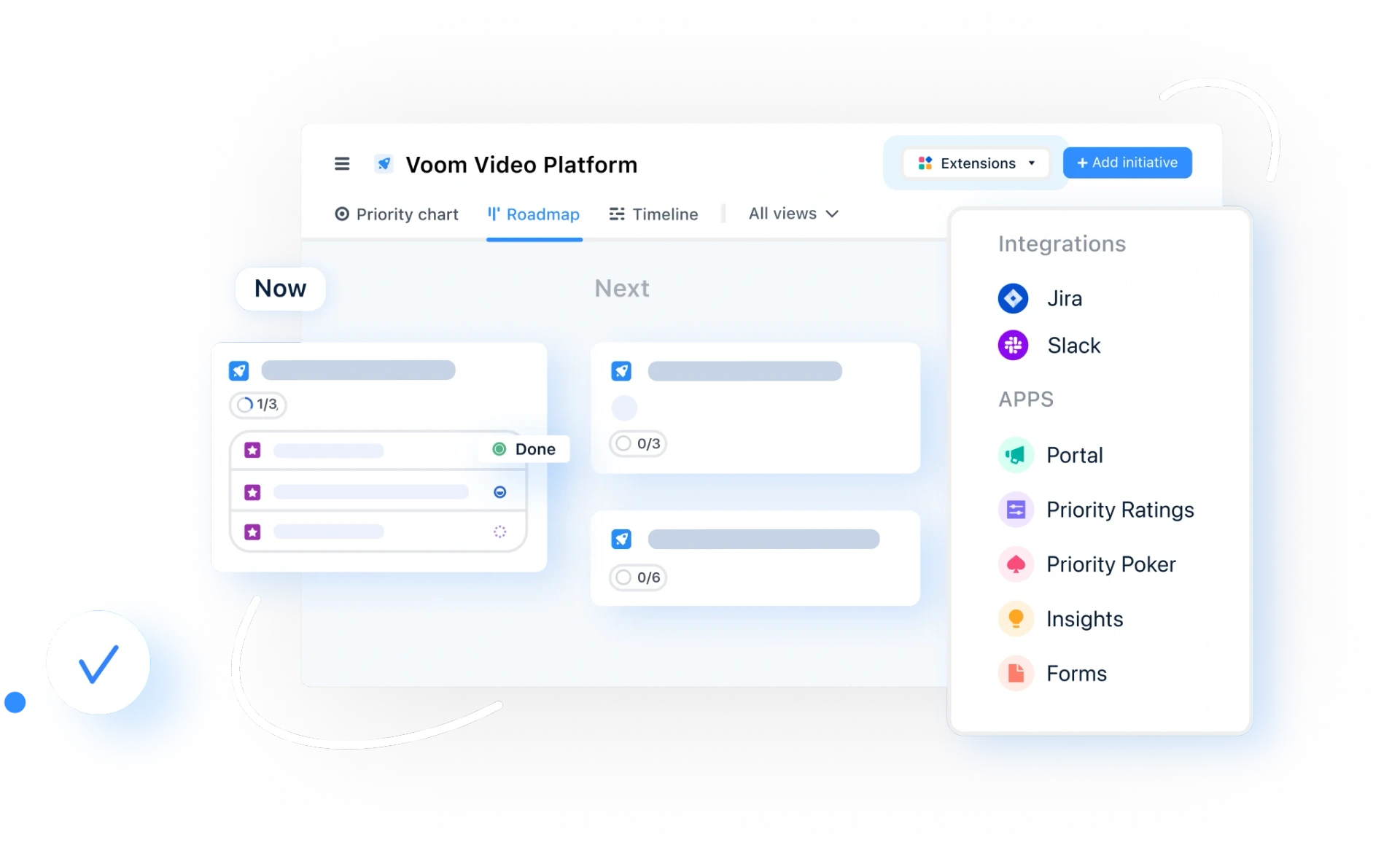 MirrorWeb uses airfocus to demonstrate its roadmaps, prioritize feature developments and ensure that they are getting the maximum value from their engineering efforts. The team can now iterate their roadmap quickly, review it often, and ensure that the team is working on things that matter. For the very first time, they are finally able to see the quantitative data of their engineering efforts.
'airfocus has allowed us to support our engineering decisions with real input from both our sales team and our customers. We can easily attribute time to new features, technical debt, or client requests and see how this affects our roadmap. We're making more informed decisions, and we regularly reference it throughout the company.' - Jamie
The perfect remote working tool
Working from home has taken on a new dimension as many companies are trying to figure out how to keep operations up and running during a worldwide pandemic.
During this time, MirrorWeb uses airfocus to help make clear and decisive technology decisions. Before Jamie and his team went into lockdown, they drew up a short-term roadmap of what they would like to achieve in the 3 months with the anticipation of going fully remote. airfocus enabled the team to adapt to a new way of working by helping them define the 'quick wins' which were then added to the roadmap as a priority.
Though every product team has its own unique set of challenges, the basics stay the same which is to have a reliable platform that enables them to build outstanding products by helping them prioritize based on quantifiable data, a clear roadmap strategy, and generate alignment within the organization. As MirrorWeb grows and takes on more clients, airfocus remains a key part of their success. Jamie adds:
''The software has proven to be a great frame of reference throughout this time and has given our whole team clarity in a time where our communications have changed significantly.''