A product roadmap outlines how a product will evolve to support a business's strategic objectives and goals. It's one of the key outputs of a product manager's core responsibilities. 
Some of the benefits of a product roadmap include
Positioning your product

Obtaining stakeholder buy-in

Aligning your team

Setting the vision for the future

Planning resources

And more
It is made of multiple inputs and once crafted and communicated product managers are responsible for maintaining it, especially as product plans change.
While tools like Microsoft Word and Google Sheets can be used to create roadmaps, as we mentioned in The Ultimate Guide to Roadmaps, there are multiple areas where these tools fall short in this area.
The purpose of product roadmap makers
It's extremely important for product managers to leverage the right tools to support their product management process.
Before we outline some of the key tools on the market let's outline some of the key activities that product managers carry out with their roadmaps:
Customize roadmaps to suit one's team and/or product

Integrate the roadmap with project management, documentation, and collaboration tools

Share roadmap views with stakeholders

Collaborate on roadmap initiatives

Connect roadmap initiatives with product strategy

And much more
While there are multiple product management tools on the market to leverage that support these activities, they differ in features, integrations, focus, and other factors. Even to the extent that the teams behind these products support the product community.
Due to this and other factors, there are some that shine above the rest.
At the end of this article, you will know:
Reliable product roadmapping tools

How product teams leverage these tools

Capabilities that each tool offers

Pros and cons of each tool

Pricing
Let's get started.
airfocus is not just a roadmapping tool, it's the only modular product management platform that adapts to your team's needs.
You can create roadmaps in a manner of minutes with out-of-the-box ready-to-use templates. The drag-and-drop interface also makes it easy to edit roadmaps and keep them up to date.
To support cross-functional collaboration among teams, teams can roll up various roadmaps into one single source of truth, and seamlessly share and export roadmaps via secure URLs and exports.
Along with the ability to centralize feedback from various sources and stakeholders, there's extensive modularity. With this modular platform product managers can add the applications that they need (building blocks) as they manage their product(s) from vision to delivery.
There are also two-way integrations with notable software development tools. Some of the development tool integrations that are available include Jira, Trello, Asana, and GitHub. Some of the feedback tool integrations include Intercom and Google Chrome. Check out the full list here.
The paid plan starts at $19 for the Essential plan (if paid annually), with higher tiers offering additional features.
Check out their unique features with a 14-day free trial with no credit card required.
Pros
Gather customer feedback and insights to inform roadmap items

Supports a wide range of out-of-the-box roadmap templates for every industry and use case

Ability to share roadmap views with stakeholders

Modular; adapt it to your teams' specific needs and processes

Custom workflows to show the hierarchy of items

Integrates with reliable tools to save time
Cons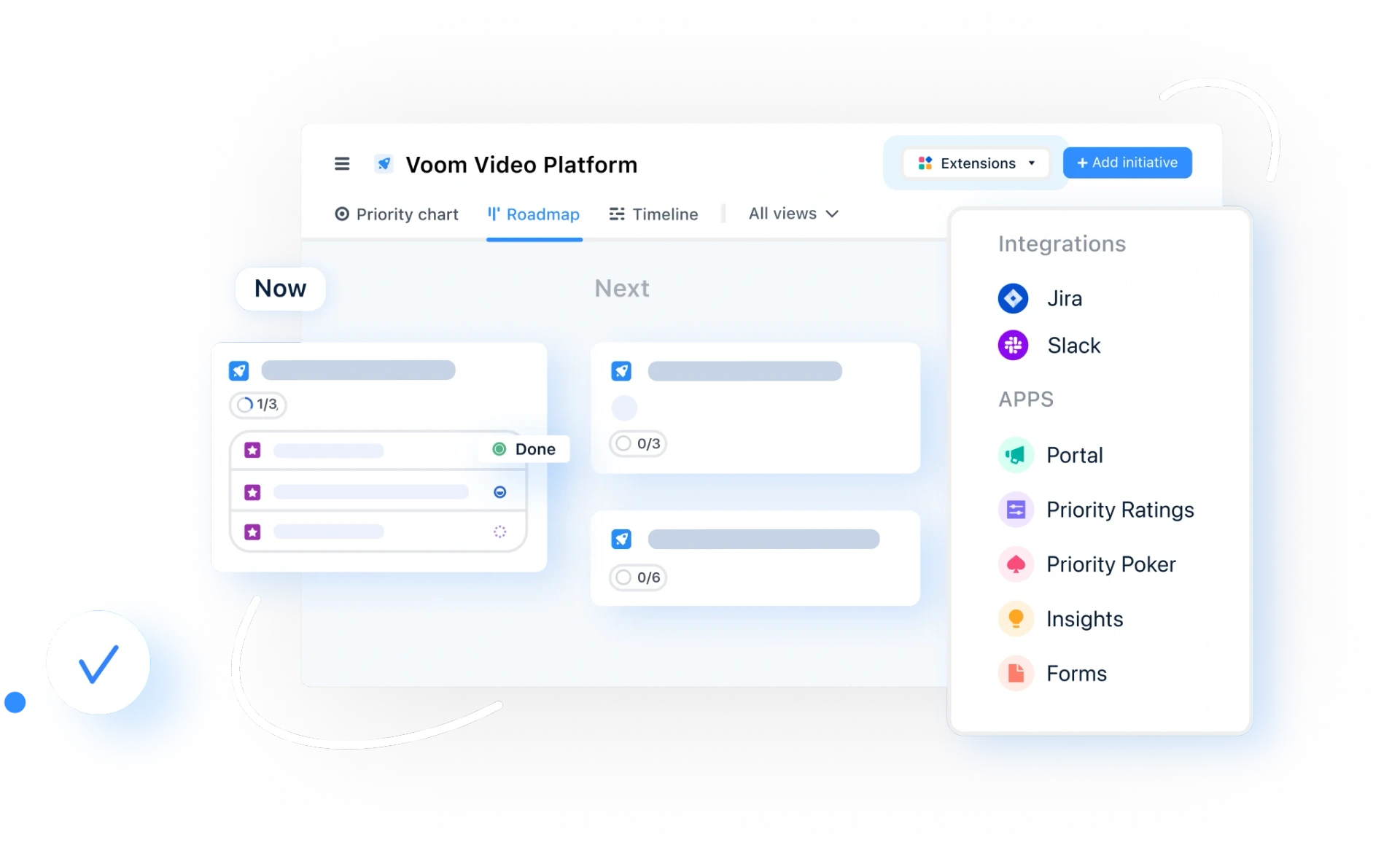 Monday.com is not specifically a roadmapping tool, rather, it was built to support individuals with completing work.
Its open platform enables users to create the tools required to complete their work with an interface that supports building blocks and integrations for customization.
Along with the many templates it offers, there's a roadmap template with specific capabilities. This enables product teams to create custom roadmaps with multiple views and simplify their processes with workflows.
Free forever for up to 2 seats, the price then starts at $11/user/month for additional seats, features, and capabilities.
Pros
Flexibility to customize roadmaps to fit your teams' needs

Drag and drop interface for ease of use

Automations to simplify your workflow (assign tasks, commit code, auto-updates)

Multiple custom views (gantt chart, kanban, timeline, etc.)

Multiple integrations including Gmail, GitHub, PagerDuty, GitLab, and more
Cons
Integrations and automation are not included in the basic plan

Lacks the ability to duplicate an entire workspace

Users have reported issues with the mobile app experience
Craft is an end-to-end product management platform that at the onset it supports product teams with making smart decisions by gathering feedback from their key stakeholders, built in features to prioritize with some of the most common prioritization frameworks (RICE, MoSCoW, and more), and the ability to create tailored roadmaps that communicate product strategy.
Some of the other features it contains to support product teams include defining features, capacity planning, product portfolio management, multiple integrations, and much more.
Its plans start at $49/user/month for a limited feature set, with additional features at the pro ($109/editor/month) and custom plan thereafter.
Pros
Create roadmaps, customize views, and track the progress of prioritized work

A transparent method to prioritize initiatives with your team

Multiple integrations with tools that product teams rely on for project management and communication
Cons
Users have reported issues with the user interface

Lacks the ability to prioritize features for a specific release

Difficulty has been reported finding items that have not been property tagged
Productboard is an end-to-end product management platform built for product teams to gather insights, prioritize work, and align stakeholders with roadmaps. 
Users can also leverage it to centralize feedback, validate ideas, and support their end-to-end processes(s) with multiple integrations. It also offers API support and is built with the highest security standards considering product, cloud, and application security.
With more than 6,000 customers of multiple sizes, their team offers additional services to larger customers including tailored onboarding, priority support, and more.
Their Pro program starts at $80 per maker/month, and you have to reach out to their team for custom pricing for the enterprise plan.
Pros
Build interactive customizable roadmaps

Ability to track progress and dependencies

Integrate productboard into your existing workflows to save time and sync your tools

Product portal to gather feedback and take action
Cons
Onboarding can be challenging for non-product managers

Internal insights tool does not separate customer insights from internal insights

Only has integrations and API support for the most relied upon delivery tools (could use some more)
ProductPlan makes it easy for product teams to build and share visually appealing roadmaps with their team. It comes with 20+ roadmap templates that can be customized.
There are multiple views that product teams can use including timeline, line, and table layout with one click. In addition, users can filter and share custom views of their roadmaps with specific stakeholders.
With their flexible permission options product managers can share data with their teams and collaborate. Similar to other tools they support multiple integrations such as Trello, Pivotal Tracker, Jira, Microsoft Teams, Slack, and more.
They offer 3 key pricing tiers: Basic, Professional Enterprise. Their Basic plan starts at $39/user/month (if you pay annually).
Pros
20+ roadmap templates to get started with

Visually appealing roadmaps with the common views that teams rely on

Score and prioritize items among your team based on value vs. effort

Shares specific views with stakeholders and @ team members to collaborate on work

Multiple integrations related to project management, communication, documentation, and software delivery
Cons
Users have reported issues with their editing functionality

Lacks the ability to create custom fields

Limited copying capabilities unless you're the roadmap owner

Lacks a rollback feature in the case that users make a mistake

The tool is easy to use but lacks extensive tutorials which makes it hard for users to accomplish specific tasks
Choosing the right roadmapping tool
Product managers need roadmaps to outline how their products will evolve to support defined business goals. When considering the right tool to leverage product teams should not only consider the key features offered, but they also consider what works for their company, team(s), and product.
Though there are many options available on the market, we outlined five here but there are more including roadmunk, Trello, Asana, you need to source the one that meets your team's needs.
Our recommendation is to utilize a tool that supports your product team with your end-to-end process, from strategy through to delivery, while supporting collaboration and reporting.
Your selection process will be a unique one, however we hope that we have given you a great starting point.
Check out the airfocus blog to continue learning about product management including news, round-ups, and industry insights. And to learn more about how airfocus can assist your product management team, book a demo with us today!